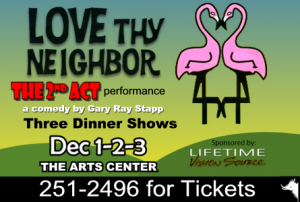 Jamestown (CSi)  The Jamestown Community Theater's upcoming production is Love Thy Neighbor, a comedy by Gary Ray Stapp.
Final performance is Saturday December 3rd, at 6-p.m at the Jamestown Arts Center.
Sponsored by Lifetime Vision Source in Jamestown.
The dinner is catered by Emma Rosie's Homecookin' is at 6 p.m., followed by the play.
Tickets in advance only. $35 / $30 for Arts Center members. Available at The Arts Center.  Call  701-251-2496.
More information at www.jamestownarts.com
Love Thy Neighbor (a comedy written by Gary Ray Stapp) homeowner Leona Crump armed with a sharply judgmental attitude and a pair of binoculars, is consumed with anxiety over her new neighbors. Will they be beatniks? Or paroled drug pushers? Or more frightening yet, perhaps someone with children?! Her worst fears are realized when an odd-ball "hill-folk" family move in across the street. She quickly realizes that neither God, nor her favorite telephone psychic, has prepared her for the series of showdowns set to take place in her living room as she attempts to purge her cul-de-sac.