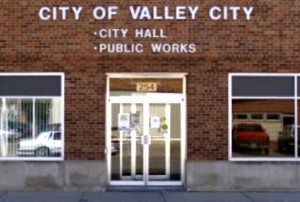 Valley City (CSi)  The Valley City Commission met in Regular Session Tuesday evening at City Hall. All members were present.
APPROVAL OF CONSENT AGENDA ITEMS INCLUDED:
Monthly reports from the Fire Chief, Building Inspector, Auditor,  Municpal Judge, and Public Works Accountant.
Approved monthly bills for the City and Public Works in the amount of $2,118,378.18.
PUBLIC COMMENTS  No One Spoke.

Attorney General's "A Citizen's Guide to North Dakota Open Records & Open Meetings Laws" *A member of the public does not have the right to speak to the governing body at an open meeting. The public is only entitled to see and hear what happens at a meeting, and to record or broadcast those observations.
No personal attacks to persons present or not
No inflammatory language used during time that you have the platform
5 minute maximum or as directed by the chair
Thank you for participating in City Government.
ORDINANCE
The City Commission   approved the second and final reading of an Ordinance to create a perpetual restrictive covenant for structures to be removed for Permanent Flood Protection Phase III, in accordance with the State Water Commission
RESOLUTION
Commissioners  approved a Resolution Determining Sufficiency of Protests for 2017 City Parking Lots Improvement District.  City Auditor Richter said one property owner protested, not enough percentage to protest the Improvement District.
NEW BUSINESS
Approved employee contracts.   The employment contracts between the City and Police Chief Phil Hatcher and City Administrator David Schelkoph were approved.
The City Commission, approved Cost Participation and Maintenance Agreement with the NDDOT for a Project I-94 Kathryn/8th Ave SW Interchange Valley City, High Mast Lighting Maintenance,   KLJ reported the lighting will save the city about 50 percent in costs.
Approved the Cost Participation and Maintenance Agreement with the NDDOT for a Project, I-94 Business Loop, Retroreflectivity Signing Improvements.
Considered a recommendation to accept the bid for a 2017 Dodge 2500 Crew 4×4 pickup from Miller Motors in the amount of $30,460.00  City Administrator Schelkoph, it was not the low bid because the Dodge provided tool boxes on the side of the vehicle.  The difference was $34.
Accepted the bid for the 2017 Sidewalk Replacement Contract for the Northeast part of town.
Approved an Application for Property Tax Exemption for Improvements to Residential Building for Tiffany Haas, 728 3rd St. NW   City Assessor Hansen all required permits have been approved for $30,000 in improvements.
CITY ADMINISTRATOR'S REPORT
David Schekoph noted in the electrical department, Dan Burhhardt has upgraded the electrical grid, now with technical information available to workers on their phones.
He gave a legislative update on bills, concerning the State Water Commission, along with a bill to limits tax increases to not more than three percent, over three percent would require a vote of the people.
A group from Valley City will support VCSU President Tisa Mason, in asking for funding for Valley City State, projects from the legislature, in Bismarck on Thursday.
Avis Richter reminded that March 14, 2017 is the deadline to file petitions for the City Commission seat up for election.
Building Inspector/Fire Inspector Dave Andersen reported that a public information meeting will be held in Valley City next week, regarding flood insurance.
He noted that dog owners need to clean up after their animals.
Fire Chief Gary Retterath, starting next month the emergency sirens will begin being tested.
Mayor Carlsrud reported that city crews will be making trial runs in installing flood walls in the event they are needed this spring.
The meeting was shown live on CSi 68 followed by replays