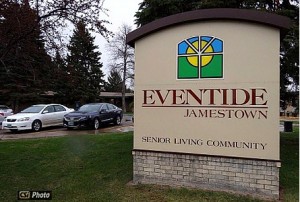 Jamestown  (CSi)  Eventide, Jamestown, will hold a Benefit Auction, on Friday April 7, 2017, at 6-p.m., at Quality Inn & Suites in Jamestown.
On Tuesday's Wayne Byers Show on CSi Cable 2, Eventide Jamestown's Executive Director, Doug Panchot said, the proceeds will go to continued technology improvements including the Music and Memory Program for residents.
He says in addition to the silent auctions there will be an hors d'oeuvres buffet.
It will be an evening of music and entertainment, featuring entertainment by Fun Pianos! By 176 Keys.  Tickets are $50 each, and to purchase, contact Tammy at 701-952-3411, or tguzman@eventide.org
Doug noted that the Eventide Jamestown Assisted Living Unit, opened on January 16, 2017.
He added for more information,about openings  call  Eventide Jamestown at 701-952-3411.