Jamestown  (CSi)  Jamestown Police arrested one person Wednesday evening before 11-p.m.,  after  a car was driven into a yard striking a  Southwest resident and the home.
The vehicle allegedly struck one person before striking the house, and a natural gas meter, severing the natural gas line.
Police evacuated homes in a one-block area of the home, due to the gas leak, while the Jamestown City Fire Department responded to the scene, and a crew from Montana Dakota Utilities shut off the gas.
The person allegedly struck by the vehicle was transported by the Jamestown Ambulance to Jamestown Regional Medical Center.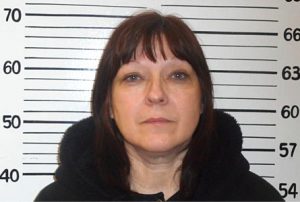 Lt. Justin Blinsky reports, 58 year old Karen Kinzler, of  Jamestown, is being held at the Stutsman County Correctional Center on suspicion of domestic assault in connection with the incident.
Blinsky says, the names and addresses of others involved with the incident were not released under provisions of Marsy's Law.
The incident remains under investigation.