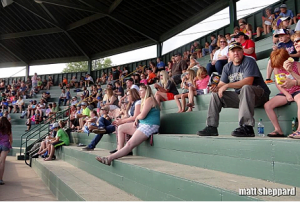 Jamestown (CSi)  Jamestown Tourism's, Grant/Exec Board, Thursday reviewed applications for funding under the Capital Construction Fund, during their meeting at CSi Technology Center at Historic Franklin School.
Goals and Objectives of Capital Construction Fund were reviewed by Tourism Director, Searle Swedlund.
Jack Brown Stadium Project:  Jamestown Parks and Rec Foundation was represented by Jeff Gould concerning additional funding for replacing dugouts at Jack Brown Stadium.
Gould requested an additional $15,000, with the project's budget at about $288,819.
With the project Gould pointed out other funding sources that have contributed  $131,000.
Those sources included: Jamestown Parks & Recreation at $78,000, University of Jamestown at $30,000, Jamestown High School $15,000, North Dakota Amateur Baseball $5,000, JayBal (American Legion and Little League Baseball $3,000.)
He said donations from businesses and private citizens were 64, with 174 donations from 14 different states, and 45 different cities, totaling $141,000.  Total pledge donations so far are $273,000, with the balance left of $16,819.00.
The dugout project leaders include, Jamestown Parks & Recreation Director, Doug Hogan, and Parks & Rec Business Manager, Bonnie Ukestad, and Jeff Gould as a private citizen.
Architectural engineer was provided by Interstate Engineering, and the contractor, Hillerud Construction.
Gould said the project is in progress and is expected to be finished at the end of April this year.
He added that on June 24, 2017 at 11-a.m., a ribbon cutting will be held at Jack Brown Stadium for the project, followed by a Jamestown Legion Post 14 Alumni Baseball game.
The former dugouts were antiquated in terms of what is needed to accommodate baseball teams of today, and noted safety issues for players occupying the dugouts, which are 51 years old.  He said players will no longer have to sit outside the dugout on a bench.
He added that the new dugouts will stop the current trend of losing profitable tournaments to cities such as Fargo, and Bismarck.
He said in 2016 there were  173 games played at Jack Brown Stadium including local teams, and tournament games, which in most cases had players and family and friends from out of town, staying overnight in Jamestown.
Those included Class A and AA, and AAA tournaments, with a total of 556 participants.
The board the granted the full amount requested of $15,000 for funding the dugout project, from the Capital Construction Fund.
Frontier Village Projects:  Funding for Frontier Village Building Repairs was made by  Swedlund, as Frontier Village, Treasurer, Tina Busche was unable to attend.
Their request was two-fold, $12,750 for roof shingle replacement at the General Store building, and $14,450 for shingle replacement for the Depot building.  The request application noted, $7,244.73 was received for the store in an insurance claim from Farmers Union Insurance.
After discussion the board voted unanimously to grant the General Store project, with $12,750 coming from the Capital Construction Fund, and $5,250 from the Grant Requests Fund.
The board tabled the request for the Depot Building project.
It was pointed out that a $10,000 BNSF grant will go toward supporting the Depot Building that is in need of a roof, siding and structural repairs along with care and maintenance of artifacts.
Applications are being accepted for the next round of Capital Construction funding due by October 1, 2017.
Tourism Director Searle Swedlund said, annually, about $80,000 is available in the fund, coming from the Jamestown Restaurant tax.
The applications are considered twice a year, with the application deadlines March 1st, and October 1st each year.