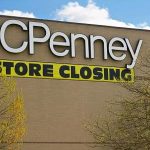 Jamestown (CSi) – Sad news.  After 95 years of operation in Jamestown, the JC Penney business will be closing.  The store at the Buffalo Mall in Jamestown is on the list of 138 stores nationwide to close by June 2017.   Other ND stores to close are:  Dickinson at the Praire Hills Mall and the downtown Wahpeton store.
.
JC Penney Jamestown History: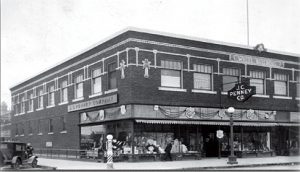 The early Jamestown store, which opened in 1922,  photographed here in 1928, operated in the White Building until 1961, when it moved to a modern new building at 219 1st Avenue.  It would remain in that location for nineteen years, until moving to the Buffalo Mall in 1980.   After 37 years at the mall, the store will lock its doors for good in June of 2017.
For more information, go the historical account:  James Cash Penney and His North Dakota Stores.
The official announcement and closing list  was released Friday March 17, 2017 from JC Penney.
As part of a continuing effort to advance sustainable growth and long-term profitability, J. C. Penney Company, Inc. will be closing 138 stores, one supply chain facility in Lakeland, Fla., and relocating one supply chain facility in Buena Park, Calif., to align the Company's physical store footprint and omnichannel network. Approximately 5,000 positions nationwide will be impacted by the store closures, most of which will occur in June. JCPenney is in the process of identifying relocation opportunities within the Company for esteemed leaders. Additionally, JCPenney will provide outplacement support services for those eligible associates who will be leaving the Company. Most affected stores will begin the liquidation process on April 17.
Prairie Hills Mall Dickinson ND
Buffalo Mall Jamestown ND
Downtown Wahpeton Wahpeton ND
Auburn Mall Auburn AL
Tannehill Promenade Bessemer AL
Gadsden Mall Gadsden AL
Jasper Mall Jasper AL
Military Plaza Benton AR
Chickasaw Plaza Blytheville AR
Riverview Mall Bullhead City AZ
Downtown Bishop Bishop CA
Sunwest Plaza Lodi CA
The Village at Orange Orange CA
Hilltop Mall Richmond CA
Fort Morgan Main St. Fort Morgan CO
Glenwood Springs Mall Glenwood Springs CO
St. Vrain Centre Longmont CO
Broadway Plaza Sterling CO
Connecticut Post Mall Milford CT
Jacksonville Regional Shopping Center Jacksonville FL
Palatka Mall Palatka FL
Dublin Mall Dublin GA
Macon Mall Macon GA
Milledgeville Mall Milledgeville GA
Gateway Plaza Thomasville GA
Tifton Mall Tifton GA
Downtown Decorah Decorah IA
Crossroads Mall Fort Dodge IA
Penn Central Mall Oskaloosa IA
Quincy Place Ottumwa IA
Snake River Plaza Burley ID
Eastland Mall Bloomington IL
Fulton Square Canton IL
Village Square Mall Effingham IL
Freestanding Macomb IL
Peru Mall Peru IL
Northland Mall Sterling IL
Centerpointe of Woodridge Woodridge IL
FairOaks Mall Columbus IN
Connersville Plaza Connersville IN
Huntington Plaza Huntington IN
Jasper Manor Center Jasper IN
Logansport Mall Logansport IN
Chanute Square Chanute KS
Downtown Great Bend Great Bend KS
Hutchinson Mall Hutchinson KS
Freestanding Lawrence KS
Winfield Plaza Winfield KS
Cortana Mall Baton Rouge LA
Park Terrace DeRidder LA
North Shore Square Slidell LA
Berkshire Mall Lanesborough MA
Easton Marketplace Easton MD
Rockland Plaza Rockland ME
Lakeview Square Mall Battle Creek MI
Delta Plaza Escanaba MI
Westshore Mall Holland MI
Copper Country Mall Houghton MI
Birchwood Mall Kingsford MI
Midland Mall Midland MI
Cascade Crossings Sault Ste. Marie MI
Central Lakes Crossing Baxter MN
Five Lakes Centre Fairmont MN
Faribo West Mall Faribault MN
Irongate Plaza Hibbing MN
Hutchinson Mall Hutchinson MN
Red Wing Mall Red Wing MN
Downtown Thief River Falls Thief River Falls MN
Freestanding Winona MN
Maryville Center Maryville MO
Leigh Mall Columbus MS
Southgate Plaza Corinth MS
Greenville Mall Greenville MS
Bonita Lakes Mall Meridian MS
Oxford Mall Oxford MS
Capital Hill Mall Helena MT
Sidney Main Street Sidney MT
Albemarle Crossing Albemarle NC
Boone Mall Boone NC
Eastridge Mall Gastonia NC
Blue Ridge Mall Hendersonville NC
Monroe Crossing Monroe NC
Becker Village Mall Roanoke Rapids NC
Fremont Mall Fremont NE
Downtown McCook McCook NE
Platte River Mall North Platte NE
Rio Grande Plaza Rio Grande NJ
The Boulevard Las Vegas NV
Dunkirk-Fredonia Plaza Dunkirk NY
Westfield Sunrise Massapequa NY
Palisades Center West Nyack NY
Findlay Village Mall Findlay OH
New Towne Mall New Philadelphia OH
Richmond Town Square Richmond Heights OH
St. Mary's Square St. Marys OH
Altus Plaza Altus OK
Ne-Mar Shopping Center Claremore OK
Ponca Plaza Ponca City OK
Pioneer Square Shopping Center Stillwater OK
Astoria Downtown Astoria OR
Grants Pass Shopping Center Grants Pass OR
La Grande Downtown La Grande OR
Downtown Pendleton Pendleton OR
The Dalles Main Street The Dalles OR
Columbia Mall Bloomsburg PA
Clearfield Mall Clearfield PA
King of Prussia Mall King of Prussia PA
Philadelphia Mills Philadelphia PA
Bradford Towne Centre Towanda PA
Lycoming Mall Pennsdale PA
Willow Grove Park Willow Grove PA
Citadel Mall Charleston SC
Town 'N Country Easley SC
Palace Mall Mitchell SD
Northridge Plaza Pierre SD
Watertown Mall Watertown SD
Yankton Mall Yankton SD
Greeneville Commons Greeneville TN
Knoxville Center Knoxville TN
County Market Place Union City TN
Athens Village Shopping Center Athens TX
Borger Shopping Plaza Borger TX
Heartland Mall Early TX
El Paso Downtown El Paso TX
Marshall Mall Marshall TX
McAllen Downtown McAllen TX
University Mall Nacogdoches TX
King Plaza Shopping Center Seguin TX
Bosque River Center Stephenville TX
New River Valley Mall Christiansburg VA
Tanglewood Mall Roanoke VA
Pilchuck Landing Snohomish WA
Pine Tree Mall Marinette WI
Marshfield Mall Marshfield WI
Richland Square Shopping Center Richland Center WI
Rapids Mall Wisconsin Rapids WI
Foxcroft Towne Center Martinsburg WV
Downtown Sheridan Sheridan WY