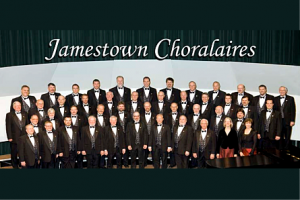 Jamestown  (CSi)  The Jamestown Choralaires in February with community support, traveled to New York City to perform with other choruses in concert.
On Friday's Wayne Byers Show on CSi Cable 2 Choralaires Director Pam Burkhardt was joined by Choralaires member Mark Sherfy.
Mark said 29 singers and 27 guests, including two raffle winners went on the trip.
Pam thanked the community for its support and added that over $20,000 was raised from a fundraiser, and 900 raffle tickets were sold, at a cost of $20 each.
She said Paul and Claudia Sharpe of Jamestown won the raffles's Grand prize, and elected to go on the trip in lieu of the $1,000 in cash.  Other prizes were also awarded.
She added that while in New York City some of the Choralaires members were joined by those from other choruses that performed at Carnegie Hall, in an impromptu  sing on risers that were located in Times Square, to an appreciative crowd that gathered on the street, asking for another sing of the Star Spangled Banner.
Mark pointed out that the upper Midwest, Big Sign this year will be in Staples, Minnesota, with Choralaires members involved.
Marked added that the Jamestown Choralaires will present a dinner concert:  Songs of the Carnegie Cowboys, Friday March 31, 2017 and Saturday April 1st, at 7-p.m., both evenings, at the St. John Academy's Zebedee Center.
They will be singing western music, old and new, dressed in cowboy attire.
Doors open at 6-p.m.
Tickets are $35, available at Looysen I Care on First Avenue South in Jamestown, Monday through Wednesday 8-a.m., to 5-p.m., Thursday 8-a.m., to 7-p.m., and Friday 8-a.m., to 2-p.m.
The menu is Smoked Beef Brisket, with all the fixins.