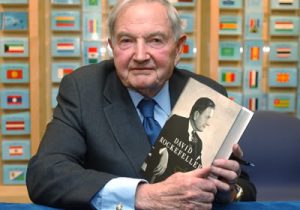 NEW YORK (AP)  Former President George H.W. Bush says David Rockefeller's connections and "keen aptitude for issues" made him a valuable adviser to presidents of both parties.
Bush says in a statement that he and his wife, Barbara, are "deeply saddened" by the death of their "wonderful friend." He calls Rockefeller one of the "brightest Points of Light."
Bill and Hillary Clinton say David Rockefeller was a "kind, good man" who used his fame and fortune to do good in the United States and abroad.
In a statement, the former president and first lady described Rockefeller as a consummate businessman, great humanitarian and serious scholar.
They say his tremendous support of arts and humanities in America gave millions the opportunity to experience the country's great heritage of painting, dance, music and more.
A spokesman says Rockefeller died in his sleep Monday morning at his home in Pocantico (poh-KAN'-tih-koh) Hills, New York. He was 101.
He was the grandson of Standard Oil co-founder John D. Rockefeller and the youngest of six children born to John D. Rockefeller Jr. He was also the guardian of his family's fortune and head of a sprawling network of family interests, both business and philanthropic, that ranged from environmental conservation to the arts.
He also headed what is now JP Morgan Chase bank.