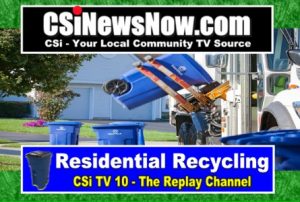 Replay of May 3rd meeting now showing on CSi TV 10 – The Replay Channel.  Check schedule  for future showings.
Jamestown  (CSi)  The start up of the Jamestown Residential Recycling program has been delayed until September 2017.
At the Recycling informational meeting Wednesday May 3,  Recycle North Dakota manager Ralph Friebel said the later start up stems from the City of Jamestown being notified of a delay in receiving the new trucks that will allow automated pick up of both recycle and garbage bins.
He indicated that the city's automated garbage pick up will also be delayed for the same reason, with date of implementation to be announced.
When fully implemented the garbage pick up will remain on the same day on a weekly basis, and the recycling bin contents will be picked up the same day as the garbage, but every other week.
The delay will have no effect on the present city collection of garbage.
For more information online go to www.recyclenorthdakota.org  . Click on the FAQ Tab at the top of the page.
Residential recycling in Jamestown is anticipated to start September 2017 .
Previously:
On a recent Wayne Byers Show on CSi Cable 2, Mayor Katie Andersen said examples of the sizes of the garbage containers on display at the City Hall Lobby.
These meetings will use a power point presentation explaining in detail the programs.  Recycling and landfill trash carts will be available for public viewing. Current and proposed garbage rates will be discussed.
The Jamestown City Council has agreed to terms with Renaissance   Recycling for a five year period, with a five year renewal, that may be renegotiated annually or discussed at any time in between.
The September start up is expected, with a delay agreed to pending acquiring of equipment or other issues that may come up.