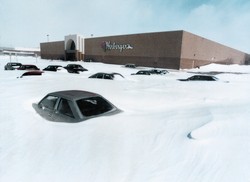 BISMARCK, N.D. (AP) — It's been 20 years since a devastating April blizzard struck North Dakota, dumping as much as 2 feet of snow in some areas.
Tuesday marks the anniversary of the 1997 storm that killed about 100,000 cattle, knocked out power to tens of thousands of people and led to massive spring flooding in eastern North Dakota.
According to the National Weather Services, April 1997 began with temperatures in the 60s, giving people hope for spring after receiving 10 blizzards that winter.
But by the afternoon of April 5, 1997 heavy snow was falling across the state, with accumulations on average of 1.5 to 2 inches an hour.
That day Bowman saw the most snow with 24 inches.