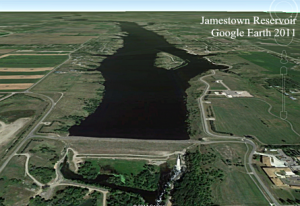 Jamestown (CSi)  The U.S. Army Corp  of Engineers, on Friday April 21, 2017  increased the Jamestown Dam release from 450 cfs, to 650 cfs.
Bob Martin says the increase in the release will raise the James River level in Jamestown by about one foot.
He adds that adjustments may be necessary at the Oxbow gate in Jamestown, to accommodate the increased release.
He says the reason for the increase is a combination of recent rainfall, and still some snow melt in the upper basin.
He says earlier this week Woodworth reported 1.40 inches of rain.
Jamestown recorded .99 inch of rain.
He adds, Jamestown Reservoir is eight feet into the flood storage area.
Plans are to have that eliminated by June 1, 2017.
The Pipestem Reservoir is 18 feet in the flood storage area.  The Pipestem Dam release will be remain at zero cfs. When Jamestown Reservoir's level is out of flood storage, Pipestem Dam's release will be increased, to reach freeze up by this fall.
News Release from the U.S. Army Corps of Engineers