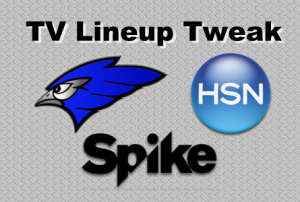 (CSi – April 19, 2017) – Cable Services announced today that by June 1, 2017, three channels will shift to different channel numbers in a minor tweaking.
May 25:  The Blue Jay Channel's new home will be CSi Digital 80.137
June 1:  HSN – Home Shopping,  will move to CSi 76.
June 1:  Spike will move to CSi 55.
The channel shifting (rearranging) is being done to provide additional bandwidth for CSi Internet services,  as data use continues to grow.
The full channel lineup for Cable Services can be found online at CSiCable.com