Jamestown  (CSi)  White Cloud the albino buffalo that once roamed the pasture at the National Buffalo Museum in Jamestown returned home on Tuesday.  Photo album Online at Facebook – Like & Share! 
Video by CSi TV 10 – The Replay Channel
White Cloud died November 14, 2016 at the Shirek (Shree'-ock) Buffalo Ranch, after spending 19 years at the National Buffalo Museum's herd, in Jamestown.
Plans were made by the National Buffalo Museum's  board  to have her preserved and displayed at the National Buffalo Museum in Jamestown's large exhibition room.
On Tuesday Morning White Cloud arrived by carrier, and she was escorted by a caravan of cars to the National Buffalo Museum.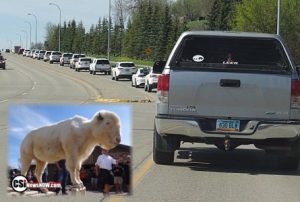 The Museum's Director Ilana Xinos says, the display will give museum visitors a more historical, cultural and scientific significance of albino bison.
White Cloud will be displayed in a humidity controlled enclosure  at the museum.  The unveiling in the near future will be announced.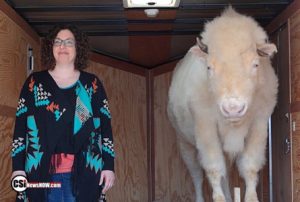 White Cloud's taxidermy by Monte Hoggarth, of Jamestown came after a large donation of $30,000 by Dave and JoAnn Vining. Dave points out  that many  contributed toward the $50,000 goal to help preserve White Cloud.
White Cloud over the past two decades has had 11 calves, including another white bison named Dakota Miracle. Another offspring of White Cloud, named Dakota Thunder, carries the albino gene and is the father of a third white buffalo, Dakota Legend.
More than three million museum visitors had seen White Cloud through the years when she was alive.
More photos Online at Facebook.com/TheReplayChannel