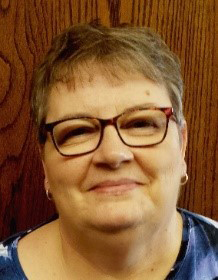 Jamestown  (JRVLS)  The James River Valley Library System announces that Barb Caine will be retiring at the end of May 2017.
Barb joined the library staff in 1996, and her specialties include genealogy and reference. She has helped many people, both locally and from around the country, to find their roots in Stutsman County through her work at the library.
Over the years, Barb has served many people in the  community in one way or another, and has always done so in a patient and kind way. From her ability to find the answers to almost any question asked, to helping patrons find the books they need, Barb has always been very valuable to the library and she will be greatly missed.
The library will honor Barb for her contributions in a farewell open house, which will be held on Wednesday, May 24, 2017 from 2:00 pm-4:00 pm at the Alfred Dickey Library.
The community is invited for cake and coffee and extend best wishes to Barb on her next chapter in life.
For more information, call the Alfred Dickey Library at (701)-252-2990.