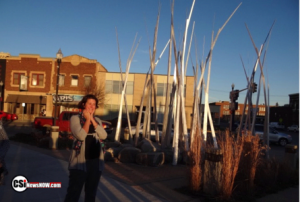 Jamestown  (CSi)  The Jamestown Tourism Grant/Executive Board met Thursday at the CSi Technology Center at Historic Franklin School.
The ArtSpark event was presented by Arts Center Director, Cyndi Wish.
ArtSpark is planned as a celebration in honor of the Hansen Arts Park, to be held on August 25 and 26, 2017 and will feature a wide variety of arts programs intended to exhibit all the ways in which the community can use the park.
Downtown ArtSpark will be free and open to the public, and is anticipated as a regional draw.
Attendees will enjoy art making activities, theater and musical performances, storytelling, dance, food experiences, and more.
Two Rivers Performing Arts School will also be involved in the activities.
The public is invited to volunteer in setting up and assisting in the activities by calling the Arts Center. at 701-251-2496.
The Jamestown Arts Center partnering with Northern.Lights.mn, the producers of Minneapolis/St. Paul's famous Northern Spark event, to identify and bring in nationally known artists and performers in addition to showcasing local and community talent.
Downtown ArtSpark is largely supported by a generous grant from the National Endowment for the Arts, which is being matched by funding from the Bush Foundation. These funds are specifically earmarked for stipends to artists, ensuring exceptionally quality to the programs within the event.
The Arts Center is requesting Jamestown Tourism to assist in marketing initiatives.
The Arts Center is planning  aggressive marketing, including working with The Arts Partnership in
Fargo to market the event on billboards at  Hector International Airport  among other efforts outside of the "usual" marketing strategies.
The Arts Center requested $1,500 in grant funding for advertising which the board agreed to, unanimously.  Grant/Executive Board Member Taylor Barnes abstained from voting, being a member of the Arts Committee.