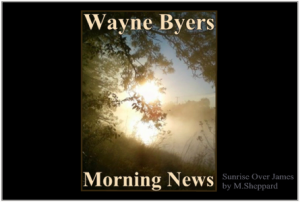 CSi Weather…
.REST OF TODAY…Partly sunny.  Highs in the
upper 50s. East winds 5 to 10 mph.
.TONIGHT…Mostly cloudy. Lows in the upper 30s. East winds 5 to
10 mph.
.SATURDAY…Cloudy with a 40 percent chance of rain showers in the Jamestown area, 60 percent in the Valley City area.
Highs in the lower 50s. Northeast winds 5 to 15 mph.
.SATURDAY NIGHT…Cloudy with a 50 percent chance of rain
showers in the Jamestown area, 60 percent in the Valley City area. Lows in the upper 30s. North winds 10 to 15 mph.
.SUNDAY…Partly sunny. A 20 percent chance of rain showers in
the morning in the Jamestown area, 30 percent in the Valley City area. Highs in the mid 60s. Northwest winds 10 to 15 mph with gusts to around 30 mph.
.SUNDAY NIGHT…Increasing clouds. Lows in the mid 40s.
.MONDAY…Partly sunny. A 30 percent chance of rain showers in
the afternoon. Highs in the lower 60s.
.MONDAY NIGHT…Mostly cloudy. A 20 percent chance of rain
showers in the evening. Lows in the lower 40s.
.TUESDAY AND TUESDAY NIGHT…Partly cloudy. Highs in the mid 60s.
Lows in the lower 40s.
.WEDNESDAY…Mostly sunny. A 20 percent chance of rain showers in
the afternoon. Highs around 70.
.WEDNESDAY NIGHT AND THURSDAY…Partly cloudy. Lows in the upper
40s. Highs in the lower 70s.
Jamestown  (CSi)  The Jamestown Tourism Grant/Executive Board, voted unanimously Thursday to send a letter to the Frontier Village Association, in response to the FVA requested appeal to Tourism's previous decision on not funding a specific project, and  reconsider action on the grant request prior to the October Capital Construction funding cycle.
At the March 16, 2017 Tourism Capital Construction grant application meeting, the Tourism Board, voted unanimously to grant the General Store project, with $12,750 coming from the Capital Construction Fund, and $5,250 from the Grant Requests Fund.
The board tabled the request for the Depot Building project.
In a letter to Tourism Board President, Matt Woods, the FVA was appealing the Tourism denial and requested clarification on the denial of the tax dollars ear-marked for the Frontier Village to help maintain the grounds, staff and buildings.
Woods pointed out that tourism tax generated dollars are not specifically ear-marked for the Frontier Village, and that there is not appeal process to requests that are denied.  He said in that event, another application can be made.
FVA also requested a re-evaluation of the grant request because of special circumstances, and that at no time did the FVA fail in the application process.   The letter to the Tourism Board  said it "finds this unacceptable to discriminate and deny our funding because someone was not there, as the grant application was self-explanatory as to what our need was and the dollar amount we were asking for."
At Thursday's meeting it was pointed out that before the March meeting, Tourism Director Searle Swedlund attempted to contact FVA board members Tina Busche, Charlie Tanata, and Nellie Degen.  He said Degen returned a call saying she just learned about Tina and no one was available to attend the Capital Construction Fund meeting.
Woods said, at this time Jamestown Tourism stands by its decision and will ask the Frontier Village Association to reapply for funding for the Depot project at the October Meeting.
The letter further explains the City Promotion Capital Construction guidelines include tourism reserving the right to approve or reject project requests, and to ask for further clarification.
The letter stating Tourism's response will be signed by each Tourism Grant/Executive Board member and sent to the Frontier Village Association Board.
Woods also gave the Tourism Grant/Executive Board members a listing of member of the FVA board, in the event a Tourism Board member would like to contact a FVA Board member with clarification of Tourism policies.
In other business the Grant/Executive Board Director Searle Swedlund noted that he is on the Arts Center's Search Committee for a new Arts Center Director, to succeed Cyndi Wish, who is resigning the post effective June 30, 2017.
He said Tourism will appear at a Jamestown City Council committee meeting this month, to inquire about assistance in the "Feed The Buffalo," project.
A drop off site will be a replica buffalo that reacts when money is deposited.
The dollars raised will go toward renovating The World's Largest Buffalo, at Frontier Village
City Council Member Pam Phillips representing the City Council told the board that City Attorney Leo Ryan and James River Rodeo, Inc., attorney Tim Ottmar have met to discuss negotiations for new contract between the city and the Rodeo, on holding future rodeos in Jamestown.
She added that the negotiation process is continuing.
She also pointed out the labor shortage in Jamestown, adding that the new Dunham's Sporting Goods Store coming to the Buffalo Mall will be in need of employees.
Jamestown  (CSi)  The Jamestown Tourism Grant/Executive Board met Thursday at the CSi Technology Center at Historic Franklin School.
The ArtSpark event was presented by Arts Center Director, Cyndi Wish.
ArtSpark is planned as a celebration in honor of the Hansen Arts Park, to be held on
August 25 and 26, 2017 and will feature a wide variety of arts programs intended to exhibit all the ways in which the community can use the park.
Downtown ArtSpark will be free and open to the public, and is anticipated as a regional draw.
Attendees will enjoy art making activities, theater and musical performances, storytelling, dance, food experiences, and more.
The Jamestown Arts Center partnering with Northern.Lights.mn, the producers of Minneapolis/St. Paul's famous Northern Spark event, to identify and bring in nationally know artists and performers in addition to showcasing local and community talent.
The public is invited to volunteer in setting up and assisting in the activities by calling the Arts Center. at 701-251-2496.
Downtown ArtSpark is largely supported by a generous grant from the National Endowment for the Arts, which is being matched by funding from the Bush Foundation. These funds are specifically earmarked for stipends to artists, ensuring exceptionally quality to the programs within the event.
The Arts Center is requesting Jamestown Tourism to assist in marketing initiatives.
The Arts Center is planning  aggressive marketing, including working with The Arts Partnership in Fargo to market the event on billboards at  Hector International Airport  among other efforts outside of the "usual" marketing strategies.
The Arts Center requested $1,500 in grant funding for advertising which the board agreed to, unanimously.
Grant/Executive Board Member Taylor Barnes abstained from voting, being a member of the Arts Committee.
Jamestown (CSi)  The Jamestown Arts Center will hold auditions for the production of musical comedy,  "The Big Bad Musical," a program of the Summer Kid's Theater Camp.
On Thursday's Wayne Byers Show on CSi Cable 2, Arts Center Director, Cyndi Wish said auditions for students age 10 and older will be held at the Arts Center, June 8 & 9, 2017 at 6-p.m., and June 10th at 10-a.m.
Rehearsals will take place July 5-8 from 9-a.m., to  3-p.m., for the lead roles, and July 1015 from 9-a.m., to 3-p.m., for the full cast.
The free performance will be July 15 at 3-p.m., and 7-p.m. at the Jamestown Arts Center.
Presented by The Arts Center in cooperation with Two Rivers Performing Arts School. Camp meets in the Arts Center Gallery.
A courtroom has never been more lively and fun than in The Big Bad Musical!  This smart and wickedly funny musical is great for actors and audiences of any age.  The jury — your audience — must decide the outcome of the biggest trial ever in the fairy-tale world!  The notorious Big Bad Wolf is being slapped with a class-action lawsuit by storybooks of quirky characters who want to get even:  Little Red Riding Hood, her Grandmother, the Three Little Pigs and the Shepherd in charge of the Boy Who Cried Wolf.
Register for this and other classes on line at:   www.jamestownarts.com
Valley City  (CSi)  The Valley City Public Works Department will start flushing fire hydrants May 22nd and last for approximately two weeks.
Residents are reminded that water pressure may vary and you may notice discolored water conditions during this time. however, The water will remain safe to drink.
Residents should check their water before doing laundry, and store water for drinking and cooking.
Call Valley City Public Works at 845-0380 with any questions.
Bismarck  (CSi)  The North Dakota Development Fund has  awarded funding for three projects totaling $850,000.
The North Dakota Development Fund was created in 1991 as an economic development tool. It provides flexible gap financing through debt and equity investments for new or expanding North Dakota primary sector businesses. Primary sector businesses create new wealth and are typically manufacturers, food processors and export service companies.
At its monthly board meeting requests from the area wthat were funded included:
Buffalo City Wood Products Inc. of Jamestown was awarded a $250,000 loan to finance working capital needs. The company manufactures park homes.
Just Kidding Childcare Center LLC of Valley City was awarded $100,000 loan payable to contractors who remodeled the child care center due to cost overruns and to complete additional work needed to benefit the center. The company provides child care services in the surrounding area.
The North Dakota Development Fund, is  a loan program at the North Dakota Department of Commerce.
MINOT, N.D. — Fire broke out late Thursday morning at a recycling business on the west side of Minot, sending thick, black smoke billowing into the air.
The Minot Daily News reports, that Earth Recycling, owned by Arden Jesz, is on the west side of the U.S. Highway 83 West Bypass. Smoke could be seen throughout the city and there were reports of ash falling miles away.
Minot Rural Fire Department along with firefighting units from area communities and Minot Air Force Base as well as numerous other emergency crews responded to the blaze that started about 11:15 a.m. Thursday. The wind pushed the fire. When the fire started the wind was about 13 mph with gusts to 20 mph, according to the National Weather Service.
Rex Weltikol, chief of the Minot Rural Fire Department, said at a press conference held Thursday afternoon near the fire scene that they do not know yet what started the fire. At that time, he said they needed to get a controlled fire before they begin investigating.
A news release issued late Thursday afternoon said officials were conducting tests and monitoring the air quality in the area around the bypass near the scene of the fire. At that time, monitoring found little or no change in air quality and the City of Minot Fire Department would continue to monitor the area. Officials said there was no need to evacuate any areas other than those directly around the fire.
Weltikol said there were no major explosions occurring at the site, although there were some smaller explosions caused by paint and some propane bottles releasing pressure.
Weltikol said the  recycling business site formerly was a block plant. He said the present site had paper, aluminum – all kinds of recycling material.
Weltikol said firefighters at the scene besides Minot Rural Fire Department included Burlington, Surrey, Carpio, Minot Air Force Base and City of Minot plus numerous other emergency responders assisting at the scene.
Minot AFB's firefighting team sent to the scene was comprised of six firefighters – four military members and two civilians – a foam trailer, water tanker and crash truck, said Senior Airman Sahara L. Fales of the Minot AFB Public Affairs Office.
BISMARCK, N.D. (AP) — The City of Bismarck says there won't be a recall election for Mayor Mike Seminary.
City Administrator Keith Hunke announced Thursday that organizers did not collect enough valid petition signatures to merit the recall.
The recall drive came after critics accused the mayor of welcoming Dakota Access pipeline protesters to Bismarck.
Hunke says the recall committee turned in 2,405 signatures, but 667 were invalid, mostly due to addresses outside of Bismarck, nonexistent addresses and unqualified petition circulators.
That left 1,738 qualified signatures, which is short of the 1,898 required for calling a recall election.
Mayor Seminary welcomed the news, saying he appreciates all the hard work that city staff put into the effort.
The Bureau of Criminal Investigation was called in to help investigate inconsistencies with the petitions.
FARGO, N.D. (AP) — A former deputy U.S. marshal in North Dakota has been sentenced to seven years in prison on a child pornography charge.
Thirty-year-old Michael Rivera, of Bismarck, pleaded guilty in January to receipt of images depicting the sexual exploitation of minors. The case was handled by the U.S. attorney's office from South Dakota after North Dakota prosecutors opted to stay out of it.
Authorities say the images were found on Rivera's computer as police were investigating state allegations he had recorded 19 women in store dressing rooms around Bismarck. Rivera was convicted in state court in February of misdemeanors including surreptitious intrusion and creating and attempting to create sexually expressive images.
U.S. District Judge Ralph Erickson says Rivera must serve five years of supervised release when he gets out of prison.
STANLEY, N.D. (AP) — A Stanley woman has been sentenced for taking prescription pills from the nursing home where she worked as a nurse.
Fifty-two-year-old Karen Evans was accused of taking the narcotics from the Mountrail Bethel Home last summer. The Minot Daily News reports that she told investigators she's addicted to the painkiller.
Evans pleaded guilty recently to two felony drug counts, and eight other counts were dismissed. She was given three years of probation and ordered to pay more than $1,500 in fines and fees.
BISMARCK, N.D. (AP) — About 100 employees from cabinet-level agencies in North Dakota state government have expressed interest in taking voluntary buyouts to help with the state's struggling finances.
Republican Gov. Doug Burgum gave agency heads in April the option to offer buyouts to employees, and letters went out to some 3,600 with the offer. In a letter drafted by Burgum's office, agencies told employees the buyouts might limit the need for layoffs.
The deadline to apply for a buyout is Monday. It's up to the agencies to determine which buyouts are accepted.
Nick Archuleta is the president of the union representing state employees. He says the option of buyouts is a "softer landing" than having to fire workers.
Officials estimate the average annual salary and benefits for each state employee is about $81,000.
BISMARCK, N.D. (AP) — American Indian tribes who are still fighting the Dakota Access pipeline in court have dropped an appeal of a federal judge's decision that allowed final construction to proceed.
U.S. District Judge James Boasberg in early March refused to stop completion of the pipeline based on the claims of Sioux tribes that it threatens water they consider sacred.
The Cheyenne River Sioux appealed to the U.S. Court of Appeals for the District of Columbia Circuit. That court refused an emergency order stopping oil from flowing. The pipeline is now filled with oil and ready to begin commercial operations in two weeks.
With oil already in the line, Cheyenne River attorneys in late April submitted a motion to voluntarily dismiss their claim in the appeals court, and the motion was granted Monday.
DEVILS LAKE, N.D. (AP) — The Spirit Lake Tribal Council is considering allowing alcohol sales at the Sioux tribe's casino.
Alcohol has been banned on the reservation for decades. But tribal leaders are considering allowing the casino to serve alcohol on the gambling floor and during events such as weddings and conferences at the casino's steakhouse.
A portion of the revenue from alcohol sales might go toward funding an alcohol and drug rehabilitation center on the reservation.
A council vote scheduled Tuesday was postponed to provide time for additional review.
Opponents of the proposal gathered Wednesday in Fort Totten to express their concerns about introducing alcohol back onto the reservation.
In sports…
St. Paul  (CSi)   The U.S. Army Corps of Engineers, St. Paul District, is working with local organizations to host the 27th Annual Take-A-Kid-Fishing-Day at Lake Ashtabula, near Valley City, June 3, 2017.
The event will be at the Mel Rieman Recreation Area and is scheduled from 8:30 a.m. – 1:15 p.m. Participants, ages 6 – 10, must pre-register by having a parent or legal guardian call 701-845-2087 or 701-845-2378. The event is limited to the first 50 kids to register. The registration deadline is May 26.
Registration includes transportation to and from Veterans Park in Valley City, fishing equipment and lunch. Prizes will be given to each participant.
The Barnes County Wildlife Federation, Inc., funds the entire event with support from the Corps of Engineers and Valley City Women of Today.
For more information, see www.mvp.usace.army.mil.
Jamestown  (CSi)  The Blue Jay Girls Soccer team will be honoring the  Military Tuesday, May 23, 2017, in conjunction with Military Appreciation Month.
The National Guard will be on hand at the game in  addition to the Jamestown Drum and Bugle Corp with the color guard  for  the flag presentation during the National Anthem.
All veterans and current military can get into the game FREE that evening.
Fans are encouraged to  dress in red white and blue for the game.
Prizes awarded to the best dressed.
MLB…
INTERLEAGUE
MINNEAPOLIS (AP) — Jose Berrios allowed two hits and struck out 11 over 7 2/3 innings as the Minnesota Twins beat the Colorado Rockies 2-0 on Thursday night, salvaging a split of an interleague doubleheader between the first-place teams in the AL Central and NL West.
The Twins scored just three runs in the doubleheader, but Berrios (2-0) made his scant support in the nightcap hold up with the best outing of his young career.
In Game 1, Nolan Arenado homered and Mark Reynolds drove in two runs to lead the Rockies to a 5-1 victory.
Final Texas 8 Philadelphia 4
Final Toronto 9 Atlanta 0
AMERICAN LEAGUE
Final Detroit 6 Baltimore 5
Final Kansas City 5 N-Y Yankees 1
Final Oakland 8 Boston 3
Final Seattle 5 Chi White Sox 4
NATIONAL LEAGUE
Final Pittsburgh 10 Washington 4
Final Chi Cubs 9 Cincinnati 5
Final Milwaukee 4 San Diego 2
Final L.A. Dodgers 7 Miami 2
NATIONAL HOCKEY LEAGUE PLAYOFFS
NASHVILLE, Tenn. (AP) — The Anaheim Ducks have tied the NHL's Western Conference finals at two games apiece by ending the Nashville Predators' 10-game home winning streak.
Corey Perry scored off a deflection at 10:25 of overtime to give the Ducks a 3-2 win over the Predators. Perry fired a shot that banked in off Nashville defenseman P.K. Subban's (SOO'-banz) stick and past goaltender Pekka Rinne (PEH'-kuh REE'-nah).
The fluky goal derailed a nice comeback by the Predators. Subban got Nashville within 2-1 at 13:33 of the third period before Filip Forsberg tied it with just 34.5 seconds left in regulation.
John Gibson made 32 saves for Anaheim, while Rinne turned back 33 shots for the Predators.
WOMEN'S NATIONAL BASKETBALL ASSOCIATION
NEW YORK (AP) — Maya Moore scored 12 of her 16 points in the second half to lead a balanced Minnesota offense and help the Lynx beat the New York Liberty 90-71 on Thursday night.
All five of the Lynx starters were in double figures, with Lindsay Whalen and Sylvia Fowles each adding 12 points.
New York (1-1) led 45-43 before Minnesota scored 17 of the next 19 points to go up 60-47 midway through the third quarter. Whalen had the final six points during the game-changing burst.
The Lynx (2-0) were up 14 early in the fourth quarter before Brittany Boyd sparked a Liberty run. New York's point guard scored four straight to start a 7-0 run. Rebecca Allen capped it with a 3-pointer to make it 74-67, but that's as close as New York could get.
Boyd twisted her left ankle midway through the final period, leaving the court and heading to the locker room. She finished with 16 points. Sugar Rodgers led the Liberty with 20.
ALL-NBA TEAMS
NEW YORK (AP) — Cleveland's LeBron James has been named to the All-NBA first team for a record-tying 11th time, and Houston's James Harden is the lone player to be a unanimous first-team selection this season.
Joining Harden and James on the first team were Oklahoma City's Russell Westbrook, San Antonio's Kawhi Leonard and New Orleans' Anthony Davis. James and Westbrook each got 99 of a possible 100 first-team votes.
Harden made the first team for the third time. Westbrook, Leonard and Davis are now two-time first-teamers.
Golden State's Stephen Curry and Kevin Durant were second-team choices, joined by Milwaukee's Giannis Antetokounmpo, Utah's Rudy Gobert and Boston's Isaiah Thomas.
The third All-NBA team includes Chicago's Jimmy Butler, Golden State's Draymond Green, Toronto's DeMar DeRozan, Washington's John Wall and the Los Angeles Clippers' DeAndre Jordan.
MINNEAPOLIS (AP) — Minnesota Timberwolves center Karl-Anthony Towns just missed out in the All-NBA voting that was released on Thursday.Towns finished with 50 points in the voting by a select panel of media on the three teams. That was just four points fewer than third-team center DeAndre Jordan. Towns received the highest point total of any player not to make a team.
Towns averaged 25.1 points and 12.3 rebounds while shooting 54 percent from the field for the Wolves in his second season. But Minnesota won just 31 games, only two more than they did during Towns' rookie season, which no doubt played into his being passed over by other players.
Towns also did not play as well on defense as the three All-NBA centers — Anthony Davis, Rudy Gobert and Jordan.
BLOOMINGTON, Minn. (AP) — Former Minnesota Vikings coach Bud Grant coach runs his garage sales with steely discipline.
Grant gave the fans gathered outside his home in Bloomington his annual warning of no haggling. He said, "If you don't want to buy it, the guy behind you will." Then he blew his whistle precisely at 5 p.m. Wednesday to open the sale.
The  hottest items at Grant's 12th sale were autographed bobbleheads of him and his old hunting dog, Boom. Only 15 were immediately available, though more were coming.
The Hall of Famer, who turns 90 Saturday, also autographed memorabilia that fans bought or brought — for a nonnegotiable $25.
The sale, which runs through Friday, has drawn fans from across the country — even a couple from Ireland.
HOCKEY-WORLD CHAMPIONSHIP
COLOGNE, Germany (AP) — The United States was a 2-0 loser to Finland in the quarterfinals of the ice hockey world championship in Cologne, Germany.
Jimmy Howard stopped 18 shots for the Americans, who had won six straight games to capture Group A.
Canada edged Germany 2-1 to set up a semifinal showdown with Russia, which defeated the Czech Republic 3-0.
OLYMPICS
LONDON (AP) — There still appears to be a slight chance of having NHL players at the next Olympics.
The head of the Pyeongchang (PYUHNG'-chahng) Olympics organizing committee says the NHL isn't being "greedy" preventing hockey stars going to the 2018 Games and he was willing to be flexible to meet their demands. Organizing committee president Lee Hee-beom told The Associated Press on Thursday that "we are ready to cooperate." Lee says he doesn't know what the NHL's conditions are, "but whatever they ask — if it is acceptable for us — we will do our best."
NFL….
UNDATED (AP) — The opening date for the $2.6 billion football stadium under construction in Inglewood, California, has been pushed back one year to 2020. The stadium will be shared by the NFL's Los Angeles Rams and Los Angeles Chargers and was scheduled to open before the 2019 NFL season.
The Rams are likely to stay in the Coliseum for the 2019 season, while the Chargers play that year at the 30,000-seat StubHub Center in 2019.
Meanwhile, the Las Vegas Stadium Authority board has unanimously approved a conditional lease agreement for what it hopes will be the Raiders' new home in 2020. The approval comes after months of negotiations that were affected by the sudden exit of an instrumental financial backer of the $1.9 billion project.
PGA-BYRON NELSON
IRVING, Texas (AP) — Ricky Barnes and James Hahn are go-leaders through 18 holes of the Byron Nelson Classic near Dallas.
Barnes and Hahn opened with 6-under 64s that put them two strokes in front of Matt Kuchar, Jason Kokrak, Cameron Tringale and Jhonattan Vegas.
Top-ranked Dustin Johnson is part of a group at 67.
LPGA-KINGSMILL CHAMPIONSHIP
WILLIAMSBURG, Va. (AP) — Lexi Thompson fired a 6-under 65 to grab the first-round lead at the LPGA's Kingsmill Championship in Virginia.
Thompson had six birdies in a seven-hole stretch after playing her opening nine holes at even par. She's one shot ahead of Gerina Piller, Brittany Lincicome (LIHN-sih-kohmb) and Angel Yin.
PGA CHAMPIONS
BIRMINGHAM, Ala. (AP) — There's a four-way tie for the lead through one round of the Regions Tradition in Birmingham, Ala.
Lee Janzen, Jeff Sluman (SLOO'-muhn), Scott McCarron and Miguel Angel Jimenez each fired 7-under 65s to begin the PGA Tour Champions event. Kenny Perry is one shot back and one ahead of five others.
In world and national news…
WASHINGTON (AP) — President Donald Trump is departing on Air Force One on his first big foreign trip. The trip is supposed to be a chance to build relationships with key allies and showcase the "America First" policies he promised on the campaign trail. But so far, Trump has spent much his remaining hours stateside combative and complaining about questions still swirling about possible collusion with Russia. Trump says "everybody, even my enemies, have said there is no collusion."
TEHRAN, Iran (AP) — Iran's presidential election is being viewed as a referendum on incumbent President Hassan Rouhani's moderate policies. Iranians are voting in the first presidential election since the country's nuclear deal with world powers. Rouhani is facing a staunch challenge from a hard-line opponent over his outreach to the West. Economic issues also are on voters' minds.
LONDON (AP) — Julian Assange's lawyer is asking French President Emmanuel Macron to intervene in support of the WikiLeaks founder. Juan Branco told The Associated Press in Paris that he wants Macron to help Assange leave the Ecuadorean Embassy in London. Branco says: "We need a political intervention to make this situation end. He is the only political prisoner in Western Europe."
WASHINGTON (AP) — As President Donald Trump heads off on his first foreign trip, a worldwide effort is under way to accommodate America's homebody president. The stakes are increasingly high given the ballooning controversy involving his campaign's possible ties to Russia. After departing Friday on a 14-hour overnight flight on Air Force One, Trump will hopscotch from Saudi Arabia to Israel to the Vatican, then head to two summits.
DUBAI, United Arab Emirates (AP) — Rights advocates say Saudi Arabia's guardianship laws are the factor that most powerfully enshrines inequality for women. The country's ban on women driving is what often grabs the most attention, but also under Saudi law, a male relative's permission is needed for a woman to get a passport, to travel abroad or to marry. And it's also often demanded when a woman tries to rent an apartment, buy a car or even undergo a medical procedure.