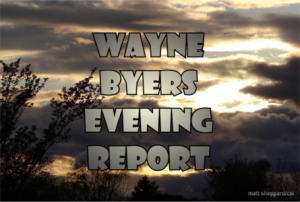 CSi Weather…
.SUNDAY…Partly sunny. A 20 percent chance of rain showers in
the morning 30 percent in the Valley City area. Highs in the mid 60s. Northwest winds 10 to 15 mph.
.SUNDAY NIGHT…Increasing clouds. Lows in the lower 40s.
Northwest winds 5 to 10 mph.
.MONDAY…Mostly cloudy. A 30 percent chance of rain showers in
the afternoon. Highs in the lower 60s.
.MONDAY NIGHT…Mostly cloudy with a 20 percent chance of rain
showers. Lows in the lower 40s.
.TUESDAY AND TUESDAY NIGHT…Partly cloudy. Highs in the mid 60s.
Lows in the lower 40s. 
Jamestown  (CSi)  Jamestown Public Works announces that City crews will begin flushing fire hydrants on Tuesday, May 23, 2017 in the NE & NW areas and will continue the work throughout the City during normal working hours until completed.   Please be aware of the possibility of lowered water pressure when flushing of hydrants occurs in the various areas.
Valley City  (CSi)  Valley City has open positions on boards and committees for various terms.
City Auditor Avis Richter says, those include:
One opening on the Zoning Board of Adjustment
One opening on the Renaissance Zone Board
One opening on the Special Assessment Commission.
Anyone interested in applying is asked to contact Emma at City Hall, at 845-8125 or 845-1700 Ext. 0 or Email  to etufte@valleycity.us
Jamestown  (CSi)  The North Dakota Highway Patrol – Southeast Region will be conducting an alcohol saturation in Ransom, Sargent, LaMoure and Dickey Counties May 19 & 20, 2017.  Troopers from across the Southeast Region will be working overtime over the weekend.
In 2016, approximately 40% of all traffic fatality victims in North Dakota were killed in alcohol related crashes, but approximately 50% of fatal victims in the Southeast Region were killed in alcohol related crashes.  The Southeast Region consists of the following counties:  Cass, Richland, Ransom, Sargent, Griggs, Barnes, LaMoure, Dicky, Foster, Stutsman, Logan and McIntosh Counties.
The goal of the saturation is deter and detect impaired drivers to prevent additional traffic crashes from occurring because of impaired drivers.
FARGO, N.D. (AP) — A man who led police on a chase has been arrested at a Fargo hotel after abandoning his car and jumping into a cab.
Moorhead, Minnesota police tried to stop the man early Friday, but he sped away with officers in pursuit. Authorities say the suspect abandoned his car near Triumph Lutheran Brethren Church in Moorhead and got into a cab.
Investigators tracked the man down at the Red Roof Inn in Fargo where he was arrested without incident.
BISMARCK, N.D. (AP) — A federal judge has dismissed a lawsuit from the developer of the Dakota Access oil pipeline against Standing Rock Sioux Tribal Chairman David Archambault and four others.
Dakota Access LLC filed the complaint last year against Archambault and others, seeking restraining orders and monetary damages.
The Bismarck Tribune reports that the company claimed they interfered with pipeline work, threatening the safety of workers and costing the company more than $75,000 a day.
U.S. District Judge Daniel Hovland ruled Thursday that the company failed to show that the alleged losses caused by each defendant exceeded $75,000, which is required for a lawsuit to be valid in federal court.
Hovland says the company can pursue damages in state court.
MOORHEAD, Minn. (AP) — Union workers at American Crystal Sugar Company have approved a new labor contract.
WDAY-TV reports the agreement covers about 1,200 employees at sugar refinery plants in Moorhead, Crookston and East Grand Forks, Minnesota and Hillsboro and Drayton in North Dakota — and at storage facilities in Chaska, Minnesota and Mason City, Iowa.
The agreement for members of the Bakery, Confectionary, Tobacco Workers and Grain Millers local includes a 3 percent raise the first four years and a 2.7 percent hike the last year.
The union says it also includes a signing bonus of $2,250. Failed contract negotiations in 2011 ended in a union lockout that lasted two years.
In world and national news…
WASHINGTON (AP) —  The Washington Post is reporting that a current senior White House adviser is under scrutiny as part of an investigation into possible coordination between the Trump campaign and Russia.
The newspaper is citing unidentified people familiar with the investigation. The adviser under scrutiny is not named, but described as someone close to Trump.
The Post says the revelation comes as the investigation appears to be entering a more open and active phase, with investigators conducting interviews and using a grand jury to issue subpoenas.
Current administration officials who have acknowledged contacts with Russian officials include Trump's son-in-law, Jared Kushner, Attorney General Jeff Sessions and Secretary of State Rex Tillerson.
The New York Times is reporting that President Donald Trump told Russian diplomats that firing "nut job" FBI director James Comey  had relieved "great pressure" on him. The newspaper report cites the White House's official written account of the Oval Office meeting.
WASHINGTON (AP) — President Donald Trump embarks Friday on a foray through the Middle East and Europe, his first foreign trip as president. He leaves behind tumult over his firing of the FBI director amid the government's investigation of Russian interference in last year's election and possible ties between his campaign and Russia. Among other goals on his trip to the Mideast and to a pair of European summits, Trump is expected to try to reassure allies nervous about his "America First" message.
WASHINGTON (AP) — The White House says the president will not announce his pick for FBI director before leaving Friday on his first foreign trip. President Donald Trump has been narrowing a short list and interviewing candidates to replace FBI Director James Comey, whom Trump fired on May 9. Press Secretary Sean Spicer said Friday that no announcement is imminent.
WASHINGTON (AP) — Newly released documents show that President Donald Trump's attorneys initially didn't want Trump to sign an updated financial disclosure. The attorney's effort to sidestep certification marks a departure from the norm. Trump also has still declined to provide his tax returns. Following a discussion with the federal ethics office, Trump's attorney agreed the president will "sign and file" documents regarding his 2016 financials by mid-June.
NEW YORK (AP) — Former congressman Anthony Weiner has left a New York City courtroom after pleading guilty to exchanging sexually explicit texts with a 15-year-old girl. The Democrat cried in court earlier Friday as he apologized for his behavior and said he had destroyed his "life's dream in public service." He pleaded guilty to a single count of transmitting sexual material to a minor.
NEW YORK (AP) — A police report says a man accused of mowing down a crowd of Times Square pedestrians with his car once told police in Florida he wanted to kill officers. A police report says in 2012 Richard Rojas was accused of beating a cabbie who he believed had charged him too much. The report says Rojas told an officer he was going to kill police after his release from jail.