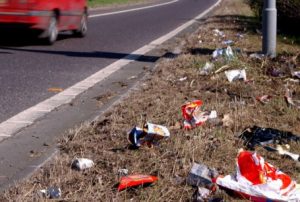 Bismarck  (CSi)   – The North Dakota Department of Transportation (NDDoT) and North Dakota Highway Patrol (NDHP) are reminding citizens that on August 1, 2017, the fine for littering on state highways will be much higher.
If you litter or dispose of cigarette butts on a North Dakota highway, you'll face a much higher fine than in the past.
During the last legislative session, House Bill 1311 was passed and raises the fine for littering on a publicly maintained roadway from $100 to $500.
The NDDOT and NDHP reminds motorists about the dangers of improperly disposing of cigarettes out the window of a vehicle, especially during dry conditions, as it can easily cause a roadside fire which can be catastrophic.
Learn more about the newest fine and law at www.dot.nd.gov.