Valley City  (CSi-VCSU)  –  Valley City State University senior linebacker Nicholas McBeain has been named to the College Football America 2017 Yearbook NAIA Starting Lineup.
The honor is the CFA version of a pre-season All-America Team.
A native of Shakopee, Minnesota,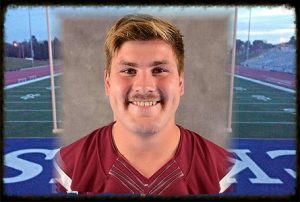 is the all-time leading tackler in VCSU history. McBeain posted a school-record 188 tackles last season and led the NAIA in tackles per game (18.8). He broke five different season and career tackle records at VCSU during the 2016 season. His 446 career tackles are 80 more than the second best career total in Viking football history.
McBeain was named 2nd Team AFCA NAIA All-American and was a finalist for the Cliff Harris Award, which recognizes the best small college defensive player in the nation. He was also named 1st Team All Conference last season and has earned All Conference awards each of his three seasons at VCSU.
Valley City State University is coming off a 6-4 record, which included two victories over Top 25-ranked teams. The Vikings open the 2017 season on September 2, 2017,  hosting Dickinson State University.