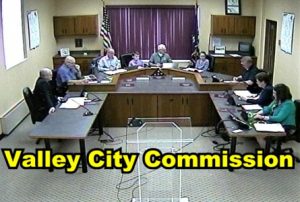 Valley City (CSi)  The City Commission met in regular session Tues evening at City Hall.  All members were present.  City Administrator Schelkoph was not present.
Presentation of Block Parties, from Barnes County, On The Move with Andrea Winter.
She said Tuesday was National Night Out Day.
She pointed out that block parties help neighbors to get to know each other watch out for each other, concerning possible needs.  She suggests inviting local law enforcement to the parties.
Block Parties may also stem crime.
She gave possible ideas, noting the Valley City web site has information on starting a block party.
Checklist for Block Party Hosts:
Pre-Event Logistics
o Register your block party by calling 845-8125 or send an email to etufte@valleycity.us.
o If you would like to block off the street, please submit an Application to Block off Street request. Forms are available online at www.valleycity.us or in the Auditor's Office. There is no cost.
o Having a picnic? Consider making it potluck and invite everyone to bring a dish to pass. Let your neighbors know if they should bring their own dishes or if the hostess will provide.
Mayor Carlsrud read the Proclamation, proclaiming this summer as Block Party time in Valley City.
APPROVAL OF CONSENT AGENDA ITEMS:
Monthly Reports from the Fire Chief, Building Inspector, Auditor, Municipal Judge and Public Works Accountant.
Monthly Bills for the City and Public Works in the Amount of $2,310,746.01.
Raffle permit for Barnes County Ducks Unlimited, El Zagal Sheyenne Valley Flag Corps, Hi-Line Booster Club
Application to Block off the Street for VCSU on August 24, 2017 on Central Avenue from 4th Street to 2nd Street
PUBLIC COMMENT:  No One Spoke.
ORDINANCE
The City Commission approved the Second and Final Reading of an Ordinance to establish a fee required by North Dakota Century Code to benefits local victims of crime.
NEW BUSINESS:
The City Commission approved  purchasing and installing a tag axle on two garbage trucks at a cost of $7,600/truck
CITY UPDATES & COMMISSION REPORTS
Mayor Carlsrud asked resident to make VCSU new and returning students feel welcome to the community.
He reminded citizens to use discretion in water usage, and water lawns early morning, or in the evening hours.
City Auditor Richter said the preliminary 2018 city budget is being prepared and will be given to City Commissioners next week to start budget talks.
City Assessor Hansen next week will attend the North Dakota Assessors Conference and workshops along with attending the State Board of Equalization meeting in Bismarck.
KLJ gave an update on projects with the City Parking Lot improvements starting this week.