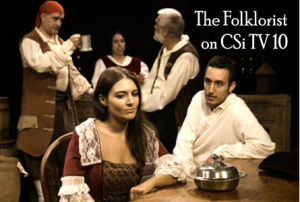 CSi is proud to present The Folklorist. It aired on CSi TV 10  – The Replay Channel . Consult schedule for additional air times.
Episode 14 Online: Host John Horrigan tells the stories of a group of slaves who plan a daring escape towards freedom while aboard a confederate controlled ship, a major wildfire that wreaked havoc on the coastal New England town of Marshfield, and a fisherman who becomes the talk of Nantucket after he spends the night inside the belly of a whale. . .
Watch The Replay Channel for future episodes.  The Folklorist is the Emmy® Award-winning television series that offers a captivating look at some of the lesser-known occurrences in history. Whether it's a tale of a legendary lost city, a forgotten hero, or a hoax beyond belief, The Folklorist brings audiences back to each story's origins and uncovers what's been left out of text books, and what lives on as folklore.
A NEWTV ORIGINAL PROGRAM
Produced & Directed by Angela Harrer & Andrew Eldridge
Written by John Horrigan, Andrew Eldridge & Angela Harrer
Hosted by John Horrigan
Created by John Horrigan & NewTV
Executive Director: Robert Kelly
 PRODUCTION CREW
Cinematographers: Angela Harrer & Andrew Eldridge
Editors: Andrew Eldridge, Angela Harrer & Andrew Zubatkin
Sound Design: Andrew Eldridge & Angela Harrer
Assistant Editors: Marcella D'Aston & Lara Pietranera
Production Assistants: Marcella D'Aston, Lara Pietranera, Dave Charpentier & Eliana Bencosme
Music: Audionetwork, Audioblocks & Organic Music Library
ROBERT SMALLS CAST
Aaron Wilson as "Robert Smalls"
James McGruder as "John Smalls"
Ted Ndinya as "Alfred Gradine"
JacQuán L. Stanley as "David Jones"
Junie Joseph as "Hannah Smalls"
Dora Winifred as "Mrs. John Smalls"
Bless Robinson as "John Smalls' Sister"
Doug Reed as "CSS Planter Captain C.J. Relyea"
Giovanni Alabaiso as "CSS Planter Engineer S.Z. Pitcher"
Ron Young as "CSS Planter Mate John Smith Hancock"
Rob Nixon as "USS Onward Captain Frederick Nickels"
Steve Sumner as "USS Onward First Mate"
Emmanuel Jalbert as "USS Onward Wheelman"
Robert Connolly as "USS Onward Crew Mate"
SPECIAL THANKS
Cheryl Uttaro
Steve Russo
Boston Costume
Associated Quirks
Westerman Props
Scenic Arts
Boston Fire Museum
Ventress Memorial Library
THE GREAT BRANT ROCK FIRE CAST
Angel Connell as "Town Selectman"
Yefim Somin as "Town Selectman"
Jarod Ricci as "Auxiliary Fireman"
Wendy Hartman as "Winship's Store Clerk"
Rick Plasmati as "Delivery Man"
Howard Waldman as "Charles Starrett"
Jan Waldman as "Eva Starrett"
Herbert Fuchs as "Banker"
Monica Saviolakis as "Bank Customer"
James Dupuis as "Silas Wright"
Emmanuel Jalbert as "Charlie Najam"
Jonathan Lourie as "Jimmy Plett"
Paul Taft as "Plymouth Fire Chief"
Ralph Regine as "William Pratt"
Lin Hultgren as "Marshfield Resident"
Stephanie Eaton as "Marshfield Resident"
Ken Holmes as "Marshfield Resident"
Judy Maloney as "Marshfield Resident"
Jacquan Stanley as "Marshfield Resident"
Michelle Principi as "Marshfield Resident"
Wayne Malm as "Marshfield Resident"
Kathleen Golden as "Mrs. Chenney"
Ellen Lacey as "Operator"
ICHABOD PADDOCK CAST
James Barraford as "Ichabod Paddock"
Ralph Regine as "Whaler"
Rick Plasmati as "Whaler"
Vincent Perrone as "Whaler"
Shandy Monte-Raposa as "Bar Patron"
Elle Doucette as "The Mermaid"
Jeff Bouffard as "The Devil"
Jaclene London as "Smilinda"
Michael Magian as "Smilinda's Father"
Herbert Fuchs as "Quaker"
Jan Waldman as "Quaker"
Angel Connell as "Quaker"
Memie Watson as "Quaker"
Thomas Kilgallen as "Quaker"