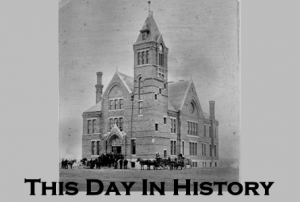 This Day In History
August 8, 1883 
"The Stutsman County Courthouse opened with a dedication ball.  Opening a remarkable event"
*** from the 125th Anniversary Calendar of Jamestown History ***
.
The Historic 1883 Stutsman County Courthouse is  open this summer (2020),  10 am to 5 pm Weds through Sun, closed Mon & Tues.   Closed Mondays and Tuesdays.  The 1883 Courthouse is located at 504 3rd Ave SE in Jamestown, ND.
Efforts to save the courthouse began in 1982 spearheaded by the late Mary Young of Jamestown, joined by others, concerned when the Stutsman County Commission wanted to tear down the building, when the new adjacent courthouse was built.
Work on the 1883 restoration began in the 1990's.  The building houses the most complete collection of pressed tin in the state, and has recently undergone a massive restoration.  Updates include an electrical overhaul, new restrooms, boiler installation, and the complete restoration of the historic Auditor's Office, Sheriff's Office, Office of the Clerk of Court, hallway, jury room, and staircase.  The completion of the stairway restoration was funded by the 1883 Courthouse Committee, of Jamestown.
Related stories at CSiNewsNOW.com
1883 Courthouse Open House May 14, 2016  and video
Sneak Peek Photo Album of 1883 Courthouse
More photos online at Facebook.