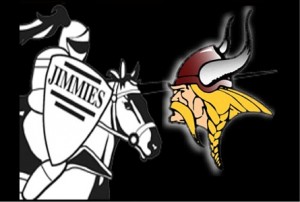 Jamestown  (CSi)  The North Star Athletic Association's preseason football poll, has VCSU ranked second, and the University of Jamestown fifth.
UJ received 25 points in voting done by the conference's coaches.
Dickinson State is the preseason favorite in the NSAA. The  Blue Hawks are ranked 15th in the preseason top 25 poll. They are the only ranked NSAA team.
Three teams from the GPAC—No. 4 Morningside, No. 11 Doane and No. 17 Dakota Wesleyan—are ranked in the preseason top 25 poll.
Valley City State and Dakota State are picked second and third in the NSAA. Both teams got one first-place vote.
North Star Athletic Association
Preseason football poll
Rank Team Pts
Dickinson State (5) 47
Valley City State (1) 37
Dakota State (1) 36
Presentation 27
Jamestown 25
Mayville State 13
Waldorf 11