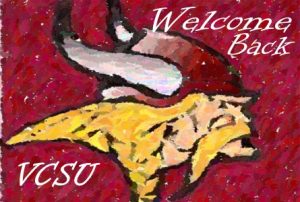 Valley City (CSi-VCSU)  Plans are in place for the Welcome Window Project and the Back to the City Night.
The Valley City Welcome Window Project and Back to the City Night is on August 24, 2017.
The Welcome Window Project involves local businesses painting their storefront windows. The goal is to provide an old-fashioned welcome for VCSU students (especially  incoming students), the kind that says "we're glad you're back, we appreciate you, and we hope you will get to know our businesses and think of Valley City as your city."
The Welcome Window Project will run from August 16–24 and conclude with the Back to the City Night when VCSU students, faculty, and staff will meet on the VCSU side of the footbridge and walk "Back to the City" to meet business owners and check out the many things our city offers.
For more information about these events, please feel free to contact Jackie (jacqueline.owen@vcsu.edu) or Sarah (sarah.larsen@vcsu.edu) directly.