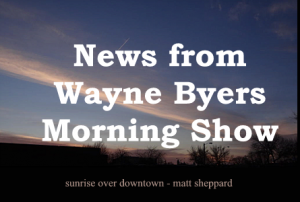 CSi Weather…
.REST OF TODAY…Sunny. Highs in the mid 70s. Northwest winds around
5 mph shifting to the east around 5 mph in the afternoon.
.TONIGHT…Increasing clouds. Lows in the mid 50s. East winds
around 5 mph.
.SATURDAY…Mostly cloudy. Slight chance of rain showers in the
morning, then chance of rain showers and thunderstorms in the
afternoon. Highs in the mid 70s. Southeast winds 5 to 10 mph.
Chance of precipitation 30 percent in the Jamestown area, 40 percent in the Valley City area.
.SATURDAY NIGHT…Mostly cloudy. Chance of rain showers and
thunderstorms in the evening, then chance of rain showers after
midnight. Lows in the mid 50s. Southeast winds 5 to 10 mph.
Chance of precipitation 40 percent.
.SUNDAY…Partly sunny with a 30 percent chance of rain showers in the Jamestown area, 40 percent in the Valley City area.
Highs in the lower 70s. East winds 5 to 10 mph.
.SUNDAY NIGHT AND MONDAY…Partly cloudy. Lows in the mid 50s.
Highs in the 70s.
.MONDAY NIGHT…Partly cloudy. Lows in the upper 50s.
.TUESDAY…Partly sunny. Chance of showers in the morning, then
chance of showers and thunderstorms in the afternoon. Highs in
the upper 70s. Chance of precipitation 40 percent.
.TUESDAY NIGHT…Mostly cloudy. Chance of showers and
thunderstorms in the evening, then chance of showers after
midnight. Lows in the lower 60s. Chance of precipitation
50 percent.
.WEDNESDAY…Partly sunny. Chance of showers in the morning, then
chance of showers and slight chance of thunderstorms in the
afternoon. Highs around 80. Chance of precipitation 30 percent.
.WEDNESDAY NIGHT…Partly cloudy. A 20 percent chance of rain
showers in the evening. Lows in the upper 50s.
.THURSDAY…Mostly sunny. Highs around 80.
There is a chance of thunderstorms tonight. Severe weather is not
expected.
.Saturday through Thursday
Thunderstorm chances continue Saturday, then again Monday through
Wednesday of next week.
Jamestown  (CSi)  Jamestown Public Works informs motorists that Due to the annual street maintenance project, the following street WILL BE TEMPORARILY CLOSED over the next TWO WEEKS beginning  Friday morning, August 11, 2017:
3rd St NE (College Hill) between 9th Ave NE & 12th Ave NE
Motorists and other traffic should use extreme caution when entering these construction maintenance areas. The public should consider alternate routes.
The road maintenance activities are contingent on changing weather conditions.
Bismarck  (CSi) Gov. Doug Burgum Thursday appointed seven members to the State Water Commission, bringing a broad variety of experience in flood protection, water supply and other water issues to the board.
Those appointed include Jamestown Mayor, Katie Andersen, appointed to the commission for the James River area.  The news release says, she owns a dry cleaning business and has been mayor of Jamestown since 2010, where she has been involved in a variety of water topics including flood control, storm water management, drainage and wastewater treatment. She has a bachelor's degree in political science from South Dakota State University. Her term on the State Water Commission expires June 30, 2019.
Valley City Commissioner Matt Pedersen has been appointed commissioner for the Upper Red River, whose portfolio includes flood protection, finance and planning and zoning. He currently chairs the Valley City Permanent Flood Protection Task Force. Pedersen has a bachelor's degree in business administration from the University of Nebraska-Lincoln.  His term on the State Water Commission expires June 30, 2023.
The nine-member State Water Commission consists of Burgum as chairman, Agriculture Commissioner Doug Goehring as an ex-officio member, and seven members appointed by the governor, with one member each from the seven major drainage basins in North Dakota.
The governor expressed his gratitude to the outgoing State Water Commission members for their more than 100 years of combined service to the state.
Jamestown  (CSi)  The last day Jamestown Parks and Recreation Department will be offering lap swimming at the Jamestown High School swimming pool will be August 31, 2017.
The Two Rivers Activity Center (TRAC) will be opening in September for swimming.
For more information about the Two Rivers Activity Center (TRAC) call 952-8722 (TRAC).
Valley City (CSi)  Plans are in place for the Welcome Window Project and the Back to the City Night.
The Valley City Welcome Window Project and Back to the City Night is on August 24, 2017.
The Welcome Window Project involves local businesses painting their storefront windows. The goal is to provide an old-fashioned welcome for VCSU students (especially  incoming students), the kind that says "we're glad you're back, we appreciate you, and we hope you will get to know our businesses and think of Valley City as your city."
The Welcome Window Project will run from August 16–24 and conclude with the Back to the City Night when VCSU students, faculty, and staff will meet on the VCSU side of the footbridge and walk "Back to the City" to meet business owners and check out the many things our city offers.
For more information about these events, please feel free to contact Jackie (jacqueline.owen@vcsu.edu) or Sarah (sarah.larsen@vcsu.edu) directly.
Valley City  (CSi)  The Amazing Backpack Giveaway will be held Monday, August 14, 2017 from 6:30pm-8:30pm at the New Life Assembly of God Church located at 520 Winter Show Road SW in Valley City.
Pastor Lucas Aufenkamp says students can register by visiting www.newlifevc.com/backpack or by calling the church at 701-845-2259. He said the first hour is for registered students the second hour is for those who walk in.
Anyone who would like to financially support the backpack giveaway, please visit www.newlifevc.com/support
Jamestown  (CSi)   The Bikers for Kids fundraiser on August 5th, raised $1,007 for the Community Action Region 6  Weekend Kids backpack program.
Food Pantry Coordinator Sarah Oberlander there were 18 bikes and 29 individuals participating, allowing the  purchase at least 100 backpacks for area kids.
Backpacks are filled to provide kids a backpack full of food for those in need and distributed each weekend.
GRANVILLE, N.D. (AP) — No injuries were reported when a water truck crashed into an Amtrak train in northern North Dakota.
The Highway Patrol says the crash happened about 7:40 a.m. Thursday, at a rural crossing west of Granville. The driver was cited for failing to yield to the train.
The train was damaged but was able to continue on to Minot. Amtrak spokesman Marc Magliari says there were 338 passengers and 16 crew members aboard.
FARGO, N.D. (AP) — The latest crop production report from the federal Agriculture Department shows North Dakota crops are feeling the effects of widespread drought.
The state's staple spring wheat crop is forecast to be down 31 percent from last year, to 186 million bushels. Durum production is expected to be down 56 percent, to just under 26 million bushels. Winter wheat production is projected at 1.5 million bushels, down 74 percent.
Other projected drops are barley, down 44 percent, oats, down 37 percent, alfalfa hay, down 21 percent, corn, down 19 percent, soybeans, down 5 percent and sugar beets, down 1 percent.
The only crop showing a projected increase is dry beans, up 14 percent.
FARGO, N.D. (AP) — A fired Fargo police officer is appealing his termination, with his attorney stating that claims made by his supervisors were trumped up and disparaging.David Boelke is appealing to the city's Civil Service Commission.
KFGO reports Chief Dave Todd fired the 15-year veteran saying he made "intentional and willful decisions" not to respond to calls, not to collect evidence and showed disrespect and discourteous behavior toward other officers and lacked patience with the public.
BISMARCK, N.D. (AP) — Bismarck is expected to be one of four sites for a pilot program aimed to help people in the criminal justice system find addiction and behavioral health services.Although some resources exist, many offenders are falling through the cracks and going back to jail. The $7.5 million program will fund caseworkers to keep offenders on track.
The initiative is funded by the Department of Corrections and Rehabilitation's biennial budget set aside for behavioral health.
The Corrections Department and the Human Services Department will accept applications from vendors later this month. Potential vendors that could hire caseworkers include treatment centers, health care providers and community organizations.
The pilot program is expected to launch in the fall. Programs also will launch in Devils Lake, Fargo and Dickinson.
BISMARCK, N.D. (AP) — North Dakota received just enough rain in the past week to keep drought conditions from further deteriorating.
The latest U.S. Drought Monitor map shows 82 percent of the state in some stage of drought, unchanged from last week. Most of central and western North Dakota remains in extreme or exceptional drought, the two worst categories.
The Drought Monitor says there was a small area of improvement to extreme drought in the south central part of the state, but that abnormally dry conditions expanded in eastern North Dakota.
Gov. Doug Burgum earlier this week asked President Donald Trump for a disaster declaration, saying the state is "the epicenter of drought for the nation."
STURGIS, S.D. (AP) — The number of fatal crashes at this year's Sturgis Motorcycle Rally in the Black Hills has risen to five.
The state Department of Public Safety says the crashes have killed people from South Dakota, Texas, Maryland, Utah and Indiana.
There were two fatal accidents in the same time period at last year's rally.
The 10-day rally ends Sunday.
In sports…
SWAN LICENSES
BISMARCK, N.D. (AP) — Time is running out for hunters to apply for North Dakota swan licenses.
The state Game and Fish Department says Wednesday is the deadline.
North Dakota residents and hunters from other states are eligible to apply. Applications are being accepted online only. Paper applications aren't available this year.
A total of 2,700 licenses are available. The resident swan license is $10; the nonresident fee is $30.
The statewide tundra swan hunting season starts Sept. 30 and runs through the end of the year.
AA…
Redhawks were idle…
MLB…
INTERLEAGUE
MILWAUKEE (AP) — Byron Buxton and Joe Mauer each had three singles and the Minnesota Twins beat the Milwaukee Brewers for the fourth consecutive game, 7-2 Thursday night. The Twins, who have won five straight and are 7-3 in August, had 12 hits — 11 singles and a double — to sweep a home-and-home, four-game set with Milwaukee.
Final Pittsburgh 7 Detroit 5
Final St. Louis 8 Kansas City 6
AMERICAN LEAGUE
Final Toronto 4 N-Y Yankees 0
Final Tampa Bay 4 Cleveland 1
Final Chi White Sox 3 Houston 2, 11 Innings
Final Baltimore 7 Oakland 2
Final L.A. Angels 6 Seattle 3
NATIONAL LEAGUE
Final Cincinnati 10 San Diego 3
Final Washington 3 Miami 2
Final N-Y Mets 10 Philadelphia 0
Final L.A. Dodgers 8 Arizona 6
WOMEN'S NATIONAL BASKETBALL ASSOCIATION
Final OT Phoenix 101 Dallas 100
Final Chicago 94 San Antonio 74
NFL PRESEASON…
ORCHARD PARK, N.Y. (AP) — Quarterback Teddy Bridgewater need not rush back from injury after Case Keenum showed glimpses of being a capable backup in the Minnesota Vikings' 17-10 preseason-opening win over the Buffalo Bills on Thursday night. Taking over for starter Sam Bradford, Keenum went 11 of 16 for 121 yards. The sixth-year player engineered a pair of scoring drives.
GREEN BAY, Wis. (AP) — Quarterback Carson Wentz had a perfect preseason debut for the Philadelphia Eagles.
The Green Bay Packers might need to keep working on tackling, though they're off to a good start in creating turnovers.
Wentz went 4 for 4 for 56 yards and a score on his first series, eluding a potential sack and burning the Packers on third and fourth downs in Philadelphia's 24-9 loss on Thursday night.
CHICAGO (AP) — Mitch Trubisky threw for 166 yards and led three scoring drives after Mike Glennon struggled for Chicago, before the Denver Broncos scored two long touchdowns in the closing minutes to beat the Bears 24-17 in the preseason opener on Thursday night.
NBA…
MINNEAPOLIS (AP) — The Minnesota Timberwolves have a new look. After unveiling their new logo during the season, the Timberwolves introduced the first two of four new uniforms they will wear in the upcoming season. The new jerseys feature a stripe across the upper chest, just above the Wolves name. The new logo is on the shorts.
NEW YORK (AP) — The NBA has announced its earliest opening night in 37 years.
The league says the schedule will begin with the Cleveland Cavaliers taking on the Boston Celtics in an Eastern Conference finals rematch on Oct. 17. Also that night, the Golden State Warriors will begin their NBA title defense by hosting the Houston Rockets.
The five-game Christmas slate will include a finals rematch between the Warriors and Cavaliers.
The NBA moved up the start of the regular season in hopes of creating more opportunities for players to rest without doing so during games.
PGA CHAMPIONSHIP
CHARLOTTE, N.C. (AP) — Quail Hollow wasn't very kind to the 155 competitors in the opening round of the PGA Championship.
Kevin Kisner and Thorbjorn (TOHR'-byohrn) Olesen share the lead after shooting 4-under 67s. It's the highest score to lead after the first round of the PGA Championship since Matt Kuchar (KOO'-chur) shot 67 at Whistling Straits in 2010.
Fast, unforgiving putting surfaces were a major reason for the high scores.
Kisner birdied three of his final five holes, including a 20-footer on 18. Olesen finished with a 30-foot birdie.
Reigning U.S. Open champ Brooks Koepka (KEHP'-kuh) is among five players at 3 under. Koepka missed a half-dozen putts from 12 feet or closer.
Americans Grayson Murray, Gary Woodland, Chris Stroud and D.A. Points also find themselves at minus-3. Rickie Fowler and Hideki Matsuyama are in a mix at 1 under.
Jordan Spieth (speeth) opened with a 72 as the 24-year-old tries to become the youngest to win a career Grand Slam. Rory McIlroy also signed off on a 72.
Phil Mickelson struggled in his opening round, finishing with an 8-over 79 that puts him in danger of missing the cut at a PGA Championship for the first time since 1995. It was the worst round of his 25 appearances at the final major of the season.
In world and national news…
SEOUL, South Korea (AP) — China has reiterated calls for all sides to maintain calm and reduce tensions over the Korean Peninsula. The statement Friday does not mention any specific actions China would be willing to take, although some Chinese scholars and state media have called on Beijing to take on a shuttle diplomacy role to facilitate talks.
WASHINGTON (AP) — President Donald Trump is suggesting that Senate Majority Leader Mitch McConnell might have to think about stepping aside if he doesn't deliver on the president's agenda of health care, taxes and infrastructure. The president called McConnell's failure to repeal "Obamacare" a "disgrace" as he escalated a stunning feud against his top Senate partner. While the fighting words might elate Trump's core supporters, they can only hurt the GOP's chances of getting things done on Capitol Hill.
WASHINGTON (AP) — A new poll shows that people want President Donald Trump and congressional Republicans to try making the Obama health care law more effective. And they want them to stop trying to scuttle it. That's the message from a national poll released by the nonpartisan Kaiser Family Foundation. The survey was conducted after last month's Senate derailment of the GOP drive to erase much of President Barack Obama's health care law.
RAMALLAH, West Bank (AP) — Palestinian President Mahmoud Abbas has clamped down on social media and news websites with a vaguely worded decree that critics say allows his government to jail anyone deemed to harm "public unity" or the "safety of the state." Digital media have become the main outlets for debate and dissent in the Abbas-ruled enclaves of the Israeli-occupied West Bank. Rights activists say the decree is perhaps the most significant step yet by the Abbas government to restrict free expression.
LAS VEGAS (AP) — More than a third of U.S. states have created school voucher programs that bypass thorny constitutional and political issues by turning them over to nonprofits that rely primarily on businesses to fund them. But the programs are raising questions about transparency and accountability at a time when supporters are urging that they be expanded into a federal program.