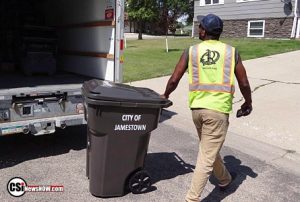 Jamestown  (CSi)  The City of Jamestown informs residents that crews from Rehrig Pacific continue distributing new brown garbage containers to Jamestown single family households, mobile homes and most multi-unit housing (apartment) facilities. As of Thursday nearly 3,800 containers had been delivered to area residents.
It was hoped that all residents with the old green containers would receive their new container on their regularly scheduled garbage pick-up day; however, some logistical concerns have prevented that to go as smoothly as we had hoped.
In addition, survey responses were not what we anticipated them to be and, as a result have resulted in cart shortages of various sizes which will result in some residents not receiving their cart until additional carts arrive. We would like to remind residents that this is a major city-wide effort never attempted before in our community.
The coordination of distributing new containers by crews from a private firm with the removal of the green containers by the City has presented some very unique challenges.
For year's area residents have used various methods of setting their garbage out for collection and the attempt to coordinate a universal system for everyone to use is a difficult task never seen by our residents. We continue to request the public's patience and understanding as we work to resolve these and any other concerns as they arise.
Any questions regarding garbage containers or garbage service may be made to 701-252-5900.
Any questions relative to recycling please call 701-320-9218