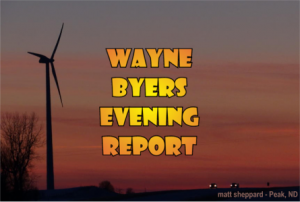 CSi Weather..
.TONIGHT…Increasing clouds. Lows in the mid 50s. East winds around 5 mph.
.SATURDAY…Mostly cloudy. Slight chance of rain showers in the morning, then chance of rain showers and thunderstorms in the afternoon. Highs in the mid 70s. Southeast winds 5 to 10 mph.
Chance of precipitation 30 percent in the Jamestown area, 40 percent in the Valley City area.
.SATURDAY NIGHT…Mostly cloudy. Chance of rain showers and
thunderstorms in the evening, then chance of rain showers after
midnight. Lows in the mid 50s. Southeast winds 5 to 10 mph.
Chance of precipitation 40 percent.
.SUNDAY…Partly sunny with a 30 percent chance of rain showers in the Jamestown area, 40 percent in the Valley City area.
Highs in the lower 70s. East winds 5 to 10 mph.
.SUNDAY NIGHT AND MONDAY…Partly cloudy. Lows in the mid 50s.
Highs in the 70s.
.MONDAY NIGHT…Partly cloudy. Lows in the upper 50s.
.TUESDAY…Partly sunny. Chance of showers in the morning, then
chance of showers and thunderstorms in the afternoon. Highs in
the upper 70s. Chance of precipitation 40 percent.
.TUESDAY NIGHT…Mostly cloudy. Chance of showers and
thunderstorms in the evening, then chance of showers after
midnight. Lows in the lower 60s. Chance of precipitation
50 percent.
.WEDNESDAY…Partly sunny. Chance of showers in the morning, then
chance of showers and slight chance of thunderstorms in the
afternoon. Highs around 80. Chance of precipitation 30 percent.
.WEDNESDAY NIGHT…Partly cloudy. A 20 percent chance of rain
showers in the evening. Lows in the upper 50s.
.THURSDAY…Mostly sunny. Highs around 80.
There is a chance of thunderstorms Friday night. Severe weather is not
expected.
.Saturday through Thursday
Thunderstorm chances continue Saturday, then again Monday through
Wednesday of next week.
Jamestown  (CSi)  The City of Jamestown informs residents that crews from Rehrig Pacific continue distributing new brown garbage containers to Jamestown single family households, mobile homes and most multi-unit housing (apartment) facilities. As of Thursday nearly 3,800 containers had been delivered to area residents.
It was hoped that all residents with the old green containers would receive their new container on their regularly scheduled garbage pick-up day; however, some logistical concerns have prevented that to go as smoothly as we had hoped.
In addition, survey responses were not what we anticipated them to be and, as a result have resulted in cart shortages of various sizes which will result in some residents not receiving their cart until additional carts arrive. We would like to remind residents that this is a major city-wide effort never attempted before in our community.
The coordination of distributing new containers by crews from a private firm with the removal of the green containers by the City has presented some very unique challenges.
For year's area residents have used various methods of setting their garbage out for collection and the attempt to coordinate a universal system for everyone to use is a difficult task never seen by our residents. We continue to request the public's patience and understanding as we work to resolve these and any other concerns as they arise.
Any questions regarding garbage containers or garbage service may be made to 701-252-5900.
Any questions relative to recycling please call 701-320-9218.
Bismarck  (CSi)  The North Dakota Department of Human Services has awarded grants to five communities to strengthen local efforts to treat opioid use disorder, support recovery, and save lives by preventing overdose deaths.
Laura Anderson, prevention administrator for the department's Behavioral Health Division, says, each community will receive $180,000, and grant-funded efforts are expected to begin this month and run through April 15, 2018.
Bismarck, Fargo, Grand Forks, Minot and Valley City will receive funding from the 2017 State Targeted Response to the Opioid Crisis Grant (Opioid STR). Grant recipients include the City-County Health District in Valley City, N.D.; the city of Fargo and Fargo Cass Public Health; the city of Grand Forks and Grand Forks Public Health; First District Health Unit of Minot; and the Heartview Foundation and Bismarck-Burleigh Public Health.
In June, the department invited communities to submit proposals. To be considered, communities were required to demonstrate need and the local capacity to address the opioid crisis across the continuum from prevention to recovery. Awarded communities will implement strategies to increase access to evidence-based treatment and recovery support services. Communities will also reduce overdose-related deaths through prevention efforts, specifically dissemination of the life-saving drug naloxone.
Overdose deaths in North Dakota increased from 20 deaths in 2013 to 61 deaths in 2015.1 The Centers for Disease Control reported that during 2015, drug overdoses accounted for 52,404 U.S. deaths, including 33,091 (63.1 percent) that involved an opioid.
Opioids include the illegal drug heroin, synthetic opioids such as fentanyl, and pain relievers available legally by prescription.
North Dakota is dedicating a minimum of 80 percent of its $2 million grant to treatment and recovery services, and using the rest for prevention and data collection, reporting and evaluation.
The state intends to continue to offer other types of support to other North Dakota communities struggling to address opioid abuse and overdoses.
Resources addressing the state's opioid epidemic are available online at https://behavioralhealth.dhs.nd.gov/addiction/opioid or by contacting the North Dakota Department of Human Services' Behavioral Health Division at 1237 W. Divide Ave., Suite 1D, Bismarck, N.D., 58501, 701-328-8919, or ndbhd@nd.gov.
Valley City  (CSi)  The Barnes County Sheriff's Office will be able to purchase a drone following a recent donation from Alliance Pipeline.
The news release states that the $2,500 had been donated to the Barnes County Deputies Program, with the funds to purchase a drone to be used to assist with HAZ MAT Emergencies, Search and Rescue and other areas of need.
BISMARCK, N.D. (AP) — A federal judge has cleared the way for completion of a $244 million project to bring Missouri River water to residents of northwestern North Dakota.
Judge Rosemary Collyer on Thursday ruled that the Northwest Area Water Supply project complies with federal environmental law.
NAWS was first authorized by Congress 31 years ago. It's been tied up in the courts the last 15 years because the state of Missouri and the Canadian province of Manitoba have concerns about water quality and water depletion.
The federal Bureau of Reclamation in 2015 released its final environmental study, calling for more stringent water treatment. Collyer says the study satisfies federal law requirements. She ruled in favor of the U.S. government, rejected Manitoba's claim and dismissed Missouri's.
Both plaintiffs can appeal.
Washington  (CSi)   Congressman Kevin Cramer attended a ribbon cutting ceremony Friday to mark the completion of a $30 million water treatment plant for the City of Minot.
The project, which was backed by $22.5 million in federal dollars, will ensure the city's water treatment plant remains operational during future extreme flooding events.
"When faced with the already stressful situation of fighting a flood, the last thing anyone wants to worry about is whether it's safe to drink the tap-water," said Cramer. "The completion of this treatment facility will bring peace-of-mind to Minot residents, and ensure that another boil-water advisory is never issued in the community again. I applaud the hard work done by local, state, and federal officials to complete this project, and know we'll be prepared for severe flooding in the future."
Since entering Congress in 2013, Cramer has supported legislation to ensure funding for the Federal Emergency Management Agency (FEMA) continues to be readily available for projects like Minot's water treatment plant.
DES MOINES, Iowa (AP) — The FBI has raided a Catholic Worker House in Des Moines looking for property of two women accused of damaging an oil pipeline that crosses Iowa and three other states.
The Des Moines Register reports that about 30 armed agents and other officers entered the Catholic Workers' Berrigan House around 6 a.m. Friday and left hours later with about 20 bags and boxes.
Former Catholic priest Frank Cordaro, who lives at the house, says the agents had a search warrant seeking property of Jessica Reznicek and Ruby Montoya, who also live at the house. The warrant said items sought included financial records, clothing, computers, and tools capable of cutting metal.
The women have a history of arrests for protesting the $3.8 billion Dakota Access pipeline that crosses North Dakota, South Dakota, Iowa and Illinois. Last month, they announced they had burned construction machinery, cut through pipe valves and set fires along the pipeline route.
BISMARCK, N.D. (AP) — A Bismarck men's emergency shelter is planning to shut its doors and sell.
Interim Executive Director Steve Neu confirmed last week that financial difficulties have led to the closure of the Ruth Meiers Hospitality House.
Neu says the organization wants to refocus its efforts to broader services for families and community reintegration.
The shelter offers a residential program that provides short-term housing and casework services. Apartments are also available for homeless people in need of affordable accommodations.
The emergency shelter houses about 30 to 70 homeless men a night. Neu says at maximum capacity the facility can house 300 people.
Neu says a closing date hasn't been set. But he says he wants to work with the city to create more emergency shelters.
FARGO, N.D. (AP) — A St. Michael man has been sentenced to five years in federal prison for striking and killing a 5-year-old boy with his vehicle.
Authorities say 52-year-old Richard Jackson was driving drunk and speeding when he hit the child on May 21, 2016.
U.S. Attorney Chris Myers says Jackson was sentenced Wednesday for involuntary manslaughter. He'll be on probation for three years following his prison term.
In sports…
BISMARCK, N.D. (AP) — North Dakota's Game and Fish Department has finalized the 2017 waterfowl season.
Opening day for North Dakota residents is Sept. 23 for ducks, geese, coots and mergansers. Nonresidents may begin hunting waterfowl in North Dakota on Sept. 30.
The season for swans opens Sept. 30 for both residents and nonresidents.
The hunting season for Canada geese in the Missouri River zone will close Dec. 29, with the rest of the state closing Dec. 21. The season for whitefronts closes Dec. 3, while the season for light geese is open through Dec. 31.
The early Canada goose season is Aug. 15 through Sept. 15, except in the Missouri River Zone, where it ends Sept. 7.
A special youth waterfowl hunting season is Sept. 16-17.
BISMARCK, N.D. (AP) — Federal officials are proposing allowing moose hunting for the first time on the Des Lacs and Upper Souris National Wildlife Refuges in northern North Dakota.
The proposal also calls for the Upper Souris refuge to have turkey hunting for the first time.
The two refuges already are open to upland game and big game hunting, and Upper Souris also is open to fishing.
The proposed expansion of outdoors opportunities is through an effort by Interior Secretary Ryan Zinke and the U.S. Fish and Wildlife Service to increase access to hunting and fishing on public lands and waters across the country.
The public has about a month to comment on the proposal.
In world and national news…
WASHINGTON (AP) — Beyond the bluster, the U.S. has been quietly engaged in back-channel diplomacy with North Korea for several months. The Associated Press has learned the U.S. has used the channel to try to address the fate of Americans imprisoned in the communist country and deteriorating relations between the long-time foes. People familiar with the diplomacy say that while the contacts haven't quelled tensions, they're leaving the door open to more serious negotiation.
WASHINGTON (AP) — An escalating exchange of provocative rhetoric between the United States and North Korea is alarming international leaders. Russia's foreign minister, Sergey Lavrov, estimated the risk of a military conflict between the U.S. and North Korea as "very high," and said Moscow is deeply concerned. Japan has started deploying land-based Patriot interceptors after North Korea threatened to send ballistic missiles flying over western Japan and landing near Guam.
NEW YORK (AP) — Donald Trump is planning to come home to Trump Tower for a few days starting Sunday. It would mark the president's first trip back to his namesake New York City skyscraper since the inauguration. City officials say they're prepared. Police estimate the cost of securing the president while he's in town is $300,000 per day, but that could easily change based on whom he's with and whether there are protests.
ALBANY, N.Y. (AP) — A billionaire hedge fund executive has apologized for an online post saying a black New York state senator has done "more damage to people of color than anyone who has ever donned a hood." Daniel Loeb's Facebook comments were in reference to Senate Minority Leader Andrea Stewart-Cousins' support for teachers unions. Loeb is a leading charter school supporter and big contributor to politicians including Democratic Gov. Andrew Cuomo. Cuomo and other top Democrats denounced the comments.
WASHINGTON (AP) — Hard-line conservatives are trying to force a fresh House vote this fall on erasing much of President Barack Obama's health care law without an immediate replacement. The effort by the House Freedom Caucus seems to have little chance of passing Congress. But it could help conservatives call attention to moderate Republican lawmakers not willing to vote to repeal the statute.