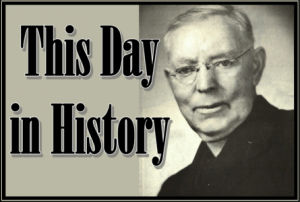 This Day In History – August 22, 1905 – Father Edward Geraghty was installed as pastor of St James Catholic Church. *** from the 125th Anniversary Calendar of Jamestown History ***
From Wikipedia:
By the early 20th century it became obvious that a new church was needed. Under the direction of the Rev. Edward J. Geraghty and Michael Murphy, a local banker and contractor who led the building committee, the Hancock Brothers of Fargo designed a new church in the Gothic Revival style. Jeff Shelde from Litchfield, Minnesota was chosen as the contractor. The groundbreaking took place in 1910 and it took four years to build the church. Bishop James O'Reilly consecrated it on November 29, 1914.
Obituary from FindAgrave.com gives a glimpse of the life of Father Geraghty:
Birth: Sep. 4, 1866
County Mayo, Ireland
Death: Feb. 22, 1953
Jamestown
Stutsman County
North Dakota, USA

MONSIGNOR GERAGHTY DIES HERE SUNDAY MORNING
Monsignor Edward J Geraghty, 86, veteran and revered pastor of St James Catholic Church and loved by Catholics and Protestants alike, died Sunday morning at 1:20 am at Trinity Hospital, where he had been a patient for two months.
Monsignor Geraghty known as "The Old Man" not only to his own parish members, but to many of his acquaintances, was ordained to the Catholic priesthood December 21, 1897 by Right Reverend Bishop Stanley. The golden jubilee observed October 21, 1947, was one of the outstanding events of his life as well as of Catholicism in the northwest.
The Most Reverend Aloisius J Muench, bishop of Fargo, who came from Germany, officiated with the investiture of Monsignor Geraghty with the purple robes. The Apostolic letter of appointment was read at the Solemn High Mass by Rev. Thomas J Tracy, Monsignor Geraghty's nephew. Monsignor Geraghty was the celebrant of the Mass; Rev. Peter Meade, St. Paul, the deacon; Rev. Lawrence Casey, Rosemount, Minnesota, subdeacon; Rev. Tracy, master of ceremonies; Right Reverend James M Reardon, Minneapolis, gave the sermon. Rev. Meade, Rev. Casey and Rev. Reardon were classmates of Monsignor Geraghty.
Monsignor Geraghty was ordained to the proesthood in Fargo. His first parish was at Reynolds, North Dakota, and after spending some time in St John's Hospital in Fargo, the young priest came to St James parish in August 1905. Services were held in the old church until it was decided to erect a new church and the present building was erected. After the church was built, there was need for a hospital and Monsignor Geraghty asked the Sisters of St Joseph to come to Jamestown and take over the Trinity Hospital which has been remodeled and enlarged. St John's Academy was established and attended by many boys and girls through the years. The new Academy building was erected in 1927 and the Beck addition was completed in 1951.
The Knights of Columbus Hall was built across the street from the church and is also used as a gymnasium for St John's Academy. St Joseph's Hall was purchased several years ago for the Sisters of St Joseph.
Monsignor Geraghty was born in the village of Carnaclay, near Westport, County Mayo, Ireland, September 3, 1867. He was baptized in the parish church at Westport September 5, by Rev. James Gallagher. The Geraghty family remained in their native land until 1881, when they crossed the ocean and settled in St Paul, Minnesota. Edward attended Madison school and St John's Parochial school. His classical studies were in All Hallows college, Salt Lake City, Utah, in charge of the Marist fathers, his philosophical course in St Thomas Aquinas seminary and completed his theological training in St Paul Seminary in 1897.
Surviving are his brother, Patrick Geraghty, Butte, Montana; and a sister, Mrs D.J. Hennessey, Colma, California, and many nieces and nephews. A sister, Mrs John Tracy, St Paul, died two weeks ago.
The body will lie in state at St James church from 4 pm today until the time of the services. It was taken from Daly-Peterson Funeral Home this afternoon to the church. Friends may call at any time.
Knights of Columbus will form the honor guard. Rosary will be recited Monday evening and Tuesday evening at 8 pm in the church.
Solemn Pontifical Requiem Mass will be offered Wednesday morning at 10:30 am. The Office of the Dead will be recited by the priest at 10 am Wednesday morning.
Burial will be in Calvary Cemetery
JAMESTOWN SUN
Monday 23 February 1953 p1
Family links:
Parents:
Patrick Geraghty (1839 – 1923)
Mary Killeen Geraghty (1839 – 1921)
Siblings:
John Geraghty (1864 – 1897)*
Edward Joseph Geraghty (1866 – 1953)
Patrick Joseph Geraghty (1872 – 1960)*
Bridget Agnes Geraghty (1877 – 1951)*
*Calculated relationship
Inscription:
ERECTED BY HIS PROTESTANT FRIENDS IN GRATITUDE FOR HIS LIFE AND SERVICE TO THE COMMUNITY
Burial:
Calvary Cemetery
Jamestown
Stutsman County
North Dakota, USA
Plot: Block 1
GPS (lat/lon): 46.891, -98.73383
Created by: BJ Brewer
Record added: Apr 25, 2014
Find A Grave Memorial# 128523149