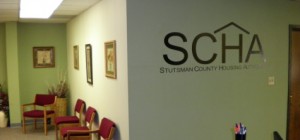 Jamestown  (Stutsman County Housing Authority)   A rental training event will be held Weds Sept 13 from  8am – 4pm at  Quality Inn in Jamestown.
Sponsored by Money Follows the Persons and High Plains Fair Housing, the rental training event will include an educational session for landlords, and a tenant rights session. Both sessions are free and open to the public.
The landlord session from 8:00 a.m.- 12:00 p.m. topics will include: landlord legal responsibilities, child protective services, vulnerable adults, fair housing and criminal guidance, service animals, and reasonable accommodations.
The tenant rights session from 1:30 p.m.- 4:00 p.m. topics will include: service animals, reasonable accommodations, tenant rights, guide to affordable housing, renter insurance, and applying for assistance.
The training events are meant to help educate the owners, landlords, renters, and service workers of the rental laws and federal regulations, and provide contacts with various agencies. This is the fourth rental education event in the region in the past four years.
Register to attend either session online at www.gphc.biz or via phone 1-800-233-1737.