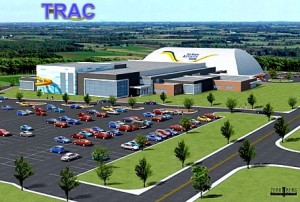 Jamestown  (CSi)  Jamestown's Two Rivers Activity Center (TRAC)  opens on Tuesday September 5, 2017.
Jamestown Area Chamber of Commerce, Executive, Becky Thatcher-Keller points out that the Ribbon Cutting is set for Wednesday September 13 at 4:30-p.m.
TRAC is a state-of-the-art recreation center, designed to support health and wellness for all ages, with programming, recreational and leisure activities, and youth development.
The 135,000 square feet of space includes the gym, tennis/turf area, aquatic center, group fitness rooms, cardio and weight room, and learning center for children.
The Adventure Space, Drop-In Child Care is available for Children ages 6 weeks to 12 years, while a parent uses the TRAC facility at a cost of $3 per child for members and $5 per child for non-members.
Hours for Adventure Space are Monday-Friday 8-a.m., to 11-a.m., and 3-p.m. to 7-p.m.  Weekend drop-in care will be available  upon demand.
The hours of operation are:
Monday through Saturday 5-a.m., to 10-p.m.
Sunday Noon to 8-p.m.
TRAC officials point out that the staff is fully trained, knowledgeable and able to assist guests.
The entire staff is CPR and First Aid certified to quickly respond if the need arises.
The TRAC Fitness Professionals have the proper credentials to help meet the personal wellness goals of their guests.
Call TRAC at 701-952-8722,  for membership rates and one time enrollment fee information.