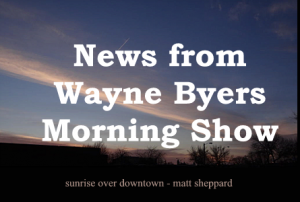 CSi Weather…
.REST OF TODAY…Mostly sunny. Highs in the mid 60s. Northwest winds 15 to 20 mph.
.TONIGHT…Mostly clear. Lows in the lower 40s. Northwest winds
5 to 10 mph. Gusts up to 25 mph in the evening.
.WEDNESDAY…Sunny. Highs in the upper 60s. Northwest winds
around 5 mph.
.WEDNESDAY NIGHT…Mostly clear. Lows in the upper 40s. East
winds around 5 mph shifting to the southwest after midnight.
.THURSDAY…Sunny. Highs in the upper 70s. Northwest winds 5 to
10 mph.
.THURSDAY NIGHT AND FRIDAY…Clear. Lows in the upper 40s. Highs
in the upper 70s.
.FRIDAY NIGHT AND SATURDAY…Clear. Lows in the mid 50s. Highs in
the upper 70s.
.SATURDAY NIGHT THROUGH MONDAY…Mostly clear. Lows in the upper
50s. Highs around 80.
A slow warming trend through the week and continued dry
conditions. Some precipitation chances possible next weekend.
Jamestown  (CSi)  Jamestown Public Works inform residents in part of Northwest Jamestown that  due to technical difficulties in other areas of the project, WATER OUTAGES in NW Jamestown will now occur on TUESDAY, September 5, 2017, during the hours of 7AM to 7pm in the following areas:
Homes in the 1100 – 1200 Block of 4TH Ave NW
Homes along 11th St NW between 3rd Ave & 4th Ave NW
Water outages will be temporary  – water service will be resumed as soon as is possible.
This announcement is contingent upon changing weather conditions.
Jamestown  (CSi)  Jamestown's Two Rivers Activity Center (TRAC)  is set to open on Tuesday September 5, 2017.
Jamestown Area Chamber of Commerce, Executive, Becky Thatcher-Keller points out that the Ribbon Cutting is set for Wednesday September 13, 2017 at 4:30-p.m.
TRAC is a state-of-the-art recreation center, designed to support health and wellness for all ages, with programming, recreational and leisure activities, and youth development.
The 135,000 square feet of space includes the gym, tennis/turf area, aquatic center, group fitness rooms, cardio and weight room, and learning center for children.
The Adventure Space, Drop-In Child Care is available for Children ages 6 weeks to 12 years, while a parent uses the TRAC facility at a cost of $3 per child for members and $5 per child for non-members.
Hours for Adventure Space are Monday-Friday 8-a.m., to 11-a.m., and 3-p.m. to 7-p.m.  Weekend drop-in care will be available  upon demand.
The hours of operation are:
Monday through Saturday 5-a.m., to 10-p.m.
Sunday Noon to 8-p.m.
Jamestown  (CSi)  The North Dakota Addiction Counselors Association (NDACA) is marking September as recovery month.
The upcoming annual Recovery Walk in Jamestown is September 7, 2017.
The walk at McElroy Park.
NDACA's mission is to lead, unify and empower addiction focused professionals in North Dakota to achieve excellence through education, advocacy, knowledge, standards of practice, ethics, professional development and research. The event is free and shares information on where individuals can get addiction recovery help along with celebrating those receiving help. The event will be held at McElroy Park this Thursday.
For more information, contact Angie Reidburn at 701-253-3676
Jamestown (CSi-United Way)  The magic is U! The United Way of Stutsman County is hosting its second annual 5K Run/Walk Saturday September 9, 2017. Please join us as we raise our magic wands and put our happy feet to work.
Registration is at 9:30 a.m. on the front lawn of Ave Maria Village (501 19th St NE Jamestown). followed by the walk./run at 10:00 a.m.
Early registration fee is $20 for ages 13 and up and includes a T-shirt. $25 day of the event. Children under the age of 13 are free unless they want to order a shirt.
Registrations are available at Unison Bank in Jamestown. Or you can register by calling the United Way at 701-952-8929.
The United Way of Stutsman County will be supporting the following agencies during this year's fundraising campaign: Alano Society, Boy Scouts – Northern Lights, Camp Rokiwan, Child Care Aware, Community Corrections, Girl Scouts – Dakota Horizons, Imagination Library, James River Transit, MOST/21st Cen. After School, PATH, Safe Shelter, Salvation Army, SANE/SART, Senior Companion Program, and The Arts Center.
The United Way of Stutsman County is part of United Way Worldwide. Its mission is to improve lives by mobilizing the caring power of communities around the world to advance the common good. The current impact model emphasizes that 99% of all funds raised stays within in Stutsman County.
Valley City  (CSi)  "Where do you come from? Stories of Immigration" will be held at the Barnes County Museum on Thursday September 7, 2017, at 7:00 pm.
Speakers include three students featured in the book, Green Card Youth Voices: Immigration Stories from a Fargo High School. The three students are Muhend Abakar (Sudan), Esperance Mfurakazi (Congo), and Pal Garung (Nepal). Dr. Emily Fenster, Assistant Professor in the Social Science Department at VCSU, will moderate the evening.  We all have a story! Come just to listen or come and share!
This event is being held in conjunction with a traveling exhibit sponsored by Our Savior's Lutheran Church that will be at the Barnes County Museum through September 12. The exhibit features panels with the pictures and stories of 15 students. Each panel also includes a QR code, which links to a short video about the students' stories.
The goal of these projects is to raise awareness about and understanding of the immigrant experience. Both the exhibit and the event are free and open to the public. The event is hosted by the campus-community organization "What in the World is Going On?"  For more information call (701) 845-7321.
Jamestown  (CSi)  On Monday, September 18, 2017 the Director of the Rocky Mountain Regional United States Patent and Trademark Office (USPTO), Ms. Molly Kocialski, will be visiting several North Dakota cities including Jamestown.  Ms. Kocialski will be visiting the University of Jamestown, the Jamestown Regional Entrepreneur Center, as well as, participating in a free community event held at the North Dakota Farmers Union at 5 p.m., which will highlight and discuss information on the patent and trademark processes.
As the Director of the Rocky Mountain Regional United States Patent and Trademark Office (USPTO), since January 2016, Molly Kocialski carries out the strategic direction of the Under Secretary of Commerce for Intellectual Property and Director of the USPTO, and is responsible for leading the Rocky Mountain regional office. Focusing on the nine states within this region and actively engaging with the community, Ms. Kocialski ensures the USPTO's initiatives and programs are tailored to the region's unique ecosystem of industries and stakeholders.
The USPTO is the federal agency for granting U.S. patents and registering trademarks.  If you have an idea for a new product or can identify new uses for old ones discovered, this event may be of interest to you.  The event is sponsored by the Jamestown Regional Entrepreneur Center and is open to the public.
GRAND FORKS, N.D. (AP) — Police are searching for a suspect in a stabbing at a Grand Forks apartment.
Authorities say a man and woman were stabbed at the apartment on Monday. The two were taken to the hospital where at least one victim is in stable condition.
Officials say they are searching for a man, but haven't said if he knew the two victims.
Police, the Highway Patrol and Border Patrol agents stationed in Grand Forks are searching for the suspect.
COLUMBUS, N.D. (AP) — Authorities have released the name of an 11-year-old Crosby boy who died in an all-terrain vehicle accident in Burke County in northwestern North Dakota.
The North Dakota Highway Patrol says Gavyn Dimmick died Friday night after the ATV he was riding rolled over on him. It happened about 7 miles north of Columbus at the Short Creek Recreation Area.
Troopers say Dimmick was on a grassy slope when the ATV rolled.
He was found by his father, who called 911. A firefighter who was at a nearby campground attempted CPR but could not resuscitate the boy.
FARGO, N.D. (AP) — West Fargo police say officers seized more than $700,000 worth of marijuana from a vehicle during a traffic stop.
Police say officers found the marijuana Sunday after a drug-sniffing dog looked around the vehicle during the stop on Interstate 94. The drug bust is the largest in the police department's history.
Officers say that inside the car they found 125 pounds of raw marijuana, more than 168 grams of hashish, two vials of marijuana oil, and more than 2,800 grams of marijuana wax.
Police identified the driver they arrested as Hans Wagner and say he had a California driver's license. Police say he faces a felony charge of delivery of marijuana.
BUFFALO, N.D. (AP) — The North Dakota Supreme Court has upheld the state Health Department's decision to issue a permit for a 9,000-hog farm in Buffalo.
Many of the town's 200 residents had worried about potential pollution from the $15 million facility at Rolling Green Family Farms.
But the Health Department granted a permit, saying the farm would meet state standards. The state also added conditions to the permit to address concerns about odor, surface water and groundwater.
Opponents went to court last year and asked a judge to block the project and rescind the permit. But the judge refused and the state Supreme Court upheld that decision in an opinion filed earlier this week.
Minnesota-based Pipestone Holdings will operate the facility.
FARGO, N.D. (AP) – Funeral services have been scheduled for a Fargo woman whose body was found in the Red River three days after police recovered a baby believed to be hers.
Boulger Funeral Home says services for 22-year-old Savanna Greywind are set for 10:30 a.m. Thursday at First Assembly Church.
Greywind was eight months pregnant when she disappeared last month. Authorities say she was killed by homicidal violence.
Prosecutors have charged the man and woman who lived in an apartment where the baby was found with conspiracy to commit murder in what they say was a scheme to take Greywind's baby. The two suspects were Greywind's neighbors.
BISMARCK, N.D. (AP) — State agriculture officials in the Northern Plains are starting the process of divvying up tons of hay donated from around the country to help drought-plagued ranchers in the region.
North Dakota's Agriculture Department, North Dakota State University and the Michigan-based nonprofit Ag Community Relief this month launched a program to accept hay donations for ranchers in the Dakotas and Montana.
Midnight Thursday was the deadline for applications. Nearly 1,400 ranchers from the three states applied for dozens of semi-loads of hay donated from around the U.S. It's being distributed through a lottery drawing.
North Dakota Agriculture Commissioner Doug Goehring says the response has been uplifting.
Goehring also says getting more hay donations to North Dakota might be difficult, with the nation's focus turning to helping hurricane-ravaged ranchers in Texas.
BISMARCK, N.D. (AP) — Donald Trump will be on friendly turf when he brings his tax reform tour to North Dakota this week. It's a deep-red state he carried by 36 points last year.
But even Trump backers in North Dakota say they want to see more detail about what he's got planned when it comes to taxes.
Trump cemented his winning coalition with populist promises to help people left behind by the slow recovery of the Obama years. But he's also promised lower tax rates to corporate America and top earners.
Reconciling those two elements, while holding to the party's stated opposition to increasing the deficit, will be a challenge.
After months of trying to write a plan, Trump's economic advisers say they will leave the details to Congress.
BISMARCK, N.D. (AP) — One hundred years after World War I, a powwow in North Dakota will honor Native Americans who served in the conflict before they were considered U.S. citizens.
They're being remembered at the 48th annual International Powwow next weekend at United Tribes Technical College in Bismarck. The Bismarck Tribune reports that several hundred family members and descendants of World War I Native servicemen are expected to participate on Sunday, Sept. 10.
The grand entry will feature honor guards and drum groups from the five governing tribes of the college: the Mandan, Hidatsa and Arikara Nation; Sisseton-Wahpeton Oyate; the Spirit Lake and Standing Rock Sioux tribes, and the Turtle Mountain Band of Chippewa.
Names will be read of more than 355 veterans from the five tribes who served in World War I.
In sports…
BISMARCK (AP) The West Fargo and Bismarck St. Mary's football teams are the first place teams in this week's Class AAA and AA football polls, as voted on by members of the North Dakota Associated Press Sportscasters and Sportswriters Association.
First place votes are in parentheses, followed by the team's record, and the number of total votes received.
Class AAA
1. West Fargo (13) 2-0 65
2. Bismarck Legacy 2-0 48
3. Bismarck Century 1-1 32
4. West Fargo Sheyenne 1-1 26
5. Fargo South 2-0 13
Others receiving votes: Minot (1-1), Bismarck (1-1), Fargo North (2-0)
Class AA
1. Bismarck St. Mary's (14) 2-0 70 1
2. Shanley 2-0 56 2
3. Devils Lake 2-0 33 3
4. Wahpeton 2-0 27 4
5. Jamestown 1-1 24 5
Others receiving votes: none
GOLF COURSE RENOVATION
MINOT, N.D. (AP) — A popular Minot golf course is being rebuilt six years after the Souris River flood.
The Minot Daily News reports that the new and improved Apple Grove Golf Course will include contours to the fairways where they once were flat, tee boxes and greens have also been moved. Other changes include reconfigured golf holes to add distance from tee to green.
Hundreds of golfers felt the loss of the Apple Grove Golf Course when it was covered by the 2011 flood.
The course was left with silt, uprooted trees and more damage that would take a lot of time and work to make the facility playable again.
The course quickly became popular with Minot's golfing community after opening in 1979.
The course's owners to open the improved facility in 2018.
AA…
Winnipeg 8, Fargo-Moorhead 3
Red Hawks fail to make the American Association playoffs…need a win on Monday….
MLB…
INTERLEAGUE
Final Texas 8 Atlanta 2
AMERICAN LEAGUE
ST. PETERSBURG, Fla. (AP) — Corey Dickerson hit his 26th home run and also doubled twice, powering the Tampa Bay Rays past the Minnesota Twins 11-4 Monday night to tighten the AL wild-card race. The Twins' lead for the second wild-card spot was trimmed to a half-game by the Angels.
Final Kansas City 7 Detroit 6
Final N-Y Yankees 7 Baltimore 4
Final Cleveland 5 Chi White Sox 3
Final L.A. Angels 11 Oakland 9, 11 Innings
Final Houston 6 Seattle 2
Final Toronto 10 Boston 4
NATIONAL LEAGUE
Final Cincinnati 5 Milwaukee 4
Final N-Y Mets 11 Philadelphia 7
Final Colorado 4 San Francisco 3
Final Pittsburgh 12 Chi Cubs 0
Final St. Louis 2 San Diego 0
Final Washington 7 Miami 2
Final Arizona 13 L.A. Dodgers 0
TOP-25 COLLEGE FOOTBALL
Final 2OT (25) Tennessee 42 Georgia Tech 41
NEW YORK (AP) — Results Monday from the U.S. Open at USTA Billie Jean King National Tennis Center (seedings in parentheses):Men's Singles
Fourth Round
Rafael Nadal (1), Spain, def. Alexandr Dolgopolov , Ukraine, 6-2, 6-4, 6-1.
Andrey Rublev, Russia, def. David Goffin (9), Belgium, 7-5, 7-6 (5), 6-3.
Roger Federer (3), Switzerland, def. Philipp Kohlschreiber, Germany, 6-4, 6-2, 7-5.
Juan Martin del Potro (24), Argentina, def. Dominic Thiem (6), Austria, 1-6, 2-6, 6-1, 7-6 (1), 6-4.Women's Singles
Fourth Round
Karolina Pliskova (1), Czech Republic, def. Jennifer Brady, United States, 6-1, 6-0.
CoCo Vandeweghe (20), United States, def. Lucie Safarova, Czech Republic, 6-4, 7-6 (2).
Madison Keys (15), United States, def. Elina Svitolina (4), Ukraine, 7-6 (2), 1-6, 6-4.
Kaia Kanepi, Estonia, def. Daria Kasatkina, Russia, 6-4, 6-4.Men's Doubles
Third Round
Henri Kontinen, Finland and John Peers (1), Australia, def. Leonardo Mayer, Argentina and Juan Sebastian Cabal, Colombia, 6-3, 6-4.
Bruno Soares, Brazil and Jamie Murray (4), Britain, def. Robert Lindstedt, Sweden and Jordan Thompson, Australia, 6-3, 6-4.
Feliciano Lopez, Spain and Marc Lopez (11), Spain, def. Fabrice Martin, France and Jeremy Chardy, France, 6-4, 7-6 (5).
Robin Haase, Netherlands and Matwe Middelkoop, Netherlands, def. Steve Darcis, Belgium and Dudi Sela, Israel, 7-6 (2), 6-3.
Bob Bryan, United States and Mike Bryan (5), United States, def. Oliver Marach, Austria and Mate Pavic (9), Croatia, 4-6, 6-3, 6-4.
Julien Benneteau, France and Edouard Roger-Vasselin, France, def. Karen Khachanov, Russia and Andrey Rublev, Russia, 4-6, 7-6 (3), 6-2.Women's Doubles
Third Round
Andreja Klepac, Slovenia and Maria Jose Martinez Sanchez (14), Spain, def. Elena Vesnina, Russia and Ekaterina Makarova (1), Russia, 6-3, 6-4.
Lucie Hradecka, Czech Republic and Katerina Siniakova (7), Czech Republic, def. Johanna Larsson, Sweden and Kiki Bertens (11), Netherlands, 6-1, 6-3.
Andrea Hlavackova, Czech Republic and Timea Babos (5), Hungary, def. Hsieh Su-Wei, Taiwan and Monica Niculescu (12), Romania, 6-2, 6-7 (1), 7-6 (5).Mixed Doubles
Quarterfinal
Michael Venus, New Zealand and Chan Hao-Ching (3), Taiwan, def. Rohan Bopanna, India and Gabriela Dabrowski (7), Canada, 4-6, 6-3, 10-8.
MLB-METS-WRIGHT…
NEW YORK (AP) — David Wright's bid to play this season is over.
The Mets third baseman will have surgery on his right rotator cuff Tuesday. Wright last played in the majors in May 2016 before undergoing surgery the following month for a herniated disk in his neck.
The seven-time All-Star and team captain cut short his comeback try in the minors last week after experiencing pain in his throwing shoulder.
NFL-IRMA-BUCS-DOLPHINS…
UNDATED (AP) — Hurricane Irma could alter the NFL's opening-week schedule.
A person familiar with the discussions tells The Associated Press the league is considering moving Sunday's Dolphins-Buccaneers game in Miami to another site or playing it earlier this week because of the hurricane. The person says the game could be held Thursday or Friday with Irma expected to threaten South Florida over the weekend. Kickoff is scheduled for 1 p.m. EDT Sunday.
PGA-DELL CHAMPIONSHIP…
NORTON, Mass. (AP) — Justin Thomas has added another big title to a season filled with big moments by outlasting Jordan Spieth and Marc Leishman on the back nine of the TPC Boston to win the Dell Technologies Championship.
Two shots behind at the turn, Thomas surged ahead with a short birdie and a 6-foot par save and closed with a 5-under 66 for a three-shot victory that was much tighter than the final margin. It was the fifth title of the season for Thomas, including his first major at the PGA Championship.
Spieth wasted a birdie-eagle-birdie-birdie start to his round with too many mistakes on the back nine. He closed with a 67 and was runner-up for the second straight week in the FedEx Cup playoffs. Spieth still went to No. 1 in the FedEx Cup.
Leishman shot 40 on the back nine.
In world and national news…
SEOUL, South Korea (AP) — German Chancellor Angela Merkel has condemned North Korea's latest nuclear test as a "flagrant violation" of international conventions, but also said there can only be a "diplomatic and peaceful solution" of the crisis. Merkel, speaking to the German parliament, said North Korea's distance from Germany should not keep the country from helping to end the crisis. Merkel also talked to President Donald Trump to discuss the nuclear test.
WASHINGTON (AP) — President Donald Trump's plan to take a hard line on young immigrants unless Congress intervenes is threatening to expose deep divides among Republicans. Trump's attorney general, Jeff Sessions, is expected to announce Tuesday that the administration will end in six months a program that shields from deportation young immigrants brought to the country illegally as children. That gives Congress time to act. But Republican Rep. Steve King of Iowa is predicting "a great big civil war" in the party.
BEIRUT (AP) — Syrian state TV and an opposition activist group say government forces and their allies have reached the eastern city of Deir el-Zour breaching nearly 3-year Islamic State group siege on government-held areas. The TV said troops advancing from the west reached Tuesday the western outskirts of the city that has been contested since January 2015. Rami Abdurrahman who heads the Britain-based Syrian Observatory for Human Rights said advancing troops and those defending the city have met.
SAN JUAN, Puerto Rico (AP) — Officials across the northeastern Caribbean have canceled flights, shuttered schools and are urging people to hunker down as Hurricane Irma barrels toward the region as a powerful Category 4 storm. States of emergency were declared in Puerto Rico, the U.S. Virgin Islands and all of Florida while people on various Caribbean islands boarded up homes and rushed to find last-minute supplies.
UNDATED (AP) — It's too soon to know how many of more than 37,000 heavily damaged homes in Texas are salvageable, but Houston officials say some will be submerged in water for up to a month. Thousands have already been destroyed in the state, thanks to staggering amounts of rainfall spawned by Hurricane Harvey. Evacuees have begun returning to their inundated homes, and others moved to government-paid hotels.