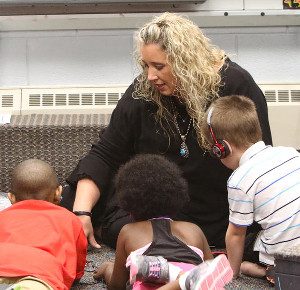 Bismarck  (CSi)  –  Visiting Louis L'Amour Elementary School in Jamestown Monday, State Superintendent of Public Instruction Kirsten Baesler announced that Jamestown teacher Heather Tomlin-Rohr had been chosen as a finalist for the 2018 North Dakota Teacher of the Year Award.
Tomlin-Rohr teaches kindergarten at Louis L'Amour. A native of Jamestown and alumna of the University of Jamestown, where she earned her bachelor's degree in elementary education in the spring of 2002, she began teaching kindergarten at Louis L'Amour in the fall of 2002.
Baesler informed Tomlin-Rohr that she had been selected as one of five finalists for the 2018 award. The superintendent is visiting each finalist in his or her classroom to call attention to their achievement and to celebrate teaching excellence in North Dakota's public schools. Baesler and Governor, Doug Burgum will honor the person chosen as Teacher of the Year on September 28, 2017.
Tomlin-Rohr said that as a child and young adult, her grandmother, who was herself a teacher, had influenced her to consider going into the profession. Her grandmother's stories of her days in the classroom saying, " (It) was very much like listening to someone read an episode of Little House on the Prairie."
She called public education "one of the most noble institutions in America" and said her philosophy of education was to focus on each student and help each one to realize his or her potential.
"Nearly every day I spend in the classroom, I find myself reaffirming the fact that every student I serve deserves the very best that I can offer."
Tomlin-Rohr was also a Teacher of the Year finalist in 2016, when the honor was won by Amy Neal, a kindergarten teacher at Lewis & Clark Elementary School in Minot. Last year's winner was Nancy Dauwen, a mathematics teacher at Sheyenne High School in West Fargo.
Jamestown Public School Superintendent Rob Lech adds, Tomlin-Rohr is "respected across the district for her commitment to the profession.  Due to her commitment, each child in her classroom is loved and provided every opportunity to achieve at his or her maximum capacity,"