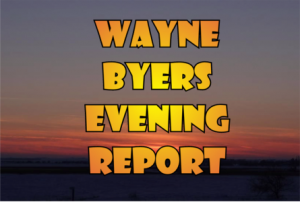 CSi Weather…
.REST OF TODAY…Sunny. Areas of smoke. Highs in the mid 80s.
North winds around 5 mph shifting to the east around 5 mph in the afternoon.
.TONIGHT…Mostly cloudy. Areas of smoke through the night.
A 30 percent  chance of rain showers after midnight. Lows in the mid
50s. Northeast winds around 5 mph.
.THURSDAY…Partly sunny. A 40 percent chance of showers in the Valley City area.  Highs in the lower 70s. North winds
5 to 15 mph.
.THURSDAY NIGHT…Mostly cloudy with a 50 percent chance of rain
showers in the Jamestown area, 20 percent in the Valley City area. Lows in the upper 40s. Northeast winds 10 to 15 mph.
.FRIDAY…A 70 percent chance of rain showers. Cooler. Highs in the mid 50s. Northeast winds 10 to 15 mph.
.FRIDAY NIGHT…Cloudy. Rain showers in the evening, then chance
of rain showers after midnight. Lows in the mid 40s.
.SATURDAY…Cloudy with a 30 percent chance of rain showers.
Highs in the mid 50s.
.SATURDAY NIGHT…Mostly cloudy with a 30 percent chance of rain
showers. Lows in the upper 30s.
.SUNDAY…Mostly sunny. Highs in the lower 60s.
.SUNDAY NIGHT AND MONDAY…Partly cloudy. A 20 percent chance of
rain showers. Lows in the lower 40s. Highs in the 60s.
.MONDAY NIGHT AND TUESDAY…Partly cloudy. Lows around 50. Highs
in the upper 60s to mid 70s.
Smoke from western US wildfires  continued to increase across
western and central North Dakota Tuesday afternoon into the evening.
The lowest visibility will be across the northwest and north
central.
Wednesday through Monday
Isolated thunderstorms are possible Wednesday and Thursday.
Severe weather is not expected.
Fall-like temperatures and increasing chances for rainfall are
expected late this week and into the weekend.
High temperatures, for Friday and Saturday, are forecast in the 50s and 60s
Seasonal temperatures return Monday and Tuesday.
Jamestown (CSi)  Otter Tail Power and the North Dakota Highway Patrol reports, a mishap involving a dump truck, caused a widespread power outage in Jamestown and the area Tuesday.
In a news release, the Highway Patrol reported, that a Sterling dump truck operated ty 58 year old Dale Laib of New Rockford about 10-a.m., Tuesday was southbound on the frontage road on Highway 52 a half mile northwest of Jamestown, when he failed to lower the dump box upon leaving the yard.
Four overhead power lines were struck and two severed lines came to rest across both north and southbound lanes of the highway.
North and southbound traffic was diverted onto the nearby frontage road.
Highway 52 was shutdown about three and a half hours until the power lines and pole support brace were replaced.
The Stutsman County Sheriff's Office assisted the Highway Patrol in addition to Otter Tail Power crews on scene.
CSiNewsNow.com Photos
The power outage first affected the city of Jamestown just before 12:30-p.m., Tuesday.
An Otter Tail's Jeff Hoff in Jamestown says, that a large area of power outage was restored by 2:05 p.m., Tuesday, which included the northwest  feeder serving  the Jamestown downtown substation.
Otter Tail reports, at that time a piece of feeder line was out northwest of 13th Street and 4th Avenue, Northwest, with about 100 customers affected, there.
The  east feeder line serving the northeast switching station was still out of service, and power was expected to be restored when the 40,000 watt line is restored, after 5-p.m., Tuesday.
The outage caused headaches to conduct transactions for retail businesses, with electronic tills.
The Jamestown Burger King Restaurant on highway 281 south closed until the power was restored, unable to prepare some menu  items.
Schools and  businesses  with generator backup including CSi Cable in Downtown Jamestown were able to continue to operate serving customers, still with power, during the outage.
In addition to Jamestown the areas of Gackle, Streeter, Eldridge, Windsor, Media and Montpelier were taken off line in order to make repairs, and will come back on line when power is restored through the 40,000 watt feeder line.  About 586 customers were without power in the Gackle area.
An unrelated underground fault occurred Tuesday afternoon affecting a one block area in Northeast Jamestown at 16th Street Northeast that occurred between 3-p.m. and 3:30-p.m., Tuesday.  Crews are working to isolate and repair the fault.
Otter Tail crews remained on the scene late Tuesday afternoon.
Jamestown (CSi)  The All Vets Club in Jamestown will host the 2017 Patriot's Banquet and Auction, October 19th.
Officials at the All Vets Club, says that proceeds from the annual club fundraiser are much needed, due to a slow summer season. All organizations are encouraged to buy or sell banquet tickets, and solicit or donate new auction items and perhaps volunteer to help.
Tickets will again be $30 for a single, $50 for a couple, with the goal to sell at least 120 tickets this year.
Dinner, door prizes, live and silent auctions at the event.
Tickets are available from veterans organizations, directors, the bar or club office.
A $100 gift certificate will go to the person or organization soliciting  the most valuable auction item.
Bismarck  (CSi)  In the wake of last week's announcement by Equifax that personal information of more than 143 million Americans may have been stolen by hackers, Attorney General Wayne Stenehjem urges North Dakotans to take immediate steps to protect against identity theft.
"I have learned from Equifax that more than 248,000 North Dakotans may have been affected," Stenehjem said. Customer information that was potentially stolen includes names, dates of birth, Social Security numbers, addresses, and in some cases, credit card numbers.
"North Dakotans who are concerned that the security breach at Equifax may have exposed their personal information should take immediate steps to protect against identify theft by placing a fraud alert on their credit reports," said Stenehjem. A fraud alert is effective for ninety days and alerts legitimate creditors and service providers to the potential unauthorized use of a consumer's information. The Attorney General's website has information on how to file a fraud alert, at https://attorneygeneral.nd.gov/.
Stenehjem suggests consumers check Equifax's website, https://www.equifaxsecurity2017.com/, to determine if they are affected, and to do so from a secure computer because of the risks associated with providing the last six digits of a social security number, which is required to determine if a person's credit file has been jeopardized.
Stenehjem also emphasized that placing a security freeze on an individual's credit file may prevent anyone else from opening fraudulent new accounts. It does not affect the individual's credit score, and can be temporarily "lifted" by the consumer if necessary. More detailed information on how to place a security freeze is available on the attorney general's website, at https://attorneygeneral.nd.gov/consumer-resources/identity-theft/credit-security-freeze.
"As my office reviews this massive data breach, we need to determine what steps Equifax could have taken to prevent this data breach, and what actions will be needed to prevent a re-occurrence in the future, said Stenehjem. "I will insist that the relief Equifax provides be commensurate with the harm it caused, and that it take extraordinary measures to make consumers whole."
Stenehjem says he is reserving final judgment but noted that an offer for one year of free credit monitoring is not sufficient considering that the theft of someone's social security number and other personal information may become a dormant threat with adverse results years in the future. "It is Equifax's sole responsibility to protect the personal information it compiled and to prevent the unauthorized use of such information," said Stenehjem.
Parrell Grossman, director of the Consumer Protection Division, reminded North Dakota residents that they are entitled to a free credit report each year from each of the three credit reporting agencies. "Checking your credit report regularly will help you to spot, and stop, identity theft quickly," said Grossman.
Information on how to obtain the free credit report is at https://attorneygeneral.nd.gov/consumer-resources/consumer-rights.
BISMARCK, N.D. (AP) — The state-owned Bank of North Dakota may be making low-interest disaster loans available to ranchers dealing with drought.
Agriculture Commissioner Doug Goehring estimates that North Dakota cattle ranchers have sold off about 100,000 animals in recent months due to drought.
The loan program is aimed at helping ranchers rebuild breeding stock and to pay for feed to sustain herd levels.
Goehring, Gov. Doug Burgum and Attorney General Wayne Stenehjem make up the Industrial Commission, which oversees the bank. The commission will meet Wednesday to approve guidelines for the loan program.
The latest U.S. Drought Monitor map shows 66 percent of North Dakota in some stage of drought. Twenty-one percent of the state is in extreme or exceptional drought.
FARGO, N.D. (AP) — The small grain harvest is wrapping up across much of North Dakota. The U.S. Department of Agriculture's weekly crop report says the spring wheat harvest is 94 percent complete. That's on pace with last year but ahead of the five-year average of 84 percent. Temperatures were near normal on average across North Dakota. It was another week of little or no rainfall, and some crops showed stress because of the hot, dry weather.
In world and national news…
MIAMI (AP) — The White House says President Donald Trump will visit hurricane-stricken Florida on Thursday. Spokeswoman Sarah Huckabee Sanders did not announce the specific location or locations. About 10 million people _ half of Florida's population _ remained without electricity Tuesday, two days after Hurricane Irma roared across the length of the state. Seven deaths in Florida have been blamed on Irma. Trump visited Texas and Louisiana after Hurricane Harvey struck both states in late August.
PHILIPSBURG, St. Maarten (AP) — The United Nations says it's airlifting food to Caribbean islands devastated by Hurricane Irma. U.N. spokesman Stephane Dujarric says the World Food Program is flying in some 20 metric tons of high-energy biscuits, enough to feed nearly 17,000 people for three days.
CUPERTINO, Calif. (AP) — Apple unveiled its latest _ and, at $999, its most expensive _ new version of the device, the iPhone X. It also announced a new iPhone 8 and a larger 8 Plus with upgrades to cameras, displays and speakers. Before getting to the new iPhones, the company unveiled a new Apple Watch model with cellular service and an updated version of its Apple TV streaming device.
WASHINGTON (AP) — The White House says it will soon release legislative priorities for its plans to overhaul the nation's tax system and to address hundreds of thousands of young immigrants brought to the United States illegally as children. White House legislative director Marc Short says its principles for the tax overhaul will be released "in a matter of days, not weeks." He says the White House will be putting out its priorities for DACA in the next couple of weeks.
WASHINGTON (AP) — House Minority Leader Nancy Pelosi is declining to endorse Sen. Bernie Sanders' universal health care bill. The liberal California Democrat says that while she has long supported the idea the bill captures, of everybody getting health coverage, "Right now I'm protecting the Affordable Care Act."