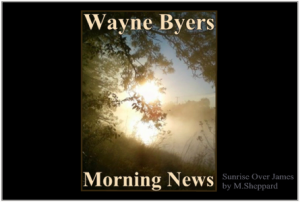 CSi Weather…
.TODAY…Sunny. Patchy smoke and fog in the morning. Highs in the upper
80s. North winds around 5 mph.
.TONIGHT…Mostly cloudy. A 20 percent chance of rain showers and
thunderstorms after midnight. Lows in the upper 50s. Northeast
winds around 5 mph.
.THURSDAY…Partly sunny with chance of showers and slight chance
of thunderstorms. Highs in the mid 70s. Northeast winds 5 to
10 mph. Chance of precipitation 30 percent.
.THURSDAY NIGHT…Mostly cloudy with a 30 percent chance of rain
showers. Lows in the lower 50s. North winds 10 to 15 mph.
.FRIDAY…Rain showers likely. Cooler. Highs in the lower 60s.
Northeast winds 10 to 15 mph. Chance of showers 70 percent.
.FRIDAY NIGHT…Cloudy. Rain showers likely and slight chance of
thunderstorms in the evening, then chance of rain showers after
midnight. Lows in the upper 40s. Chance of precipitation
70 percent.
.SATURDAY AND SATURDAY NIGHT…Mostly cloudy with a 30 percent
chance of rain showers. Highs in the upper 50s. Lows in the mid
to upper 40s.
.SUNDAY AND SUNDAY NIGHT…Partly cloudy. Highs in the lower 60s.
Lows in the mid 40s.
.MONDAY AND MONDAY NIGHT…Partly cloudy. Highs in the upper 60s.
Lows in the mid 40s to lower 50s.
.TUESDAY…Mostly sunny. Highs in the mid 70s.
Tuesday high temperature in Jamestown was 94 degrees tying the record high for the date set in 1952.
Smoke from wildfires in western Montana and southern Canada has
filtered into western and central North Dakota. Expect
visibilities between 2 and 5 miles through at least the early
afternoon. Those with respiratory problems are encouraged to take
precautionary measures.
Thursday through Tuesday
Isolated thunderstorms are possible Thursday. Severe weather is
not expected.
This Day In History – September 13, 1872 – Northern Pacific Railroad crews and the rail they are throwing down reach Jamestown ND (1872)  *** from the 125th Anniversary Calendar of Jamestown History ***
Jamestown (CSi)  Otter Tail Power and the North Dakota Highway Patrol reports, a mishap involving a dump truck, caused a widespread power outage in Jamestown and the area Tuesday.
In a news release, the Highway Patrol reported, that a Sterling dump truck operated ty 58 year old Dale Laib of New Rockford about 10-a.m., Tuesday was southbound on the frontage road on Highway 52 a half mile northwest of Jamestown, when he failed to lower the dump box upon leaving the yard.
Four overhead power lines were struck and two severed lines came to rest across both north and southbound lanes of the highway.
North and southbound traffic was diverted onto the nearby frontage road.
Highway 52 was shutdown about three and a half hours until the power lines and pole support brace were replaced.
The Stutsman County Sheriff's Office assisted the Highway Patrol in addition to Otter Tail Power crews on scene.
The power outage first affected the city of Jamestown just before 12:30-p.m., Tuesday.
An Otter Tail's Jeff Hoff in Jamestown says, that a large area of power outage was restored by 2:05 p.m., Tuesday, which included the northwest  feeder serving  the Jamestown downtown substation.
Otter Tail reports, at that time a piece of feeder line was out northwest of 13th Street and 4th Avenue, Northwest, with about 100 customers affected, there.
The  east feeder line serving the northeast switching station was still out of service, and power was expected to be restored when the 40,000 watt line in restored, after 5-p.m., Tuesday.
The outage affected various businesses and facilities without generator backup, in different ways, depending on the length of time the power was out in their areas.
In addition to Jamestown the areas of Gackle, Streeter, Eldridge, Windsor, Media and Montpelier were taken off line in order to make repairs, and will come back on line when power is restored through the 40,000 watt feeder line.  About 586 customers were without power in the Gackle area.
An unrelated underground fault occurred Tuesday afternoon affecting a one block area in Northeast Jamestown at 16th Street Northeast that occurred between 3-p.m. and 3:30-p.m., Tuesday.  Crews are working to isolate and repair the fault.
Otter Tail crews remained on the scene late Tuesday afternoon.
Jamestown (CSi)  The All Vets Club in Jamestown will host the 2017 Patriot's Banquet and Auction, October 19th.
Officials at the All Vets Club, says that proceeds from the annual club fundraiser are much needed, due to a slow summer season. All organizations are encouraged to buy or sell banquet tickets, and solicit or donate new auction items and perhaps volunteer to help.
Tickets will again be $30 for a single, $50 for a couple, with the goal to sell at least 120 tickets this year.
Dinner, door prizes, live and silent auctions at the event.
Tickets are available from veterans organizations, directors, the bar or club office.
A $100 gift certificate will go to the person or organization soliciting  the most valuable auction item.
FARGO, N.D. (AP) — The boyfriend of slain Fargo woman Savanna Greywind has been granted custody of the couple's infant daughter.
Ashton Matheny says  after a closed court hearing Tuesday that the proceedings were emotional and he was excited about the judge's decision. He said he looks forward to sharing her life with Greywind's parents. The family issued a statement say they are "enjoying a wonderful shared relationship" caring for the child.
Greywind's body was found in the Red River, a few days after her newborn child was found in the apartment of two people charged in the case. Matheny said DNA tests last week confirmed that he and Greywind were parents of the child.
Brooke Crews and her boyfriend William Hoehn (HAYN) are charged with conspiracy to commit murder and kidnapping.
BISMARCK, N.D. (AP) — North Dakota Attorney General Wayne Stenehjem says more than 248,000 of the state's residents may have had their personal information exposed in a nationwide data breach of credit reporting company Equifax.
Stenehjem's office said Tuesday that Equifax provided the number of North Dakotans who are potentially exposed to the data breach. The information includes Social Security numbers, birthdates, addresses and possibly driver's license and credit card information.
Atlanta-based Equifax says 143 million Americans had their information exposed.
Equifax has a website, www.equifaxsecurity2017.com, where people can check if their information may have been stolen.
Stenehjem says people should also file a fraud alert on their credit reports. Information on how to file a fraud alert can be found on the attorney general's website, at https://attorneygeneral.nd.gov/.
BISMARCK, N.D. (AP) — The state-owned Bank of North Dakota may be making low-interest disaster loans available to ranchers dealing with drought.
Agriculture Commissioner Doug Goehring estimates that North Dakota cattle ranchers have sold off about 100,000 animals in recent months due to drought.
The loan program is aimed at helping ranchers rebuild breeding stock and to pay for feed to sustain herd levels.
Goehring, Gov. Doug Burgum and Attorney General Wayne Stenehjem make up the Industrial Commission, which oversees the bank. The commission will meet Wednesday to approve guidelines for the loan program.
The latest U.S. Drought Monitor map shows 66 percent of North Dakota in some stage of drought. Twenty-one percent of the state is in extreme or exceptional drought.
FARGO, N.D. (AP) — North Dakota farmers are expected to harvest a bigger soybean crop than last year, but the state's corn harvest is expected to be down.
The federal government says based on Sept. 1 conditions, North Dakota's 2017 soybean crop is forecast at 250 million bushels, up 1 percent from last year. Average soybean yield is forecast at 35 bushels per acre, down 6.5 bushels from 2016.
Corn production is forecast at 428 million bushels, down 17 percent from last year. Average yield is forecast at 124 bushels per acre, down 34 bushels from last year.
North Dakota's sugar beet production is forecast at just over 6 million tons, down 3 percent from last year's crop. But yield is forecast at a record 31.4 tons per acre.
FARGO, N.D. (AP) — North Dakota State University has taken a step toward dealing with a shortage of on-campus housing.
Ground has been broken on a $39.5 million residence hall. It's the first new dorm built at the university since 2008.
The six-story, 440-bed dorm should be ready for occupancy in the fall of 2019. University President Dean Bresciani says the structure will be paid back with student housing funds over the next 30 years.
BISMARCK, N.D. (AP) — Gov. Doug Burgum is setting up a new task force aimed at improving North Dakota's public education system.
Burgum says changes are needed in how the state's students are instructed to meet the needs of the 21st century economy and to include technological advances. The Innovative Education Task Force will identify new, creative teaching methods and make recommendations to the governor and Legislature.
It will have 11 to 15 people, including educators, those involved in youth development and business and community leaders. The group will meet over the next 15 months.
In sports…
High School Volleyball…
Fargo Davies def. Valley City, 23-25, 20-25, 25-19, 25-23, 15-11
Barnes County North def. Midkota, 25-16, 25-18, 22-25, 25-20
Jamestown def. Turtle Mountain, 25-4, 25-8, 25-11
Bismarck Century def. Minot, 16-25, 25-16, 25-11, 25-21
Bismarck Legacy def. Bismarck High, 25-18, 25-21, 25-18
Center-Stanton def. New Salem-Almont, 25-21, 25-18, 25-19
Des Lacs-Burlington def. Ray, 25-21, 25-14, 25-15
Devils Lake def. Fargo South, 26-24, 25-20, 25-23
Dickinson Trinity def. Glen Ullin-Hebron, 25-23, 25-12, 25-19
Divide County def. Tioga, 25-14, 21-25, 25-19, 25-15
Drayton/Valley-Edinburg def. Hatton-Northwood, 25-14, 25-14, 18-25, 26-24
Enderlin def. Maple Valley, 25-18, 25-23, 25-7
Fargo North def. Wahpeton, 25-9, 25-12, 25-14
Fargo Oak Grove Lutheran def. Tri-State, 25-18, 25-7, 25-20
Fargo Shanley def. Moorhead, Minn., 25-23, 25-19, 30-28
Finley-Sharon/Hope-Page def. Griggs County Central, 25-19, 25-9, 25-19
Flasher def. Washburn, 25-9, 25-12, 25-12
Garrison-Max def. Powers Lake, 25-20, 19-25, 25-18, 21-25, 16-14
Grant County def. Turtle Lake-Mercer-McClusky, 25-17, 25-18, 25-7
Hankinson def. Sargent Central, 25-12, 25-13, 22-25, 25-22
Harding County, S.D. def. Hettinger/Scranton, 27-25, 25-19, 26-24
Harvey-Wells County def. St. John, 27-25, 19-25, 25-18, 25-20
Hazen def. Beulah, 25-21, 25-18, 27-29, 25-16
Hillsboro/Central Valley def. North Border, 24-26, 25-18, 25-11, 25-16
Kenmare def. Glenburn, 25-13, 25-20, 22-25, 25-17
LaMoure-Litchville-Marion def. Ellendale, 25-12, 25-11, 25-9
Lemmon, S.D. def. Mott-Regent, 25-7, 25-17, 25-14
Linton-HMB def. Kidder County, 25-12, 13-25, 25-20, 25-11
Lisbon def. Milnor-North Sargent, 26-24, 25-16, 25-15
Mandan def. Dickinson, 25-18, 25-14, 25-19
May Port CG def. Cavalier, 25-17, 25-19, 25-20
Medina-Pingree-Buchanan def. South Border, 3-0
Midway-Minto def. Dakota Prairie, 25-21, 25-15, 25-18
Minot Our Redeemer's def. North Star, 25-12, 25-23, 25-17
Napoleon def. Strasburg-Zeeland, 21-25, 25-17, 25-22, 25-22
Park River/Fordville Lankin def. Carrington, 22-25, 25-17, 25-17, 25-23
Richland def. Central Cass, 25-15, 28-26, 25-18
Rolla def. Newburg-Westhope, 25-14, 25-21, 25-22
Rugby def. Nedrose, 25-11, 25-16, 25-12
Sheyenne def. Grand Forks Central, 25-18, 25-23, 25-18
Shiloh Christian def. Wilton-Wing, 25-12, 25-17, 25-16
Thompson def. Grafton/St. Thomas, 25-15, 25-9, 25-10
Towner-Granville-Upham def. South Prairie, 25-12, 21-25, 25-21, 25-15
Underwood def. Standing Rock, 3-0
Velva/Sawyer def. Minot Bishop Ryan, 3-0
Watford City def. New England, 3-2
West Fargo def. Grand Forks Red River, 25-19, 25-19, 25-22
Wibaux, Mont. def. Beach, 25-13, 22-25, 25-21, 25-15
Wyndmere-Lidgerwood def. Kindred, 25-16, 18-25, 20-25, 25-19, 15-8
College Baseball….
VCSU 4 Mayville St. 2
MLB…
INTERLEAGUE
MINNEAPOLIS (AP) — Jason Castro homered twice, Brian Dozier was a double from the cycle and the Minnesota Twins pounded the San Diego Padres 16-0. Minnesota hit a season-high seven home runs, setting a Target Field record for most homers in a game, to back another strong start from Kyle Gibson. The Twins set a major league record by homering in each of the first seven innings, according to the Elias Sports Bureau.
AMERICAN LEAGUE
CLEVELAND (AP) — The Cleveland Indians share a record with a team celebrated by Hollywood.
"Moneyball" has its sequel.
Following a familiar script of scoring first, playing strong defense and riding dominant pitching, the Indians extended their winning streak to 20 games and matched the AL mark held by the 2002 Oakland Athletics, beating the Detroit Tigers 2-0 on Tuesday night.
Cleveland's streak, which began on Aug. 24 in Boston, is tied for the majors' second-longest in 82 years — and the Indians show no signs of stopping.
Corey Kluber (16-4) strengthened his Cy Young Award case with a five-hitter as Cleveland joined the 2002 A's, 1935 Chicago Cubs (21) and 1916 New York Giants (26) as the only teams since 1900 to win at least 20 in a row.
Final Kansas City 4 Chi White Sox 3
Final Toronto 3 Baltimore 2
Final Tampa Bay 2 N-Y Yankees 1
Final Boston 11 Oakland 1
Final Seattle 10 Texas 3
Final Houston 1 L.A. Angels 0
NATIONAL LEAGUE
Clayton Kershaw pitched NL-leading Los Angeles to its first win in nearly two weeks, helping the Dodgers snap the club's worst skid since moving West at 11 games by beating the San Francisco Giants 5-3 on Tuesday night.
The Dodgers' losing streak was their worst in 25 years, topping a pair of 10-gamers in L.A. from 1961 and '92. The 1944 Brooklyn team lost 16 straight games.
Final Atlanta 8 Washington 0
Final Philadelphia 9 Miami 8, 15 Innings
Final Milwaukee 5 Pittsburgh 2
Final Chi Cubs 8 N-Y Mets 3
Final St. Louis 13 Cincinnati 4
Final Colorado 4 Arizona 2
WOMEN'S NATIONAL BASKETBALL ASSOCIATION
MINNEAPOLIS (AP) — Seimone Augustus scored 24 points and Sylvia Fowles added 18 points and seven rebounds to help the Minnesota Lynx roll to a 101-81 victory over the Washington Mystics in Game 1 of the WNBA semifinals. Augustus made 11 of 17 shots and the Lynx looked plenty sharp after a week off and playing in an unfamiliar arena.
Nneka Ogwumike scored 19 points to lead five starters in double figures, and the Los Angeles Sparks opened defense of their WNBA championship with a 79-66 victory over the Phoenix Mercury in Game 1 of the semifinals.
Timberwolves…
MINNEAPOLIS (AP) — A person with knowledge of the situation tells The Associated Press that Shabazz Muhammad has agreed to return to the Minnesota Timberwolves on a one-year deal. The Wolves and Muhammad agreed to terms on the veteran minimum deal. Muhammad gives the Wolves some much-needed depth on the wing behind starters Andrew Wiggins and Jimmy Butler.
Gophers…
MINNEAPOLIS (AP) — Conor Rhoda has won the full-time starting quarterback job at Minnesota. Coach P.J. Fleck also says Demry Croft, who split time with Rhoda in the first two games, will not be with the team on Saturday against Middle Tennessee State for disciplinary reasons.
NFL..Hall…Randy Moss…
CANTON, Ohio (AP) — Ray Lewis, Randy Moss and Brian Urlacher are among 11 first-year eligible players for the Pro Football Hall of Fame. Also part of the 108 early nominees who are eligible for the first time, having been retired for five years when the class is chosen next February, are Ronde Barber, Donald Driver, Steve Smith (former Giant, Eagle and Ram), Steve Hutchinson, Matt Birk, Jeff Saturday, Richard Seymour and Kyle Vanden Bosch.
In world and national news…
LOWER MATECUMBE KEY, Fla. (AP) — French President Emmanuel Macron is visiting hurricane-hammered St. Barts after reportedly staying overnight on the nearby island of St. Martin on a camp cot. Macron is on a visit aimed at offering support and solidarity with struggling islanders after his government had been criticized for not doing enough to prepare and help France's Caribbean territories devastated by Hurricane Irma last week.
PHILIPSBURG, St. Maarten (AP) — The governor of the U.S. Virgin Islands says the state of New York will provide security assistance as the territory recovers from Hurricane Irma. Gov. Kenneth Mapp says that New York Gov. Andrew Cuomo has committed to sending 100 state troopers and members of the New York National Guard. He says they will help with security on St. Thomas and St. John, assisting Virgin Islands authorities and U.S. troops.
BANGKOK (AP) — Dubai's ruler is sending a Boeing 747 cargo plane loaded with tents to shelter Rohingya refugees in Bangladesh. The Foreign Ministry of the United Arab Emirates said the plane is carrying tents made available by the United Nations refugee agency. Another UNHCR shipment carried sleeping mats, tarps, blankets and kitchen sets.
WASHINGTON (AP) — Liberal Sen. Bernie Sanders is ready to unveil his bill for starkly reshaping the country's current hodge-podge health care system into one where the government provides medical insurance for everybody. Republican senators are preparing to roll out details of a last-ditch effort to repeal and replace President Barack Obama's health care law. The rival packages have little in common, other than the likelihood that neither is going anywhere.
PFORZHEIM, Germany (AP) — A nationalist party that wants Germany to close its borders to migrants, leave Europe's common currency and end sanctions against Russia is predicted to enter Parliament for the first time this month. Alternative for Germany, or AfD, has been boosted by voters' anger at Chancellor Angela Merkel's decision to let over a million refugees into the country since 2015.