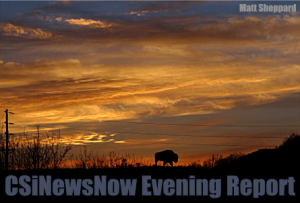 CSi Weather…
.TONIGHT…Mostly cloudy. A 20 percent chance of rain showers and
thunderstorms after midnight. Lows in the upper 50s. Northeast
winds around 5 mph.
.THURSDAY…Partly sunny with chance of showers and slight chance
of thunderstorms. Highs in the mid 70s. Northeast winds 5 to
10 mph. Chance of precipitation 30 percent.
.THURSDAY NIGHT…Mostly cloudy with a 30 percent chance of rain
showers. Lows in the lower 50s. North winds 10 to 15 mph.
.FRIDAY…Rain showers likely. Cooler. Highs in the lower 60s.
Northeast winds 10 to 15 mph. Chance of showers 70 percent.
.FRIDAY NIGHT…Cloudy. Rain showers likely and slight chance of
thunderstorms in the evening, then chance of rain showers after
midnight. Lows in the upper 40s. Chance of precipitation
70 percent.
.SATURDAY AND SATURDAY NIGHT…Mostly cloudy with a 30 percent
chance of rain showers. Highs in the upper 50s. Lows in the mid
to upper 40s.
.SUNDAY AND SUNDAY NIGHT…Partly cloudy. Highs in the lower 60s.
Lows in the mid 40s.
.MONDAY AND MONDAY NIGHT…Partly cloudy. Highs in the upper 60s.
Lows in the mid 40s to lower 50s.
.TUESDAY…Mostly sunny. Highs in the mid 70s.
Tuesday high temperature in Jamestown was 94 degrees tying the record high for the date set in 1952.
Thursday through Tuesday
Isolated thunderstorms are possible Thursday. Severe weather is
not expected.
Valley City (CSi Sept 13, 2017)  A Valley City man was arrested Wednesday afternoon, following the lockdown implementation  procedure at  Valley City High School.
A news release from VCPS Superintendent Josh Johnson, School Resource Officer, Sean Hagan, and the Valley City Police Department, said the lock down was in effect, for a short time beginning at 1:04-p.m., after the unidentified man entered the high school building after trying to attend a college career day in the Hi-Liner Activity Center.  He was told the event was not open to the public, with the School Resource Officer notifing on duty Valley City police officers of the situation and shortly after, officers observed the man entering the school through a different door.
Police reported that the individual was located quickly in the building and arrested and the lockdown was then lifted, with the normal school day continuing..
Police Chief Phil Hatcher's news release continued that police identified the man, 20 year-old Lucas Bergenheier of Valley City.
Hatcher says are charges pending for Criminal Trespass and Disorderly Conduct.
Hatcher said the Valley City High School staff acted appropriately during the event, activating a lock down procedure to ensure the safety of all students and staff.
Jamestown  (CSi)  The Jamestown City Council met Wednesday afternoon at City Hall, to continue budgeting for the 2018 calendar year.  All members were present.
At the September 5, 2017 City Council meeting the Council approved the FIRST READING  of an ordinance pertaining to the appropriation of the Revenue and Special Funds for the fiscal year January 1, 2018, through December 31, 2018.
After that reading, the budget can be reduced but not increased during subsequent meetings. The budget must be finalized at the October 2, 2017, City Council meeting.
The mill rate will remain the same with a 4 percent increase in all residential property values and a 5 percent increase to commercial property values
An increase in the property tax stems from of the elimination of a state program that reduced property taxes.
The proposed budget includes a 5 percent increase to utility costs for water, sewer and solid waste disposal.
The City Council is looking for about $1 million in spending cuts or revenue increases in its general fund to meet its reserve fund goal of 25 percent at the end of 2018.
The city, county and school district levy property taxes, all facing a decrease in outside revenues.
Highlights at Wednesday's meeting, City Administrator Jeff Fuchs said since the last meeting revisions were made.
He said additional transfers to the General Fund will be made, from the debt service, fund.
He also readjusted to two percent, the cost of living increase for employees, and eliminated new equipment and replacement equipment purchases.  He said the Fire Department and Police Department radio purchases will stay in the budget.
Each department line items in the budget will be reduced to the previous three year average.
The net result is the city will deficit spend $206,000, with a surplus of a 24 percent ending balance in the General Fund projected at $7,416,150.
He said city department heads, employees and the public need to buy into the cuts.
He indicated that there will be about a six percent increase in city property taxes, with the mill levy virtually the same as this year, as the property values have been increased.
The reserve fund goal is 25 percent at the end of 2018.
With Departments…
The Fire Department budget includes $36,500 for the purchase of new radios.  (City Fire Chief Jim Reuther said the department is four people short of volunteers, and some employers are not letting employees leave for a fire call, which has stressed the department with problems in recruitment.  He outlined extensive training required for fire fighters.  He said there needs to be dollars for repairs to trucks to keep them active.)
The Police Department budget includes the cost of $55,000 for new radios.
The Muncipal Court budget will remain the same, Central Valley Health District's budget is based on the three year average.
Engineering ..the proposed budget is reduced by $25,000 in consulting costs.
Finance and Assessment and Inspection Department budgets remain the same.
Forestry…a $5,000 reduction in tree removal costs.
Civic Center…utilities cost estimated to decrease by $4,400.
City Hall…no changes…
City Administration…no changes…
City staffing under provisions of Marsy's Law, amounts to $48,315.
Community Service…Mayor Andersen encouraged Municipal Court to implement the $25 fee for those appearing in court, or to establish a contract to hire community service additional staff.
The council voted to establish a Community Service line item for up to $5,000 at $4 per hour for services under a contract.
Council Member Pam Phillips is opposed to not funding the Jamestown Art Center and City Beautification Committee, which adds to the "quality of life, in Jamestown."  She suggested the city council members not take a salary to find additional dollars in budget requests in some area.
Council Member Gumke asked where the additional funds would come from under the proposed austere budget.
Administrator Fuchs said the Beautification Committee is an arm of the Jamestown Area Chamber of Commerce, and questioned the city's obligations to organizations, to keep adequate funding to other departments.
$750 was appropriated to the Prairie Rose Garden Club for maintenance.
Approved was no funds earmarked for City Beautification, with Phillips voting opposed.
Approved was the Jamestown Fine Arts Association (Arts Center) line item reduced to zero, with Phillips voting opposed, wanting to keep funding at $10,000.
Street Department dollars will be available under equipment replacement funding.  The contract is eliminated with an outside business to do the street striping, to be performed in house.
Equipment Replacement Fund …
Police Department….$121,000 was budgeted to purchase four new police units.
Street Department…Equipment replacements approved.
Water Department …Approved was purchasing 3.5 ton dump truck, and a half ton pickup truck.
Requested items for the Waste Water Department was delayed for one year.
Sanitation Department…rolloff trucks…approved was purchases.
City Fire Department ….approved was $36,000 for a vehicle to replace the current van.
Other funding expenditures include…the city's share of Special Assessments, Convention, Promotion Fund, Visitors Capital Construction fund, and Public Building Site Fund.
Water Utility….dollars are approved transferring $3.2 million from the replacement and depreciation fund, with $350,000 expended for repainting the University of Jamestown's water storage tank, owned by the city.
Demolition projects are budgeted for.
Sewer Utility, waste water…a lift station lining at a cost of $100,000, along with other lift station pump replacements, and coating of a wet well, along with work at the master lift station and manhole lining work, along with other building maintenance and upgrade work.
Solid Waste projects…computer equipment, closing landfill cells, rebuild and expand the grass waste disposal site, and baler equipment to be removed.
The Second Reading of the Budget Ordinance will be at the October 2, 2017 City Council meeting.
The meeting was shown live on CSi 67.
Jamestown (CSi)  The Jamestown Public Schools Music Boosters, presents, Music Through the Ages, on Sunday September 17, 2017 at 7-p.m., at the Jamestown High School Theater.
On Wednesday's Wayne Byers Show on CSi Cable 2, Music Boosters President, Michelle Weatherly pointed out that the program will feature local artists including:  Jamestown High School students and Directors, University of Jamestown Faculty and Alumni, the Jamestown Choralaires Father-Daughter Group, and other Jamestown community members.
At last report at least 12 performers will be entertaining.
Tickets are $10 for adults, $5 for students, and $25 for a family ticket.
On Facebook: www.facebook.com/jpsmusicboosters
She said proceeds from the program will help the Music Booster support Jamestown Public Schools music students, including purchasing instruments, providing scholarships to the International Music Camp, along with beginning band supplies, music stands, and backdrops, and other areas.
Jamestown  (CSi)   The University of Jamestown has again received the highest ranking of all North Dakota institutions in any category of U.S. News and World Report's "Best Colleges 2018" edition, released Sept. 12. For the eleventh consecutive year, the University is ranked in the top tier of Best Regional Colleges.
President Robert S. Badal commented on this new ranking, saying, "The University of Jamestown is happy to be recognized as an educational leader in North Dakota.  The top ND ranking reflects our focus on student success."
U.S. News and World Report's "Best Colleges" is the most recognized and popular of all college rankings. The report evaluates colleges and universities annually by assessing criteria such as peer assessment, graduation rate, student/faculty ratios, class size, alumni giving, and student testing scores. Categories are Regional Colleges, Regional Universities, National Universities, and National Liberal Arts Colleges.
Established in 1883, the University of Jamestown is a private, liberal arts university granting Bachelor of Arts, Bachelor of Science and Science in Nursing degrees, as well as Master's Degrees in Education and Leadership, and a Fargo-based Doctor of Physical Therapy degree. The University of Jamestown offers more than 40 areas of study, integrating the liberal arts with sound professional programs. With the Jamestown Journey to Success, emphasis is placed not only on preparing students academically in their chosen areas of study, but also on preparing them through a student-centered experience.
Jamestown  (CSi)  A free will fundraiser to support the Ft. Seward Wagon Train will be held on September 30,2017 at the Boondocks South of Jamestown.
The event will include food, dancing and a silent auction.
For more information, visit covered-wagon-train.com.
Valley City  (CSi)  The compost site for grass clippings near the Old Mill Dam located at 4th Avenue and 4th Street Southeast in Valley City closes on Friday, September 15, 2017.
As pointed out at the Valley City Commission meeting, the city transfer station will be open 24 hours a day seven days a week starting Friday, September 15.
Valley City residents can bring tree branches, wood, grass clippings and leaves to the north end of the transfer station (11490 35th St SE). This site will have 24 hour access.
Bismarck  (CSi)  The Drive Sober or Get Pulled Over campaign was held from August 18th through September 4th and many law enforcement agencies statewide participated.
The North Dakota Department of Transportation, reports, the enforcement was set to deter motorists from driving impaired.
"A total of 689 citations were attributed to the added enforcement patrols. Of the total citations, 57 were alcohol-related with 49 driving under the influence (DUI) arrests.  There were another 52 arrests or citations for other alcohol-related violations such as minor in consumption or open container and 34 drug-related arrests."
Impaired driving is 100 percent preventable and stopping it can prevent tragedies on North Dakota's roads. Over the past five years in North Dakota, more than 300 people have died in an alcohol-related crash.
Funding for additional traffic safety enforcement is provided by federal grant money distributed through the NDDOT. High-visibility enforcement for traffic safety is one element of a collaborative effort to eliminate motor vehicle deaths in North Dakota.
The Jamestown Police Department, Stutsman County Sheriff's Department and many others participated in the campaign.
BISMARCK, N.D. (AP) — North Dakota's Industrial Commission has approved a low-interest loan program for ranchers dealing with drought.
The commission voted Wednesday to allow the state-owned Bank of North Dakota to offer the loans to help ranchers rebuild breeding stock and to pay for feed to sustain herd levels.
The commission oversees the bank. Its members are Gov. Doug Burgum, Attorney General Wayne Stenehjem and Agriculture Commissioner Doug Goehring.
Goehring says North Dakota cattle ranchers have sold off about 100,000 animals in recent months due to drought.
Bank president Bank president Eric Hardmeyer says he expects the loans to total about $25 million.
The latest U.S. Drought Monitor map shows 66 percent of North Dakota in some stage of drought.
BISMARCK, N.D. (AP) — North Dakota Sen. Heidi Heitkamp says she'll seek a second term in the U.S. Senate.
Heitkamp, a Democrat who narrowly won her seat in 2012, had been widely expected to make another run. She made her announcement Wednesday on her brother Joel Heitkamp's Fargo-based radio talk show on KFGO-AM.
Heitkamp, 61, has stockpiled $3 million for what's expected to be an expensive and hard-fought campaign to retain a Democratic seat in a strongly conservative state that Republicans think they can win. President Donald Trump carried the state by 36 points last year and remains popular.
State Sen. Tom Campbell is the only candidate declared so far on the Republican side, but U.S. Rep. Kevin Cramer is also weighing a run.
BISMARCK, N.D. (AP) — Some North Dakota residents woke up to a smoky haze as wildfires continue to devastate parts of the western U.S. and Canada.
The Bismarck National Weather Service reports that smoke concentration will hover for most of Wednesday reducing air quality and visibility.
Meteorologist Patrick Ayd says noticeable relief will come with rain in the coming days.
Wildfires are chewing across dried-out Western forests and grassland. More than 47,000 wildfires have burned more than 8 million acres across the country, with much of the devastation in California, Oregon and Montana.
BISMARCK, N.D. (AP) — Gov. Doug Burgum is setting up a new task force aimed at improving North Dakota's public education system.
Burgum says changes are needed in how the state's students are instructed to meet the needs of the 21st century economy and to include technological advances. The Innovative Education Task Force will identify new, creative teaching methods and make recommendations to the governor and Legislature.
The Bismarck Tribune says it will have 11 to 15 people, including educators, those involved in youth development and business and community leaders. The group will meet over the next 15 months.
MINOT AIR FORCE BASE, N.D. (AP) — Defense Secretary Jim Mattis says he's become convinced that the U.S. must keep all three parts of its nuclear force — rather than eliminate one of them, as he once suggested.
That force consists of land-based missiles — known as intercontinental ballistic missiles — as well as missiles launched from submarines and from planes.
Before Mattis became President Donald Trump's Pentagon chief in January, he'd suggested ICBMs might be expendable.
But he says his view has changed.
Mattis says the key to avoiding nuclear war is maintaining a nuclear arsenal sufficient to convince a potential enemy that attacking the United States with a nuclear weapon would be suicidal. He says he's has been persuaded that the current framework "is the right way to go."
Mattis spoke to reporters as he flew to a nuclear base in North Dakota.
PHILADELPHIA (AP) — Philadelphia Eagles quarterback Carson Wentz says it's cool that the winner of the Miss America contest credits him with inspiring her.
Wentz graduated from Bismarck, North Dakota's Century High School one year ahead of Miss America Cara (KAHR'-uh) Mund.
Mund said after winning the title Sunday that "if Carson Wentz can do it, Miss North Dakota Cara Mund can become Miss America." The 23-year-old Brown University graduate is the first contestant from her state to win the crown.
Wentz said Wednesday the cool part of being a professional athlete is "showing that it can be done, no matter where you come from, no matter what it is that you're pursuing in life."
Wentz was drafted second overall by the Eagles last year out of North Dakota State.
In world and national news…
MIAMI (AP) — Miami resident and Associated Press editor Mary Rajkumar and her family crisscrossed Florida trying to escape the wrath of Hurricane Irma. They hopscotched from motel to motel before ending up in Jacksonville. But Irma was so wide she reached across the whole state and hit them there. The storm left them scrounging for food with hundreds of other Floridians.
WASHINGTON (AP) — The head of the National Flood Insurance Program says early estimates show Hurricane Harvey will result in about $11 billion in payouts to insured homeowners, mostly in southeast Texas. Roy E. Wright, the Federal Emergency Management Agency's deputy associate administrator for Insurance and Mitigation, says that would likely make Harvey the second costliest storm in the history of the federal insurance program.
ROCKFORD, Wash. (AP) — Officials say one person was killed and at least three others were shot when a gunman opened fire at a high school in Washington state. Brian Schaeffer of the Spokane Fire Department told reporters that one person died in the shooting Wednesday morning at Freeman High School in Rockford, south of Spokane. The Spokesman-Review reports Spokane County Sheriff Ozzie Knezovich said at the scene that the shooter was in custody.
WASHINGTON (AP) — House Speaker Paul Ryan says White House operations are "improving," but he's not saying whether he thinks that's because of recent West Wing personnel changes. The Wisconsin Republican says in an AP Newsmakers interview that President Donald Trump's White House is "learning what works and I think they are improving." Trump new chief of staff, retired Marine Gen. John Kelly, has been credited with instilling more order in the West Wing.
WASHINGTON (AP) — President Donald Trump says he supports a new effort by two Republican senators to repeal and replace former President Barack Obama's signature health care law. The proposed legislation would do away with many of the subsidies and mandates of the 2010 law. It would provide block grants to states to help individuals pay for health coverage.