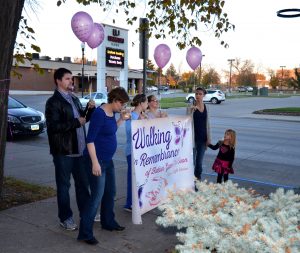 Jamestown  (CSi JRMC)   Wave of Light is a time for families who've experienced infant loss and miscarriage to share in their sorrow and support each other. Wave of Light is an international event, recognized in six countries.
This year's event is set for Sunday, October 15, 2017, at  St. John's Lutheran Church in Jamestown.
One of the event's organizers is  Renae Lunde, a registered nurse at Jamestown Regional Medical Center's Family BirthPlace.   She says, "Thirty years ago, if families experienced a miscarriage or infant death, they were told to forget it.  "Today, we encourage families to grieve in the way that best fits them."
Wave of Light occurs each year on October 15. Nearly 30 individuals attended the event in Jamestown in 2016. This year, the event include a short walk, a candle lighting ceremony and blessings for families. If families families need support year round, they may contact the Jamestown Area Grief Support Team.
The Jamestown Area Grief Support Team is a group of volunteers who offer to support to those who grieve. The group organizes regular educational events and support groups to the community.
For more information on Wave of Light, call Lunde at (701) 952-4807. For more information on the Jamestown Area Grief Support Team, call (701) 952-9358 or visit JAGST.com.
 About Jamestown Regional Medical Center
Jamestown Regional Medical Center is located at 2422 20th St. SW, Jamestown, N.D. and serves approximately 55,000 people in nine counties. In 2017, it was named a "Top 100 Critical Access Hospital" as well as a "Best Places to Work in Healthcare."  For more information, visit www.jrmcnd.com or call 701-952-1050.