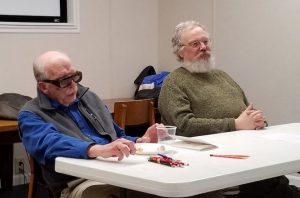 Jamestown  (CSi)  The James River Valley Library Adult Programs will present Local History Stories on Tuesday October 17 at 6-p.m., at the Alfred Dickey Public Library in Downtown Jamestown.
The presentation will be taught by local authors Bruce Berg and Keith Norman.
Pre-register by calling for the presentation by calling Bill Kennedy at the Alfred Dickey Public Library at 701-252-2217, on line: www.friendsofjrvl.org/programregistration
The Local History Presentations will be catered by Jonny B's Brickhouse, from Downtown Jamestown.
On Monday's Wayne Byers Show on CSi Cable 2, Bruce said his topic will be about Betty Gates the wife of former Jamestown High School Coach, Ernie Gates.  He said that Betty was involved with the U.S. government during World War II with contacts with high ranking U.S. Government officials during the war.
He will have more details during his presentation.
He noted that his information collected from Betty Gates, is the planned subject of an upcoming publication he is planning.
Keith said his presentation concerns a spooky Halloween tale that took place in Jamestown years ago, concerning a mummified body.
During our show he also pointed out that Southwest Jamestown around 1910 to 1920 was the site of a ski jump and bobsled course.
Also on our show the library's, Development Director, Bill Kennedy said the library is still looking for more "library stories," from the public to be included in the upcoming 2019, 100 year anniversary of the library in Jamestown.  The stories should be between 300 and 500 words telling what libraries mean to that individual and their families.
Send stories to billkennedy0@gmail.com or submit online at
http://www.friendsofjrvl.org  & scroll down to  JRVLS IS OUTSIDE THE LINE.