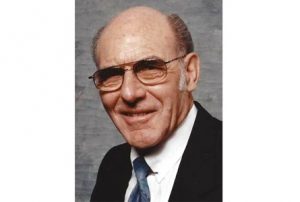 Dean Neustel, 82, of Jamestown, ND died on Sunday, October 8th 2017 at Sheyenne Care Center in Valley City, ND.
Dean Harlow Neustel was born June 23, 1935 to Herman and Florence (Davis) Neustel at Robinson, ND. He grew up there and attended eight years at a rural school in Frettum Township and graduated from high school at Robinson. He farmed with his dad and had a livestock trucking business at Robinson for four years. Dean married Joy Long at Dawson on June 17, 1956. They lived three years on the farm at Robinson, moving to Jamestown in March of 1959. He worked for Lindberg Construction for one year, Foremost Dairy for one year, drove for City Laundry for thirteen years, and UPS for twenty-two years. Dean retired from the UPS on August 25, 1995. He was a member of the Teamsters Union for over twenty years, a member of the Eagles from 1965 for forty years, and an active member of the Immanuel Lutheran Church for many years. Dean joined St. Paul's United Methodist Church in March of 1990. He spent his retirement years in Jamestown.
Dean is survived by his wife; Joy Neustel of Jamestown, his two daughters; Cindy (Harvey) Janke and Ramie Rath of Jamestown, three grandsons; Benjamin (Lisa) Janke of Utah, Mitchell (Julie Henderson) Janke of West Haven, UT., and Colton (Melissa) Bollinger, two granddaughters; Stephanie (Steve) Hanson of Fargo, and Megan (Dana) Sandness of Grand Forks, and five great granddaughters; Portcia Janke of Willard, UT., Olive and Penelope Sandness of Grand Forks, and Rylie and Isabelle Bollinger of Jamestown.
He is preceded in death by his parents, two brothers, and son-in-law, Larry Rath.
Memorial Service: 1:00 p.m., Friday, October 13, 2017 at St. Paul's United Methodist Church, Jamestown, with Pastor Joel Winckler officiating.
Inurnment: Sunset Memorial Gardens, Jamestown.