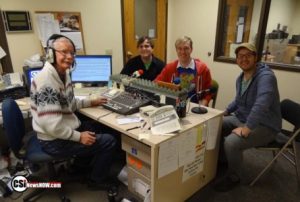 Jamestown  (CSi)  Dr. Tyler Looysen, a 2007 Jamestown High School and UND Medical School graduate, has joined with another UND graduate with a Masters in Public Health degree, in presenting and interactive podcast entitled, "Ty and Sky's Health Pub."  (see below)
On Wednesday's Wayne Byers Show on CSi Cable 2 we were joined by Dr. Tyler Looysen and Skyler Ienuso, based in Minneapolis, who explained that the podcast, available on YouTube, iPhone, iTunes,  Stitcher and an app, bridges the gap between healthcare providers, policymakers, and the public, inviting  healthcare experts on their show.
Tyler and Skyler were both Student's at UND's Masters in Public Health program and created the project during their studies to combat false health claims, by providing a high quality source of healthcare information, and to enable the public to make the best healthcare decisions for themselves and families and the community, including open dialogues.
Social media including Facebook and the podcast are available, as more people are turning to them for information and entertainment, and to receive feedback and help pick out future show topics.
They have discussed and provided information on such health topics as HIV, influenza,  domestic violence, and suicide.
As they travel, their first event was in cooperation with Jamestown Regional Medical Center, and the University of Jamestown when they moderated a presentation concerning women's health issues for pre-teens, teens and women in their early twenties, with OB/GYN Dr. Runkles.
The non-profit show is self-funded, however they have a Patreon page set up to accept donations.
Stay up to date by liking them on Facebook, at Ty and Sky's Health Pub.