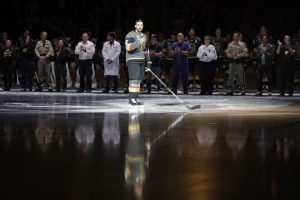 Las Vegas  (AP)   The Vegas Golden Knights hosted their first-ever NHL regular-season home game on Tuesday, but the pregame festivities were tempered less than a mile from a makeshift memorial created for the 58 people killed in the Oct. 1 massacre.
The team and the league kept the tragedy in the forefront while attempting to provide their own modicum of momentary relief to a healing city.
Originally planned as a glamorous, Vegas-style debut, the Knights modified their plans and dedicated a quieter evening to the victims, the first responders and the survivors. After a stirring pregame video with stark images of Las Vegas and its heroes, the Golden Knights took the ice for pregame introductions, each accompanied by a member of the medical and law enforcement communities.
The arena illuminated the victims' names on the ice in gold while counting 58 seconds of painful silence.