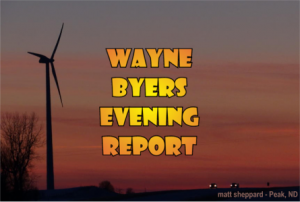 CSi Weather…
.TONIGHT…Mostly clear. Lows in the lower 40s. South winds around 10 mph.
.THURSDAY…Mostly sunny. Highs in the lower 60s. South winds
around 10 mph shifting to the west in the afternoon.
.THURSDAY NIGHT…Mostly clear. Lows in the mid 30s. West winds
5 to 10 mph.
.FRIDAY…Mostly sunny. Highs in the mid 50s. West winds around
5 mph.
.FRIDAY NIGHT…Mostly cloudy With a 20 percent chance of rain. Lows in the mid 30s.
.SATURDAY…Mostly cloudy. Chance of rain showers in the morning,
then rain showers likely in the afternoon. Highs in the upper
40s. Chance of showers 40 percent.
.SATURDAY NIGHT…Mostly cloudy. Chance of rain showers in the
evening, then slight chance of rain showers and snow showers
after midnight. Lows in the mid 30s. Chance of precipitation
50 percent.
.SUNDAY…Mostly sunny. Highs in the lower 50s.
.SUNDAY NIGHT THROUGH MONDAY NIGHT…Mostly clear. Lows in the
upper 30s. Highs in the 50s to lower 60s.
.TUESDAY…Sunny. Highs in the lower 60s.
A cooling trend will start Thursday and
continue through the weekend. The best chance for precipitation
will be Friday night through Saturday night. During this time
there could be a mix of rain/snow in the morning Saturday,
however any accumulations should melt and have no impact.
Jamestown (CSi)  The Jamestown Rural Fire Department was called out 11:45 a.m., on Wednesday.
The location was a dry slough, a mile west of Country Acres Veterinary Clinic, southwest of Jamestown.
Wind was fanning the fire, and was reported to be going toward a corn field, as the fire crew and a farmer on the scene, were working to prevent the blaze from spreading.
Rural Fire Department Chief Ben Maulding reported the fire was contained to the dry slough, and minimal fire damage reported to a corn field, as a farmer there created a fire break.
The cause of the fire was listed as a farm equipment disc, striking a rock
About two acres of the cornfield were damaged, with five Rural Fire Department  units and 11 firefighters on the scene about 45 minutes.
Jamestown  (CSi)  A 2007 Jamestown High School and UND Medical School graduate has joined with a UND graduate with a Masters in Public Health degree, in presenting and interactive podcast entitled, "Ty and Sky's Health Pub."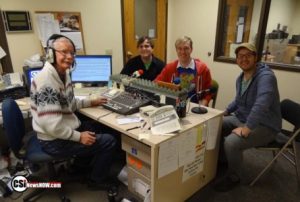 On Wednesday's Wayne Byers Show on CSi Cable 2 we were joined by Dr.Tyler Looysen and Skyler Ienuso, based in Minneapolis, who explained that the podcast, available on YouTube, iTunes, iPhone, Stitcher and an app, bridges the gap between healthcare providers, policymakers, and the public, inviting  healthcare experts on their show.
Tyler and Skyler were both Student's at UND's Masters in Public Health program and created the project during their studies to combat false health claims, by providing a high quality source of healthcare information, and to enable the public to make the best healthcare decisions for themselves and families and the community, including open dialogues.
Social media including Facebook and the podcast are available, as more people are turning to them for information and entertainment, and to receive feedback and help pick out future show topics.
They have discussed and provided information on such health topics as HIV, influenza,  domestic violence, and suicide.
As they travel, their first event was in cooperation with Jamestown Regional Medical Center, and the University of Jamestown when they moderated a presentation concerning women's health issues for pre-teens, teens and women in their early twenties, with OB/GYN Dr. Runkles.
The non-profit show is self-funded, however they have a Patreon page set up to accept donations.
Stay up to date by liking them on Facebook, at Ty and Sky's Health Pub.
Jamestown  (CSi)    The North Dakota Highway Patrol reports, a crash about 12:30 a.m., Wednesday injured two people, seven miles north of LaMoure.
The report says  a pickup driven by 32 year old Skyle Juelke of LaMoure was southbound on County Road 61, when it drifted into the west ditch, hit an approach and went airborne and rolled.
Juelke and a passenger 21 year old Hunter Haakenson of Marion were ejected, not wearing seat belts.
Juelke was airlifted to a Fargo hospital. Haakenson was taken by Jamestown Area Ambulance Service to Jamestown Regional Medical Center, then later transported by an air ambulance to a Fargo hospital.
The Highway Patrol was asssited at the scene by LaMoure Fire and Rescue.
The accident remains under investigation by the Highway Patrol.
Valley City  (CSi) KLJ informs motorists that starting Thursday, October 12, 2017 work on the fire protection loop will mean closing one block of 7th Street Southeast between 7th Avenue and 8th Avenue Southeast.
The work will entail connected the loop to the water main.
KLJ engineer Michael Strom said tour will last about a day, and no detour signage is present, and trucks are urged to use a detour on approved truck routes.
Any questions on the project can be directed to the Valley City KLJ office  at 701-845-4980.
BISMARCK, N.D. (AP) — North Dakota's oil production rose slightly in August and remained above 1 million barrels per day for the seventh consecutive month.
The Department of Mineral Resources says the state produced an average of 1.08 million barrels of oil daily in August. That's up from 1.04 million barrels in July.
North Dakota also produced 1.94 billion cubic feet of natural gas per day in August, up from 1.89 billion cubic feet daily in July.
The August tallies are the latest figures available.
There were 59 drill rigs operating in North Dakota on Wednesday, up three from the August average.
BISMARCK, N.D. (AP) — North Dakota officials say the Dakota Access oil pipeline has boosted the state's tax revenues by $18 million in its first three months of operation.
State Pipeline Authority director Justin Kringstad tells the Bismarck Tribune that producers have seen a $2 increase per barrel in the average price for Bakken crude in June, July and August, compared to figures from 2016.
Kringstad attributes the increase to more competitive transportation costs since the pipeline went into service in June.
Kringstad's figures are based on current North Dakota oil production, which increased 3.5 percent in August to an average of 1.08 million barrels per day.
BISMARCK, N.D. (AP) —  Energy industry officials are applauding a judge's decision to allow the Dakota Access pipeline to continue operating while more assessment is done on its impact on the Standing Rock Sioux.
The pipeline is moving nearly half of the daily oil production in North Dakota, the nation's second-leading producer. State Petroleum Council President Ron Ness says it's "a critical part of American energy infrastructure."
The $3.8 billion pipeline began moving oil from North Dakota to Illinois in June. U.S. District Judge James Boasberg ruled that month that more environmental study is needed. He ruled Wednesday that the pipeline can continue operating in the meantime.
Grow America's Infrastructure Now spokesman Craig Stevens says the pro-pipeline coalition of businesses, trade associations and labor groups is "heartened that we are one step closer to finality."
An attorney for the Standing Rock Sioux says a federal judge's decision allowing the Dakota Access pipeline to continue operating while more environmental study is done is "disappointing."
Attorney Jan (yahn) Hasselman says  Judge Boasberg's earlier ruling made it clear the tribe wasn't properly considered when the pipeline was permitted. He says it shouldn't be allowed to continue operating while more study is done.
Hasselman says Boasberg's ruling isn't appealable. But the tribe and three others are still trying to shut down the pipeline through an ongoing federal lawsuit.
BISMARCK, N.D. (AP) — Officials in Missouri and the Canadian province of Manitoba are appealing a federal judge's decision that would bring Missouri River water to residents of northwestern North Dakota.
North Dakota Attorney General Wayne Stenehjem called the appeal filed Tuesday a "disappointment." He says specific legal issues being appealed have not been disclosed.
Judge Rosemary Collyer in August ruled that the $244 million Northwest Area Water Supply project complies with federal environmental law.
NAWS was first authorized by Congress 31 years ago but has been tied up in the courts because the state of Missouri and the Canadian province of Manitoba have concerns about water quality and water depletion.
TENNEY, Minn. (AP) — A construction worker who died in a fall at a co-op elevator in western Minnesota was from the Ukraine.
Authorities say 21-year-old Dmytro Baybak fell about 150 feet from a platform at the Wheaton Dumont co-op elevator in the Wilkin County community of Tenney last Thursday.
The Wahpeton Daily News says they Ramsey County Medical Examiner has ruled the death accidental. Officials say Baybak was in a work exchange program with Gateway Building Systems of Fergus Falls. His hometown was not released.
The victim was working with two other men and they were adjusting another platform when the accident occurred.
In world and national news…
WASHINGTON (AP) — President Donald Trump is expected to nominate his chief of staff's deputy, Kirstjen Nielsen, as his next secretary of Homeland Security. That's according to four people familiar with his decision. Nielsen was John Kelly's deputy when he served as Trump's first DHS secretary and moved with Kelly to the White House when he was tapped to be Trump's chief of staff.
SONOMA, Calif. (AP) — California Gov. Jerry Brown warns that catastrophic wildfires will keep ripping through the state as the climate warms. Brown told reporters Wednesday that more people are living in communities close to forests and brush that easily ignite because of dry weather.
LAS VEGAS (AP) — A maintenance worker says he immediately notified hotel dispatchers after a gunman sprayed a hotel hallway with bullets before shooting into a crowd at a Las Vegas music festival. Stephen Schuck told NBC News on Wednesday he was checking on a jammed door on the 32nd floor of the Mandalay Bay hotel on Oct. 1 when he heard gunshots. As he tried to take cover bullets began flying in the hallway. Schuck says he used his radio to alert hotel dispatchers that someone was firing a rifle in the hallway.
NEW YORK (AP) — The Boy Scouts have announced plans to let girls into some programs. The historic change means the organization will admit girls to the Cub Scouts starting next year and establish a new program for older girls using the same curriculum as the Boy Scouts. Under the plan, Cub Scout dens will be single-gender, either all-boys or all-girls. Larger Cub Scout packs will have the option to welcome both genders if they choose. The program for older girls will let them earn the rank of Eagle Scout.
WASHINGTON (AP) — An AP-NORC poll finds that North Korea's nuclear weapons development is spooking most Americans. Two-thirds of them say President Donald Trump's war of words with the isolated nation's leader is making the situation worse. Less than 1 in 10 thinks Trump's comments are making it better.