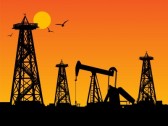 BISMARCK, N.D. (AP) — North Dakota's oil production rose slightly in August and remained above 1 million barrels per day for the seventh consecutive month.
The Department of Mineral Resources says the state produced an average of 1.08 million barrels of oil daily in August. That's up from 1.04 million barrels in July.
North Dakota also produced 1.94 billion cubic feet of natural gas per day in August, up from 1.89 billion cubic feet daily in July.
The August tallies are the latest figures available.
There were 59 drill rigs operating in North Dakota on Wednesday, up three from the August average.
BISMARCK, N.D. (AP) —  Energy industry officials are applauding a judge's decision to allow the Dakota Access pipeline to continue operating while more assessment is done on its impact on the Standing Rock Sioux.
The pipeline is moving nearly half of the daily oil production in North Dakota, the nation's second-leading producer. State Petroleum Council President Ron Ness says it's "a critical part of American energy infrastructure."
The $3.8 billion pipeline began moving oil from North Dakota to Illinois in June. U.S. District Judge James Boasberg ruled that month that more environmental study is needed. He ruled Wednesday that the pipeline can continue operating in the meantime.
Grow America's Infrastructure Now spokesman Craig Stevens says the pro-pipeline coalition of businesses, trade associations and labor groups is "heartened that we are one step closer to finality."
An attorney for the Standing Rock Sioux says a federal judge's decision allowing the Dakota Access pipeline to continue operating while more environmental study is done is "disappointing."
Attorney Jan (yahn) Hasselman says  Judge Boasberg's earlier ruling made it clear the tribe wasn't properly considered when the pipeline was permitted. He says it shouldn't be allowed to continue operating while more study is done.
Hasselman says Boasberg's ruling isn't appealable. But the tribe and three others are still trying to shut down the pipeline through an ongoing federal lawsuit.