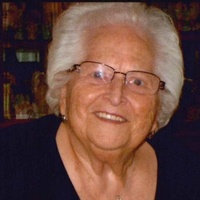 On October 10th, Elda Vera (Pfeifle) Thurn died peacefully in her sleep.  She was 84 years old and lived at Pioneer House in Fargo, ND.  Elda was born to Art and Ida (Iszler) Pfeifle on May 26, 1933.  She grew up on the family farm near Ashley, ND.
Elda met John Thurn Jr. one rainy evening in Ashley.  After dating for two years, John popped the question on her 18th birthday.  They were married on June 15, 1952.  They had five children.
John and Elda were members of St. John's Lutheran Church, where she was active in circle.  She also enjoyed her homemaker's group, where she made many crafts and developed lifelong friendships.
Elda was employed at Central Dakota Nursing Home as a cook, housekeeper, and certified nursing assistant.  She went on to manage the cafeteria snack line at Jamestown High School.  She thoroughly enjoyed decorating for the holidays, both at work and at home.  She loved visiting with family and friends.  The coffee was always on, and there was always plenty of food to share.  Elda and John loved camping, traveling, and playing card games, especially pinochle.
Elda is survived by her children, Lyle Thurn, Bismarck, Bonnie & Ron Clarys, Fargo, Beatrice & Craig Mikkelsen, West Fargo, Belinda Cherney, Jamestown, Michelle & Craig Schultz, Portland, OR, grandchildren Melissa Thurn, Fargo, Leisa & Mike Hrdlicka, Fargo, Steve & Sara Clarys, Fargo, Kristin Clarys & Mike Goulet, Denver, CO, Josh Mikkelsen & Sondra Boothe, West Fargo, Laura Mikkelsen, West Fargo, Kurt Cherney, West Fargo, Scott Cherney, West Fargo, Riley Schultz, Portland, OR, Samantha Schultz, Portland, OR, great-grandchildren Lucas Hrdlicka, Fargo, Katelyn Clarys, Fargo, Kennedy Clarys, Fargo, Ronon Hartog, West Fargo, Kashdon Cherney, West Fargo.  Elda is also survived by additional family of Mabel Pfeifle, Duane & Jean Pfeifle, and Joey & Harry Dodd.
She was preceded in death by her husband, John Thurn Jr., son, Don Cherney, and brother Jerome Pfeifle, and other extended family members.
     Funeral Service: 10:30 a.m., Saturday, October 14, 2017 at St. John's Lutheran Church, Jamestown, with Pastor Erik Weber officiating.

Visitation: 4:00 p.m. to 7:00 p.m., Friday, October 13, 2017 at Eddy Funeral Home, Jamestown.
Interment: Highland Home Cemetery, Jamestown.