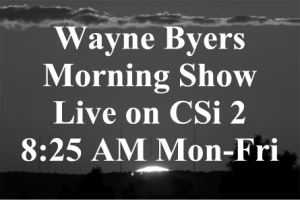 CSi Weather…
.REST OF TODAY…Mostly sunny. Highs in the mid 60s. South winds 10 to 15 mph shifting to the southwest in the afternoon.
.TONIGHT…Mostly clear. Lows in the mid 30s. West winds 5 to
10 mph.
.FRIDAY…Sunny. Highs in the upper 50s. West winds around 5 mph
shifting to the south in the afternoon.
.FRIDAY NIGHT…Mostly cloudy. Lows in the upper 30s. Southeast
winds 5 to 10 mph.
.SATURDAY…Mostly cloudy with a 50 percent chance of rain
showers. Highs in the upper 40s. Southeast winds around 10 mph
shifting to the northeast in the afternoon.
.SATURDAY NIGHT…Mostly cloudy with a 30 percent chance of rain
showers in the evening, then partly cloudy after midnight. Lows
in the lower 30s.
.SUNDAY…Mostly sunny. Highs in the lower 50s.
.SUNDAY NIGHT THROUGH TUESDAY…Mostly clear. Lows in the upper
30s. Highs in the 50s to lower 60s.
.TUESDAY NIGHT…Mostly clear. Lows in the lower 40s.
.WEDNESDAY…Mostly sunny. Highs in the lower 60s.
The coolest day will be on Saturday
when much of western and central North Dakota will struggle to
climb above the 40s. Lows on Sunday morning will fall into the
upper 20s and lower 30s across the area.
The best chance for rain appears to be Friday night across northern North Dakota and Saturday across eastern North Dakota.
Temperatures will rebound into the low to mid 50s by Sunday. The warming trend will continue into the beginning of the work week as upper level ridging builds across the region.
Jamestown (CSi)  The Jamestown Rural Fire Department was called out 11:45 a.m., on Wednesday.
The location was a dry slough, a mile west of Country Acres Veterinary Clinic, southwest of Jamestown.
Wind was fanning the fire, and was reported to be going toward a corn field, as the fire crew and a farmer on the scene, wer working to prevent the blaze from spreading.
Rural Fire Department Chief Ben Maulding reported the fire was contained to the dry slough, and minimal fire damage reported to a corn field, as a farmer there created a fire break.
The cause of the fire was listed as a farm equipment disc, striking a rock
About two acres of the cornfield was damaged, with five Rural Fire Department  units and 11 firefighters on the scene about 45 minutes.
Valley City  (CSi)  KLJ informs motorists that starting Thursday, October 12, 2017 work on the fire protection loop will mean closing one block of 7th Street Southeast between 7th Avenue and 8th Avenue Southeast.
The work will entail connected the loop to the water main.
KLJ engineer Michael Strom said detour will last about a day, and no detour signage is present, and trucks are urged to use a detour on approved truck routes.
Any questions on the project can be directed to the Valley City KLJ office  at 701-845-4980.
Jamestown  (CSi)  A 2007 Jamestown High School and UND Medical School graduate has joined with a UND graduate with a Masters in Public Health degree, in presenting and interactive podcast entitled, "Ty and Sky's Health Pub."
On Wednesday's Wayne Byers Show on CSi Cable 2 we were joined by Dr.Tyler Looysen and Skyler Ienuso, based in Minneapolis, who explained that the podcast, available on YouTube, iTunes, iPhone, Stitcher and an app, bridges the gap between healthcare providers, policymakers, and the public, inviting  healthcare experts on their show.
Tyler and Skyler were both Student's at UND's Masters in Public Health program and created the project during their studies to combat false health claims, by providing a high quality source of healthcare information, and to enable the public to make the best healthcare decisions for themselves and families and the community, including open dialogues.
Social media including Facebook and the podcast are available, as more people are turning to them for information and entertainment, and to receive feedback and help pick out future show topics.
They have discussed and provided information on such health topics as HIV, influenza,  domestic violence, and suicide.
As they travel, their first event was in cooperation with Jamestown Regional Medical Center, and the University of Jamestown when they moderated a presentation concerning women's health issues for pre-teens, teens and women in their early twenties, with OB/GYN Dr. Runkles.
The non-profit show is self-funded, however they have a Patreon page set up to accept donations.
Stay up to date by liking them on Facebook, at Ty and Sky's Health Pub.
Jamestown  (CSi)    The North Dakota Highway Patrol reports, a crash about 12:30 a.m., Wednesday injured two people, seven miles north of LaMoure.
The report says  a pickup driven by 32 year old Skylar Juelke of LaMoure was southbound on County Road 61, when it drifted into the west ditch, hit an approach and went airborne and rolled.
Juelke and a passenger 21 year old Hunter Haakenson of Marion were ejected, not wearing seat belts.
Juelke was airlifted to a Fargo hospital. Haakenson was taken by Jamestown Area Ambulance Service to Jamestown Regional Medical Center, then later transported by an air ambulance to a Fargo hospital.
The Highway Patrol was assited at the scene by LaMoure Fire and Rescue.
The accident remains under investigation by the Highway Patrol.
BISMARCK, N.D. (AP) — Officials in Missouri and the Canadian province of Manitoba are appealing a federal judge's decision that would bring Missouri River water to residents of northwestern North Dakota.
North Dakota Attorney General Wayne Stenehjem called the appeal filed Tuesday a "disappointment." He says specific legal issues being appealed have not been disclosed.
Judge Rosemary Collyer in August ruled that the $244 million Northwest Area Water Supply project complies with federal environmental law.
NAWS was first authorized by Congress 31 years ago but has been tied up in the courts because the state of Missouri and the Canadian province of Manitoba have concerns about water quality and water depletion.
BISMARCK, N.D. (AP) — An attorney for the Standing Rock Sioux says a federal judge's decision allowing the Dakota Access pipeline to continue operating while more environmental study is done is "disappointing."
The $3.8 billion pipeline began moving oil from North Dakota to Illinois in June, but Judge James Boasberg ruled that month more assessment is needed on the project's impact on the tribe. He ruled Wednesday the pipeline can continue operating in the meantime.
Attorney Jan (yahn) Hasselman says Boasberg's earlier ruling made it clear the tribe wasn't properly considered when the pipeline was permitted. He says it shouldn't be allowed to continue operating while more study is done.
Hasselman says Boasberg's ruling isn't appealable. But the tribe and three others are still trying to shut down the pipeline through an ongoing federal lawsuit.
MINNEAPOLIS (AP) — Enbridge Energy is disputing a state agency's recommendation against the company's proposal for replacing its aging Line 3 oil pipeline across northern Minnesota.
The Minnesota Public Utilities Commission is considering whether to approve the project, which has aroused opposition from environmental and tribal groups.
The state Commerce Department surprised both sides last month when it concluded that the project isn't needed and that it won't benefit Minnesota enough to justify the risks.
Officials with Calgary, Alberta-based Enbridge asserted in rebuttal filings Wednesday that the $7.5 billion project is necessary. They say it will protect the environment and ensure the safe transportation of crude oil to refineries in Minnesota and neighboring states.
The PUC is scheduled to decide in April whether it's needed and what route it should follow.
BISMARCK, N.D. (AP) — North Dakota's oil industry is opposing some proposed rule changes.
The Mineral Resources Department is taking public comments on potential administrative rules, including one in response to a law change approved earlier this year that no longer requires spills under 10 barrels to be reported.
The department proposes that oil companies still file a document after cleanup of any spill that wasn't reported. The North Dakota Petroleum Council calls it a "backdoor reporting requirement" that goes far beyond what the Legislature intended.
The Northwest Landowners Association supports the proposal.
The industry group also objects to two other proposed rules. One would require a full environmental assessment at a well site if there was uncertainty about spills or possible contamination. Another makes changes to royalty statements.
FARGO, N.D. (AP) — The division commander of the U.S. Army Corps of Engineers held a closed-door meeting with members of the Fargo-Moorhead Diversion Authority and elected officials to talk about the stalled flood control project.
Maj. Gen. Richard Kaiser's visit to Fargo Wednesday came after a federal judge stopped work on the Red River diversion until it gets the necessary permits from Minnesota.
Kaiser said afterward that the corps can modify the design of the $2.2 billion project, but wouldn't be specific.
North Dakota Gov. Doug Burgum said the meeting was private because of discussions about "legal next steps." Upstream residents have filed a lawsuit to stop construction and say they have been excluded from project discussions.
Minnesota Gov. Mark Dayton and Natural Resources Commissioner Tom Landwehr were invited but did not attend.
FARGO, N.D. (AP) — A week of dry weather has helped North Dakota farmers harvest late-season crops.
The federal Agriculture Department says in its weekly crop report that the state's soybean harvest is nearing halfway complete, and the harvests of corn and sunflowers are getting underway.
The potato harvest is about three-fourths done and the sugar beet harvest is nearing two-thirds done. Harvesting of flaxseed and dry beans is nearing completion.
Winter wheat planting is 80 percent done, and slightly more than half of the crop has emerged.
The report says the lack of rain over the past week also aided fall tillage and spraying work.
In the ranching community, pasture and range conditions are rated 52 percent poor or very poor. Stock water supplies are 50 percent in those categories.
WAHPETON, N.D. (AP) — The North Dakota State College of Science has completed a $13 million infrastructure project.
The Wahpeton school over the last two years has replaced the majority of its underground water and sewer lines, repaired or replaced several streets and parking lots, and enhanced campus security.
The project also improved outdoor lighting, upgraded pedestrian walkways and enhanced fire protection. Seventeen acres of land were reseeded and 380 trees were planted.
President John Richman says the school has one of the safest, cleanest and healthiest campuses around.
In sports…
Jamestown  (CSi)  Jamestown High School's Rotary Field hosts  the North Dakota high school boys state soccer tournament.
Starting Thursday, the Quarterfinal matches at noon lead off with Bismarck Century (13-3-0) playing Shanley-Oak Grove (8-7-3), then, Fargo South (9-5-4) takes on Bismarck High (12-2-1). West Fargo (12-4-2) vs. Mandan (4-10-1) at about 4:30.  The final match of the day is Minot (11-5-1) taking on Fargo Davies (12-3-1).
College Volleyball…
Valley City State def. Dakota State 26-24, 16-25, 25-15, 25-27, 15-11.
VCSU improves to 11-9 overall, 5-4 in the North Star Athletic Association.
Dakota State moves to 5-19 overall and 3-6 in the NSAA.
Valley City State takes a break from conference play with an Oct. 16 road match at Concordia-Moorhead.
BISMARCK (AP) The final Class 9-Man football poll has kept the same team in the premier position from the opening poll of the season, as Cavalier sits number one; voted by members of the North Dakota Associated Press Sportscasters and Sportswriters Association.
On the Class A side, a new number one, after the Hillsboro/Central Valley Burros walloped Ellendale/Edgeley/Kulm last week in a battle of the top two ranked teams.
First place votes are in parenthesis, followed by the team's record, and the number of total votes received.
Class 9-Man
1. Cavalier (11) 8-0 71
2. Wyndmere/Lidgerwood (4) 8-0 67
3. New Salem-Almont/Glen Ullen (1) 8-0 48
4. Thompson 6-2 20
5. Napoleon/Gackle-Streeter 8-0 16
Others Receiving Votes: Bismarck Shiloh Christian (7-1), Mohall-Lansford-Sherwood (7- 1), North Prairie (8-1)
Class A
1. Hillsboro/Central Valley (13) 7-0 81
2. Langdon Area/Edmore/Munich (4) 7-0 72
T-3. Velva 7-0 38
T-3. Ellendale/Edgeley/Kulm 6-1 38
5. Dickinson Trinity 5-1 19
Others Receiving Votes: Minot Bishop Ryan (6-1), Beulah(6-1), Fargo Oak Grove (6-1), Des Lacs Burlington (6-1).
ALDS…
CLEVELAND (AP) — The New York Yankees are the 10th major league team to win a best-of-5 postseason series after losing the first two games. Didi Gregorius (DEE'-dee greh-GOHR'-ee-uhs) homered twice and had three RBIs off Corey Kluber as the Yankees downed the Indians, 5-2 in Cleveland. David Robertson got the win with two hitless innings of relief, and Aroldis Chapman struck out four in his two innings of work to get the series-clinching save.
Game 1 of the ALCS will be in Houston on Friday.
NLDS…
CHICAGO (AP) — The Washington Nationals will host the Chicago Cubs in Game 5 of the NL Division Series later today, with the winner heading to Los Angeles to take on the Dodgers in the Championship Series. Stephen Strasburg struck out 12 and allowed just three hits over seven innings as the Nats blanked the Cubs, 5-0 at Wrigley Field. Michael A. Taylor put the game out of reach with a grand slam in the eighth inning.
Game 5 is Thursday in Washington. Kyle Hendricks is slated to start for the Cubs. Gio Gonzalez is the likely starter for Washington, but Max Scherzer will be available after working 6 1/3 innings in Game 3.
NATIONAL HOCKEY LEAGUE
Final New Jersey 6 Toronto 3
Final Pittsburgh 3 Washington 2
Final Colorado 6 Boston 3
Final Anaheim 3 N-Y Islanders 2
Final OT Calgary 4 L.A. Kings 3
VIKINGS…
EDEN PRAIRIE, Minn. (AP) — The Minnesota Vikings have five starters with injury concerns going into the game against Green Bay. Quarterback Sam Bradford (knee), wide receiver Stefon Diggs (groin), strong safety Andrew Sendejo (groin), left guard Nick Easton (calf) and defensive tackle Tom Johnson (knee) were all held out of practice.
PACKERS…
Packers wide receiver Jordy Nelson was a full participant during Wednesday's workout. A minor back injury kept him off the field for the Green Bay Packers' winning drive in the fourth quarter against the Cowboys.
TIMBERWOLVES…
MINNEAPOLIS (AP) — The Minnesota Timberwolves have signed Andrew Wiggins to a contract extension. Terms of the deal were not disclosed. But owner Glen Taylor said in August that he offered Wiggins a five-year max extension worth $148 million.
MINNEAPOLIS (AP) — The Minnesota Timberwolves enter the season with the longest active playoff drought in the NBA. Coach Tom Thibodeau went out and got some familiar faces to try to end that skid. Jimmy Butler, Taj Gibson and Aaron Brooks played for Thibs with the Bulls. Now they have come to Minnesota to give a promising young nucleus the experience they need to break through. A playoff bid would be the Wolves' first since 2004. Minnesota opens the season on the road Oct. 18 at San Antonio.
MLB-RED SOX-FARRELL FIRED
Red Sox fire manager Farrell after 2nd straight ALDS defeat
BOSTON (AP) — John Farrell is out after five seasons as manager of the Red Sox.
Farrell led the Sox to a World Series crown in his first year at the helm and guided them to the last two AL East crowns. But his status became shaky after the Bosox dropped their division series for the second straight year, eliminated by the Astros on Monday after being swept by the Indians in 2016.
Farrell was 432-378 as manager.
In world and national news…
SONOMA, Calif. (AP) — Wildfires already well on their way to becoming the deadliest in California history show no signs of slowing down. Steady winds with gusts up to 45 mph and humidity plunging near zero are expected to descend on the areas north of San Francisco where at least 23 people have died and at least 3,500 homes and businesses have been destroyed.
SANTA ROSA, Calif. (AP) — Communities in wildfire-prone Northern California have an array of emergency systems designed to alert residents of danger: text messages, phone calls, emails and tweets. But after days of raging blazes left at least 23 dead, authorities said those methods will be assessed to determine whether it was even possible to reach everyone with so little time to react.
UNDATED (AP) — Authorities are under intensifying pressure to explain how quickly they responded to the Las Vegas mass shooting that claimed the lives of 58 victims and left nearly 500 others wounded. A revised chronology given by investigators says two hotel employees reported that gunman Stephen Paddock sprayed a hallway with bullets, wounding a security guard, several minutes before he opened fire on a crowd at a musical performance.
WASHINGTON (AP) — Frustrated by failures in Congress, President Donald Trump will try to put his own stamp on health care with an executive order that aims to make lower-premium plans more widely available. Trump will unveil his plan Thursday. Administration officials say one of the main ideas is to ease the way for groups and associations to sponsor coverage that can be marketed across the land. Critics warn of higher premiums for the sick.
VILLA CUAUHTEMOC, Mexico (AP) — A wave of killings of women is plaguing Mexico's most populous state. The mounting crisis of femicides _ murders of women where the motive is directly related to gender _ prompted the federal government to issue a gender violence alert there in 2015. Sometimes the deaths are caused by domestic abuse. Others appear to be opportunistic, by strangers. Often the bodies are mutilated and dumped in public. Many read that as a message to other women: There is no safe place, time of day or activity.