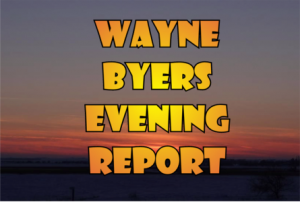 CSi Weather…
.REST OF TODAY…Mostly sunny. Highs in the mid 60s. South winds 10 to 15 mph shifting to the southwest in the afternoon.
.TONIGHT…Mostly clear. Lows in the mid 30s. West winds 5 to
10 mph.
.FRIDAY…Sunny. Highs in the upper 50s. West winds around 5 mph
shifting to the south in the afternoon.
.FRIDAY NIGHT…Mostly cloudy. Lows in the upper 30s. Southeast
winds 5 to 10 mph.
.SATURDAY…Mostly cloudy with a 50 percent chance of rain
showers. Highs in the upper 40s. Southeast winds around 10 mph
shifting to the northeast in the afternoon.
.SATURDAY NIGHT…Mostly cloudy with a 30 percent chance of rain
showers in the evening, then partly cloudy after midnight. Lows
in the lower 30s.
.SUNDAY…Mostly sunny. Highs in the lower 50s.
.SUNDAY NIGHT THROUGH TUESDAY…Mostly clear. Lows in the upper
30s. Highs in the 50s to lower 60s.
.TUESDAY NIGHT…Mostly clear. Lows in the lower 40s.
.WEDNESDAY…Mostly sunny. Highs in the lower 60s.
The coolest day will be on Saturday
when much of western and central North Dakota will struggle to
climb above the 40s. Lows on Sunday morning will fall into the
upper 20s and lower 30s across the area.
The best chance for rain appears to be Friday night across northern North Dakota and Saturday across eastern North Dakota.
Temperatures will rebound into the low to mid 50s by Sunday. The warming trend will continue into the beginning of the work week as upper level ridging builds across the region.
Valley City  (CSi)  Valley City is placing a blue bag with light bulbs on residential doors this month, in recognition of October as Energy Awareness Month.
The energy efficient light bulbs will be distributed through November 14, 2017.
Bismarck  (CSi)   The NDDOT informs motorists that the I-94 Oriska Rest Area for eastbound and westbound traffic east of Valley City is now open to motorists. It was closed earlier this summer due to a construction project.
For more information about construction projects and road conditions throughout North Dakota, call 511 from any type of phone or visit the Travel Information Map on the NDDOT website at http://www.dot.nd.gov/travel-info-v2/
BISMARCK, N.D. (AP) — A federal judge has dismissed a lawsuit filed by twenty-one North Dakota landowners who alleged the developer of the Dakota Access oil pipeline and a consultant used deceit and fraud to acquire land easements.
Judge Daniel Hovland sided with Texas-based Energy Transfer Partners and Contract Land Staff, saying the landowners didn't adequately prove their claims.
The landowners were seeking more than $4 million in damages for what they called "misrepresentations, deception or other unfair tactics." Hovland said it's impossible to know whether they might have received a better deal under other circumstances.
Meanwhile, an Iowa case filed by landowners and an environmental group is on appeal to that state's Supreme Court, with arguments expected early next year. That dispute is over the use of eminent domain for the pipeline project.
DICKINSON, N.D. (AP) — The Little Missouri River Commission has postponed a decision on drawing water from the scenic river for use in oilfields.
The commission heard two hours of debate Wednesday from conservationists concerned about taking river water for hydraulic fracturing and landowners worried about increased truck traffic.
The  Department of Mineral Resources says oil companies in the Bakken have used an average of 7.6 million gallons of water to frack each well this year. And regulators say those volumes are increasing, with some companies experimenting with up to 20 million gallons per well.
Commissioners say they want to take a longer look at the issue more before making a recommendation to the State Water Commission.
MINOT, N.D. (AP) — Trial will be scheduled sometime early next year for a Minot man accused of firing a gun at his girlfriend as she fled a home with her young son.
James Blue II in August pleaded not guilty to attempted murder and terrorizing charges related to incidents at a mobile home park in mid-January. He also pleaded not guilty to firing shots at police officers and assaulting paramedics. No one was seriously hurt.
The Minot Daily News reports that Judge Gary Lee said during a pretrial conference Wednesday that he will arrange for a two-week block of time for the trial sometime early next year.
In world and national news…
WASHINGTON (AP) — The Associated Press has obtained a recording of what some U.S. embassy workers heard in Havana as they were attacked by what investigators initially believed was a sonic weapon. The recording of a high-pitched noise is one of many taken in Cuba since attacks started last year. But they have not significantly advanced U.S. knowledge about what is harming diplomats.
WASHINGTON (AP) — White House chief of staff John Kelly is defending President Donald Trump's commitment to the rebuilding of Puerto Rico. He says at a White House briefing the U.S. will stand with Puerto Rico "until the job is done." Kelly was asked about the president's tweets Thursday morning that Puerto Rico shouldn't expect federal aid to last "forever."
SANTA ROSA, Calif. (AP) — The head of California's state fire agency says as wildfires rushed through the state's wine country Sunday night, there wasn't much time to warn residents "by any means." Officials are taking a look at the alert systems that are in place, including text messages, phone calls, emails and tweets.
NEW YORK (AP) — Twitter has restored Rose McGowan's account after temporarily suspending it and causing an outcry it had muted one of the central figures in the allegations against Harvey Weinstein. The episode, Twitter said Thursday, was because McGowan tweeted a private phone number, a practice it said violated its service terms.
NEW YORK (AP) — New York City and London police detectives are taking a fresh look into sexual assault allegations against Harvey Weinstein now that some 30 women have accused him of inappropriate conduct. An NYPD spokesman said Thursday that investigators are reviewing police files to see if any women previously reported being assaulted or harassed by the media mogul. Meanwhile, London police are investigating a new allegation of sex assault involving Weinstein in the 1980s.