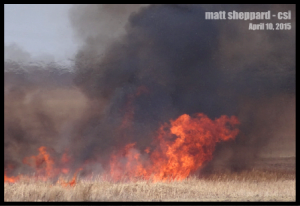 Jamestown (CSi)  On Weds  Oct 18, the National Weather Service issued a Red Flag Warning which included Stutsman County.
Stutsman County Emergency Manager, Jerry Bergquist says, "Because of the recently adopted Stutsman County Burn Ordinance (May 2nd, 2017) specific prohibitions on open burning will be in effect.
When a Red Flag Warning has been issued, NO open burning is permitted within Stutsman County.  This includes starting, conducting, allowing, maintaining, or soliciting any open burning activities.
Violations of Stutsman County Burn Ordinance will be enforced.  This is a class B misdemeanor, for which a maximum penalty of 30 days in jail, a fine of $1500.00, or both may be imposed."
He goes on to say that residents should be sure to verify the current Fire Danger Rating and local burning restrictions BEFORE conducting any open burns or fires outdoors.
For a full version of Stutsman County Burn Ordinance, go to:  www.co.stutsman.nd.us, under Departments choose Zoning, and then click on Burn Ban Ordinance on the right hand side of the page.