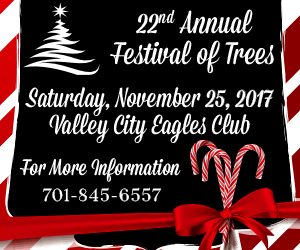 Valley City  (CSi)  CHI Mercy Health Foundation presents the 22nd Annual Festival of Trees Sat Nov 25 at the Valley City Eagles.
Doors open at 6-p.m., Live Auction at 7:30-p.m., Entertainment at 8:30-p.m.
Featuring the VCHS Show Choir & the VC Hi-lites Dance Team.
There will be an hors d'oeuvre buffet, Silent Auction, Live Auction, Designer Purse Auction, a Mystery Duffle Raffle, a Quilt Raffle, a Deluxe  Trip Raffle, and much more.
This year the money raised will help with X-ray imaging, an updated CR Reader Software that send the X-ray images to an off-site radiologist  for diagnosis and back to the physicians reading their patients charts.
The cost is $20,000.
The hospital performs over 2,200 X-Rays per year.
Call 701-845-6557 for more information.