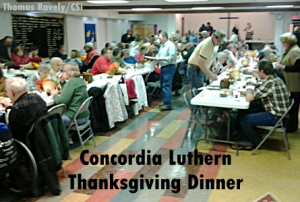 Jamestown (CSi) – The 27th Annual, Community Thanksgiving Dinner will be at Concordia Lutheran Church at 502 First Avenue North in Jamestown, on Thursday November 23, 2017.
Dinner will be served from 11-a.m., to 1-p.m., Thanksgiving Day, in the church basement, handicapped accessible.
Drivers will deliver meals, or give a ride to the church, for services and the meal.
Those wishing to have a ride or meals delivered may call the church at 252-2819.
The meal is free to anyone, and consists of turkey, stuffing, mashed potatoes, gravy, corn, and dessert.