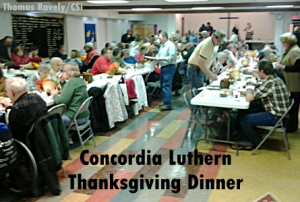 Jamestown (CSi) – The 27th Annual, Community Thanksgiving Dinner will be at Concordia Lutheran Church at 502 First Avenue North in Jamestown, on Thursday November 23, 2017.
On Tuesday's Wayne Byers Show on CSi Cable 2, Committee Member Betty Mahlke said dinner will be served from 11-a.m., to 1-p.m., Thanksgiving Day, in the church basement, handicapped accessible.  Use the west door.
Drivers will deliver meals, or give a ride to the church, for services and the meal.
Those wishing to have a ride or meals delivered may call the church at 252-2819.
The meal is free to anyone, and consists of turkey, stuffing, mashed potatoes, gravy, corn, and dessert with Sodexo Food Service at the University of Jamestown providing the kitchen and staff, as six roasters will be used to cook the turkeys, and bake the buns.
Betty pointed out that last year 675 meals were served, with 340 meals delivered and 335 meals served at the Church.
She added that any left over food will be donated to the Daily Bread program in Jamestown.
She thanked all the businesses that have donated food items, and volunteers from the church and community that make the event successful each year.
Betty noted that the Thanksgiving Day Dinner was started by Fritz Buegel, who owned the Pantry Café at that time, when  20 meals were served.
The dinner has relocated over the years as it as grown.
Betty said it's hoped this year around 700 meals will be served or delivered.