This Day In History, November 8, 1937 – Charles A. Klaus, owner of the Gladstone Hotel,  passes *** from the 125th Anniversary Calendar of Jamestown History ***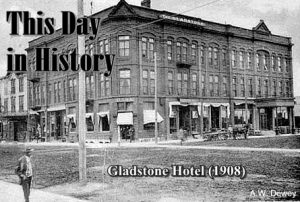 Following Information about Charles A. Klaus, from "North Dakota and People: Outlines of American History":
Charles A. Klaus, who is known to the traveling public of the whole northwest as the proprietor of the Gladstone Hotel at Jamestown, one of the best hostelries in the state, was born in Green Bay, Wisconsin, on the 28th of July, 1863.
His parents,  Charles and Annie (Lenz) Klaus, were both of German birth. Until thirteen years of age our subject attended the parochial schools of Green Bay and thus acquired his  education. He then went to work in a grocery store, where he remained until 1883,  when as a young man of nineteen years he came to Dakota territory.
He joined an uncle, Anton Klaus, who was in the real estate business at Jamestown, and continued with  him for three years, after which he was appointed assistant postmaster, in which capacity he served until 1890, when he was made postmaster. He filled that office acceptably until 1894, when he accepted the position of manager of the Gladstone Hotel, of which 'he became sole owner in 1897.
The hotel has developed with the development of this section of   the state and the small wooden building which it occupied at first has given place to a large modern structure, which is one of the  finest hotel buildings in the state.  The furnishings and appointments of the hotel are up-to-date and no expense has been spared in providing for the comfort of the guests. Moreover, the value of courtesy and willing service has been impressed upon  all the employees. In addition to owning this hotel, which is one of the most profitable hostelries in the state, Mr. Klaus has large holdings in farm lands.
In April, 1887, Mr. Klaus was united in marriage to Miss Anna Bosche, a native of  Green Bay, Wisconsin, by whom he has a daughter, Katherine. He is a stanch democrat and has been prominent in state political affairs, serving as a delegate to a number of state conventions. He has also been active in local affairs and from 1896  to 1902 was a member of the Jamestown city council. His religious faith is that of the Catholic church and fraternally he is connected with the Catholic order of Foresters, the Knights of Columbus and the Benevolent Protective Order of Elks. His military record covers six years' service as a member of Company H, North Dakota National Guard, and when he retired he held the rank of first sergeant. From 1903 until 1904 he served as president of the Jamestown Commercial Club and in that capacity was instrumental in carrying to successful completion.
Information about Charles A. Klaus, from "North Dakota and People: Outlines of American History"