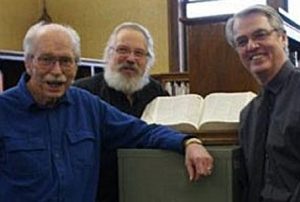 Jamestown (CSi)   The course  at Alfred Dickey Library, "Self-Publishing" as local authors, Bruce Berg, Keith Norman return joined by Bill Kennedy presented by James River Valley Adult Programs.
Taught by  Berg, Norman, and  Bill Kennedy, the program will be on Tuesday November 14, 2017 at 6-p.m., at the downtown Alfred Dickey Public Library.
Please Pre-Register by calling  701 252-2217, leave  your Name, Phone number, and Class.
Or go to http://www.friendsofjrvl.org/programregistration
Bruce Keith & Bill, otherwise known as BBK, are local authors. They will talk about the process of self-publishing your book from creation through production and on to the ever-changing process of marketing your creation.